---
Looking for ways to Save Cash On Cross border Payments? A definitely pain point for all of us, banks love hidden fees and internationally there are still huge gaps. Global From Asia episode 168 Banking in Asia
But before we get into this – we have a new itunes review – wow haven't gotten one since last year so I'm excited to share it with you guys today:
Wow this podcast has taught me so much! — 5 stars
– by Chris – FBA4U from China on Mar 2, 2017
This is a really great podcast with a great mix of topics, it's really worth a listen, for sure it's on my list for automatic download, Michael is a great guy and has a great network of superb guests. I've been listen to this since I arrived in China in 2012, the cross border summit event in Shenzhen every April is also a great event where you can network with a lot of the people Michael has interviewed in the last few years!
Thank you Chris – look forward to seeing you at the Cross Border Summit again this year! Crossbordersummit.com everyone – or on the top menu of globalfromasia.com – its our main event so look forward to meeting some of you there
Alright and now for this week's show – Simon Lim talking Cross border payments and why Asia's options are so painful!
Topics Covered in this Episode
Introduce Simon

Crossing Paths

So you have been crossing paths with my story too – first I was based in Singapore then to Phil, Philippines for SEO and internet marketing, and now in Shenzhen – cool to have gotten to know you and gotten you on the show!

Cross Border Payments

Cross Border Payments – what is this exactly?

MSO

MSO – so your startup recently got an MSO in Hong Kong – which is a money service operator license – can you share with us a bit about what that is, and how the process went?

Painful Currency Conversions

People on the show are always begging me to find them a USD credit card in Hong Kong, or to have their merchant account like Stripe pay them out in USD instead of HKD. Currency is just so painful. Paypal makes a ton of currency exchange. Is the system rigged or is there a reason each region needs to pay out in their local currency?

Tips or Strategies

Any tips for people dealing with a multi-currency business. Ways to reduce those fees? Maybe a cashflow process or strategy?

Paying staff - well more like freelancers

How to pay contractors and others who are working from home, in various parts of China and Asia

Your solution - tell us more!

Everyone is starving for better ways to send money around

Is it for paying suppliers? For getting paid from Marketplaces such as Amazon?

So, we have had shows with Remitsy in the past, which is focusing on paying B2B in China like Chinese factories and suppliers – is that what you're doing? Or we have a lot of choices on the market for receiving payments from Amazon FBA such as OFX, and Payoneer. How do these work?

Things to look out for?

How to stay off the radar? Not get your account to get flagged.

Any special discount for our listeners on your solution?

I know you are just launching, and are a speaker and supporter of the upcoming Cross border Summit – any perks for listeners for a limited time – give them a couple weeks while the show gets online. Maybe some prize for those who come to the summit.

Contact

How can people reach you and your business?
People / Companies / Resources Mentioned in this Episode
Episode Length 35:00
Thank you Simon! Appreciate your support and enthusiasm for the Cross border summit. We are going to start to share the updates of the event on our Global From Asia social media – Facebook, Twitter, Instagram and let you guys all see how it is going
Which reminds me – I gotta get back to work on this massive conference, see you next week, peace!
Using Simon's/GoRemitHK For Your Cross Border Payments
They Are Our Remittance Partner Recommendation. GoRemitHK is a leading cross border payment service in South East Asia, Hong Kong and Greater China. With our independent end to end payment network, GoRemitHK delivers payment within the same business day with competitive, fair and transparent FX rate. Check out GoRemitHK today!
Download Options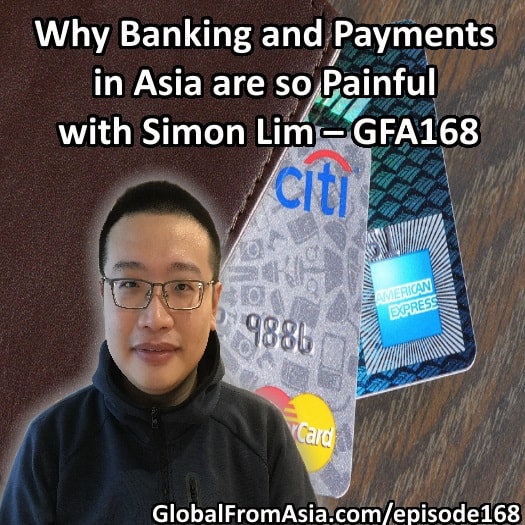 Podcast: Play in new window | Download
Subscribe: Apple Podcasts | Android | RSS