---
Miles – how you doing buddy? He'll be 2 years old this month – time is flying by!
So I just checked iTunes reviews – no new ones lately, if you're enjoying the show these reviews help in others finding the show, as well as motivating me to keep pushing them out – feedback is always appreciated!
Will be kicking off those Wechat mastermind calls tonight (Tuesday) the day this show goes live and I'm excited to engage with our cross border community – those inside the Chinese firewall with those who are on the free side of the wall. Will talk business in China and overseas. GlobalFromAsia.com/wechat if you want more info.
Alright, now for this week, we are talking sales and marketing! What a lot of us need but often ignore and focus on other things. Gilbert Joa is here sharing his sales and marketing tactics. The show actually is extremely helpful – not only for Hong Kong and Asia – but anywhere in the world – so keep your notebooks out and let's get listening!
Topics Covered in this Episode
Intro Gilbert

NYC to HK

So you're originally from NYC? How'd you get to HK

Started 1st Company at 17

What is a skill someone should do to adapt to the Asia market for b2b sales and lead generation?

Recommendations

You have studied all the good sales and lead generation tactics, any ones you can recommend / share with us that helped?

Differences and Similarities in approaches

And you're applying it for local Hk business growth, there are differences here from what you've studied? And similarities?

Strategy

Is it for Hong Kong only or can be applied globally?

Tips on emails

Best time to send out an email

Copy of Tips on emails

Best time to send out an email

Other parts of Asia too?

Tools To Use

What are the tools can help with sales? Linkedin Tools.Are the tools in HK pretty much the same, any local tools you've used or found?

Other essential tools you use?

Are there other tools that you use too?

Multi-staged campaigns with Yesware

Allows follow ups with leads

Tips in emailing

Skills needed

What is a skill someone should do to adapt to the Asia market for b2b sales and lead generation?

Lead Generation

Give us an example of your day in lead generation

Business

What about your business, what are you working on now?

Time Schedules

What about time schedules, when is the best time to reach out to someone in B2B in Hong Kong

Contact

How can people reach out to you ?
People / Companies / Resources Mentioned in this Episode
Episode Length 39:20
Appreciate Gilbert coming on – he is on his way to New York City for a couple months, but will catch up with him again when he's back in Hong Kong in June!
We have a ton of great episodes lined up – next week we have Casey Lau from StartupsHK talking about the upcoming Rise Conference and the state of the startup scene in Hong Kong, and the following weeks a lot of China sourcing stuff.
If you want to keep up with the inside, don't forget we have a weekly newsletter at globalfromasia.com/subscribe – news in the industry, the blog, and fun updates so check that out if you're down!
Download Options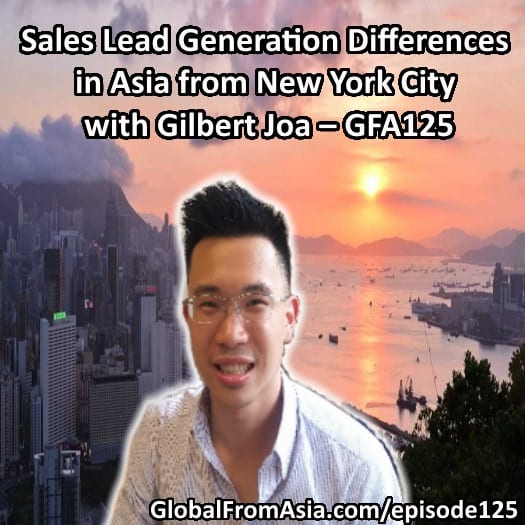 Podcast: Play in new window | Download
Subscribe: Apple Podcasts | Android | RSS