---
This week's show we have the CEO and Founder of YunExpress logistics – Jack Peng. This is a company that was born from the "listen to your customer" motto so many people here but don't always follow. Jack shares the journey of starting the logistics company as well as gives us some insights on logistics and export B2C ecommerce from China, enjoy!
Topics Covered in this Episode
Intro Jack

Jack introduces himself and Yunexpress.

How did YunExpress Get started?

When and how did it get off the ground?

You were doing e-commerce before?

What lead up to starting this business.

How did you decide which services to offer?

What was the method you used to learn the demand in the market ?

On a personal note, what are your hobbies

What do you do when you're not working so hard in the office.

Background and history of logistics and B2C ecommerce from China

Jack gives us insights on export ecommerce from China

How people can find out more

Ways to contact Jack and Yunexpress.
People / Companies / Resources Mentioned in this Episode
Show Sponsors:
Today's podcast is brought to you by Aurelia Pay. I use them for sending money to my Chinese supplier from Hong Kong – it is a cross border payment solution between China, Hong Kong and South East Asia. So when I need to make a payment to a Chinese supplier, I just hop in to place a remittance, pay to their HK bank account, and Aurelia Pay settle RMB within the same business day! Check them out
Episode Length 31:49
Thank you Jack! We are rocking here at Global From Asia – as promised – interviewing more Chinese companies rather than foreigners in China. Jack has a wealth of experience and knowledge on international ecommerce from China and we are very fortunate to have him on the show.
Also thanks YunExpress for supporting the Global from Asia community – sponsoring our events and other community efforts, we truly appreciate it and it supports the continued growth of this podcast.
Download Options
Jack : When we're shipping by China post service we would pay our shipping cost by kilogram.

Mike : Episode 216 of Global From Asia and Chinese New Year is over and my US trip is over. Isn't it funny to pushing my pool of friends in Asia, happy to see me back, friends back in America. Confused as to why we wanna come back here but I guess we all have what's makes life interesting or beautiful is we all have different interest and preferences so anyway, for me I 'm Asia for life. Let's say that for now at least for another 10 years and this week show let's just jump right into it, we have YunExpress it's a fulfillment company that helps with kinda being in the middle of the market and Jack Peng the CEO and founder. He's on the show how he is listen to his customers and his network and how he created a company finding a gap in the market and logistic space. These are some that are too cheap but with enough tracking or other information and service while there's always are almost too good service but too expensive. So he found a good niche in the market and he's also sponsor and supporter of the Cross Border Matchmaker in October and proponent of what we're doing here global from Asia and he seem and Michelle's unamazing team member she was given some awesome inputs at the previous events and other things we're working on. So, I'm really happy to have them on the show and Jack to share their story. Let's listen in.

Mike : Okay, so thank you everybody for tuning in to Global From Asia TV. We are here in Shenzhen, China and we're going more and more into Chinese e-commerce and we have with us Jack from YunExpress. Thank you so  much for coming on the show today Jack. Do you mind to introduce yourself.

Jack: My name is Jack. I'm a CEO of YunExpress Logistics, Shenzhen and our company was a logistic company focus on a business for cross border e-commerce puzzle and then we offer the service shipping from China to worldwide, a different service we want.

Mike: Great and you were, we've actually been in similar circles in the past and in e-commerce so you were also a seller yourself before?

Jack: Yes. I've start to sell online myself from 2009 to 2014. So I have 5 years of e-commerce seller experience myself and from 2014 I'm starting the YunExpress business. To help more sellers shipping from China to worldwide and now YunExpress is becoming very big companies, logistic companies in China and now we have 400 people and a 7 total companies, several branch companies all over China.

Mike: Awesome. Yes, so we are in your office today it's great office . I think we are behind us may we got add in the video some video of your office.

Jack: Yes.

Mike: It's a lot of work to get there so then you took your experience from B2C e-commerce yourself.

Jack: Yes. Starting from 2009, I'm starting the B2C website business, and my website from 2009, my website is still running right now.

Mike: Nice.

Jack : Yes and I'm starting to sell my own website from 2009 and from 2012, I'm starting to sell in eBay, Amazon, and the Alibaba. It's because the traffic becoming more and more expensive. So, I choose to sell on different place.

Mike: So then eBay and Amazon so Alibaba was it B2B.

Jack : Oh sorry Aliexpress.

Mike : Yeah, I'm thinking Aliexpress. And which type of category product

Jack: My company are focus on selling toys and hobbies and home and garden products. Yes.

Mike: Very cool and so then while you're definitely expert on logistics now, back then what type of logistics would you be doing B2B to USA or B2C from US direct from China.

Jack: Always B2C.

Mike: B2C from China.

Jack: Yes. From 2009 when I'm starting the business, I was working for a big companies maybe so many customers know the websites and it's a very famous companies called Deal Extreme. I was working for DX in 2009 and the very popular worldwide right now, sorry, in the past. From 2009 we have only Hong Kong post shipping from China to Worldwide. Because theirs was only shipping from China to worldwide and never B2B to other country first. They always doing B2C directly shipment. In 2009, we have only Hongkong post and the DHL, EMS we have only 3 ways of shipping and from 2010 November, China post, they offer the service, international mail service and from 2011, Singapore post, post and mail all joins the market. So we have many more choice.

Mike: Yeah, actually I know that a lot of International sellers are foreign sellers always ask how do people ship B2C so cheap from China.  Like, sometimes free shipping like Deal Extreme they have like one dollar you know charger, free shipping. Everyone ask me how do you ship so cheap from B2C from China.

Jack: Okay. Well I'm using China post because China post they have a series is called untrack mail that means where you shipping of very cheap products. You can shipping by untrack service and when we're shipping by China post untrack service and the charging format, I mean the calculation format is very simple we pay our shipping cost by kilogram. And no item charge. So that means when you're shipping a very light products like cell phone case that's a used of 50 gram weight. So we only pay by kilogram is likely around 11 dollars per kilo.

Mike : USD?

Jack : USD, like for example, if your product was only 50 gram, that means you only pay 50 cents nearly. You only pay 50 cents US dollar for shipping cost and when we buy wholesale for the cell phone case, I think our cost will be 15 cents or 20 cents and the same we can make a money. So that is why so many one dollar free shipping products on eBay and Aliexpress.

Mike: Make sense now. Thanks for sharing.

Jack: Yes. We call it free shipping but it's not actually free shipping. We tell the sellers our shipping cost is free before. Before we, I think in 2009 when we are starting the business for B2C website, we tell our customer and our shipping cost, it's free. That is not true.

Mike: Sure. Even in, you see in market they say free shipping it's just put in the price of the product.

Jack: Yes. So free shipping doesn't mean shipping is free, it's called you don't need to pay extra charge for shipping cost.

Mike: Yeah. Which is a good marketing strategies so people just see the price on the website and they don't need to worry about extra fees on top of the price so the price is the final price which is a good, I think a good marketing strategy. So then but for FBA you need to get to USA  warehouse first, right?

Jack: Yes for FBA. So for FBA,  we're providing the service for air shipping and sea shipping.

Mike: Okay. To any, you can compare it here.

Jack: Yes. So for example if the Amazon seller, I mean, a for example a USA locals, Amazon seller, they have a supplier in Shenzhen or in somewhere in China so the service we can provide this service. Firstly, we can pick up your goods from the factory to our warehouse in Shenzhen. And we will label them products with Amazon label and small label and it's a box label. I mean I can ship in some goods from Shenzhen warehouse to any of Amazon warehouse in the world.

Mike: Great.

Jack: Including Canada, Mexico, USA, Japan, and the Europe.

Mike : Wow, okay. And then some people don't send all of their products to FBA sometimes they wanna keep some inventory in China.

Jack: Yes we have a China warehouse and it's English language so we can providing China warehouse service. We can pick up from the factory and we can make your products installed in our China warehouse and the shipping from China warehouse to the worldwide. And our company was expert from for directly shipment.

Mike: That make sense and then also there's crowdfunding you were talking before the interview about kickstarter and this, maybe Indiegogo and other campaigns that's a little bit different than FBA or B2C.

Jack: We have down so many products for kickstarter sellers before. You know, many of kickstarters they design their products in USA or in Europe but they find a very good factories in China. They need a supplier to pick up their products from the factory and then label the product in the China warehouse somewhere and then you do different solutions shipping from China warehouse to worldwide consumer. To the final consumer. So we have been helping so many kickstarter projects owners to fulfilment to that product from China to worldwide .

Mike: Yeah. Especially with crowdfunding or kickstarter. The challenge there is many order at the same time many shipments at the same time because everybody buys and then you just ship B2C so do you do B2C globally from China for kickstarter?

Jack: Yes, from here to worldwide. Yes, because usually from our experience, the kickstarter orders 30 or 40 percent was from the USA. Then another 40% is for the consumer when you just ship in to the Europe. And the rest 20 to 30 percent is to East of Asia or other countries. So we cannot prepare the parcels in the USA because if we prepare the shipment to USA, we can only help them to sold 40% of the orders. So, when you have a very fastest solution from China directly for other countries.

Mike: Alright. Okay. So some people did say maybe they want that 40% USA to be sent to USA and then B2C from US or you think a 100% B2C should they, may be sent some their 30-40 percent US orders to fulfilment in USA.

Jack: Actually, our solution for USA, we argue every shipment that USA first. And then we will, using our USA warehouse this batch for the USA. It's kinda like a transfer B2B2C.

Mike: Yes. Exactly.

Jack: We will do all the labor work in China. For example we will print USPS, Fedex label in China already. We make all the labor work in China and we were shipping, I have shipment to Los Angeles and were through Customs Clearance in the Los Angeles and then we were directly asking US based to pick up from our warehouse. So, we have two warehouse one in JFK and the one in L.A.

Mike: Nice. We have both sides of US.

Jack : Yes. So we're talking about the logistics so then I think just to summarize on the technical parts. I think their choices normally for e-commerce sellers is a B2C from China direct.

Jack: Yes.

Mike: And the other is FBA. And the other is crowdfunding like the kickstarter?

Jack: Okay.

Mike: Are there others types of options that this cross border e-commerce. I think those remain ones or is there?

Jack: So right now in China, for China local sellers we have a joke. So we think for China local sellers, we said we only have two kind of seller platforms. One was Amazon and the others are the same.

Mike: Okay.

Jack: Because only Amazon they have FBA. And FBA was very good service we can, FBA can providing two days service for most of the countries. But for other seller platforms, we usually B2C directly shipment takes most of the percentage of the orders.

Mike: Okay. And then prior from China B2C and then FBA from US.

Jack: Yes.

Mike: Maybe some but you can also have people that do B2C from US like a third party fulfillment like a could you have a warehouse

Jack: Yes tight now the eBay and the walmart.com and those platforms they all for very good policy to encourage the sellers shipping from local. So more and more people they keep their wholesaler products making stock in the USA or Europe first.

Mike: Make sense.

Jack: But for most of the China sellers, they don't good at branding and their folks still sell many of categories of products so they cannot prepare so many products in other countries. So B2C is directly shipment makes sense.

Mike: So we talk about the technical logistics and the some tips for insights for B2C sellers, e-commerce cross border e-commerce. Thanks for that Jack. Now we're gonna have more fun, we are gonna talk a little about the story of the business and you as a person. So you said in 2014 you expanded for being a B2C seller yourself to actually starting this company YunExpress  which is a logistics company. How did it start?

Jack: When we are starting the business is, my idea in starting up the YunExpress is from a dinner conversation. So we have in our dinner, there are so many big sellers and we are talking about the co-advantage of our company that means how can you make your company competitive in the coming years in the future. Because when we have a dinner in 2014 February, all the big sellers on the table for dinner they are very local China cross border sellers then not good at branding the product and make the product have more value to sell a higher price to make more margins. All the big sellers in the dinner they are eBay sellers, Aliexpress sellers. So they sell so many SKUs so many products. 10,000 or 100,000 the product in SKU in the warehouse. So one to one point we make a common sense is that logistic was very important because we sell the same products, if we can not control the logistic, we are not competitive. Because we are not good at branding the product. So, all the big sellers on the dinner they told me, "Hey Jack, there's no good logistic companies service provider in the market. If you run a new company will providing logistic companies we were supporting your order, we will be your customer. So, because in 2009 to 2014 I have been a seller for 5 years. I have a friends who have so many warehouse in USA and in the Europe. So I think I can use their warehouse to start some shipment. For example, from 2009 to 2014 we're using postal service to shipping from China to worldwide mostly and for very small person to each were we value high product we're using DHL and Fedex. The postal was cheap but very slow and the DHL, UPS they are fast but too expensive. So, I was thinking about to book into air freight myself and the B2C clearance in the airport and then local carrier for the last delivery so I can make a faster delivery and the much more cheaper compare to DHL. So I think my service, we're in the middle. The postal was in the bottom, cheap and a very bad service and the DHL, UPS was on top. So I want to build my service in the middle. So I was starting my solutions firstly, my solutions was for the USA. So I'm working with a very big warehouse service provider in Los Angeles. So, I book the air freight from Hong Kong to Los Angeles everyday. We have a daily shipment and we do B2C clearance in L.A. It was for USA parcels under 800 dollars was free. Free of tax. And then I use USPS and Fedex service to deliver it in the USA. So we can build a 7 days service from China to USA but price was almost the same was the China post or even cheaper but we are very fast and fully tracked.

Mike: That's Great.

Jack: So, I providing such service now for USA and for Europe so the volume was quite a big right now.

Mike: So back to how you start is so you were at a dinner with other sellers and they supported this I think that's a great lesson for people learning about business. So you heard about a problem that other's have.

Jack: Yes. Because the reason was from 2009 to 2014 in the peak season where when shipping by postal service is very slow in peak season in November and December when were shipping by postal service in the peak season usually we need to wait 2 months, 1 to 2 months is too slow. So the big sellers still ask if we have a faster service with reasonable price in peak season we will help customer.

Mike: That's Great.

Jack: So, Yes.

Mike: So then when you started, were you the sole proprietor, do you have partners or investors or I mean I guess if these sellers were your customers.

Jack: Yes. My Company was only two shareholders and then we are all or we have more than 60 years seller experience. We have no investors. We are starting the company as our own money.

Mike: Wow. So is it a new, did you register a new company for this or you're using a same shareholders in the company as your seller company .

Jack: Okay so we have a new companies. Totally new companies because when we do a logistic service, we must register a new company in China.

Mike: Make sense and so the same partners, you have the same shareholders or new shareholders?

Jack: Oh new share holder for logistic.

Mike: Okay. New shareholder. Great. So that's awesome in English we call bootstrap, so you were, you have this, you were a seller, you have the experience, you had your own capital investments and then you register a new company for the logistics.

Jack: Yes, because the new partner for this new company because my partner has a warehouse in the USA and Europe. So this is the main reason why I choose him as the partner.

Mike: Sure strategic partner.

Jack: Yes so our complete right now, we still have warehouse in near the airport. So we call our warehouse is our transfer warehouse not a warehouse to stock products. So, I think we have several warehouse, Los Angeles airport and JKF airport and airport in London, Frankpurt airport and Paris airport and Amsterdam. So our transit warehouse was in the big airport in mainly in the USA and in the Europe.

Mike: Alright. Alright.

Jack: So we can, using the transit warehouse to have faster transport.

Mike: That's great. So seems like your company histories always been about listening to your customer and is that how you decide

Jack: And yet today, my B2C e-commerce company is still running.

Mike: Great.

Jack: So I can listen to them, very often

Mike: Yeah. That's definitely a smart way to do business. So, like I try tell people that are listening to learn to listen to your customer, the best way to grow your business?

Jack: Yes.

Mike: Okay and so more in your personal side, it seems like you work very hard, do you have anything you do for fun or what's your hobbies.

Jack: I was born on 1985 and then now 32, so my hobbies is also very common hobbies for the boys and also for the boys in the same age.

Mike: Okay. Nicem nice.

Jack: Basketball, play games and watch some popular japan cartoons.

Mike: Yup. Sure, It's common, I think for even around the world, people are in that age do that so, it's cool and then what's the future plan for the company?

Jack: The future plan is right now YunExpress is only providing, mainly providing the service for the China local e-commerce sellers and our plan is to provide our service to worldwide sellers. So for example, a sellers in the USA and as they can using our service from China shipping to Worldwide. Or we have a plan to setup our own facilities also in some Asia countries like Indonesia or Singapore, I think in the Asia countries there are also e-commerce sellers. We can bring our solutions and our service  from China to new market because in the new market there are more and more sellers like us China sellers they will sell their local product to the worldwide.

Mike: It's true and I know in Southeast Asia, Lazada is popular. It's like Aliexpress or it's like FBA in Vietnam and other places in Southeast Asia. So that's also be something to look at. I've been hearing many people talk about Lazada is a market place.

Jack: I want to help. For example, I want to help Indonesia sellers, shipping from Indonesia to worldwide.

Mike: Yeah. I see many artistic, I have a designer, I work with the Indonesian, he's a very good graphic designer. He actually mailed me some gift, he makes a crafts, a very artistic. So it's great to help the local sellers there, too. So then, people find out more findout yunexpress.com, is that the best way?

Jack: Yes.

Mike: Okay.

Jack: Yes and we will have an English official website in the middle of October and then we have a very professional sales team to providing service for foreign sellers. So in the future if any of foreign sellers they want our service in China, they can contact us YunExpress for our English official website.

Mike: Great. It's exciting. Thanks so much Jack for sharing and I appreciate it.

Jack: Okay. Thank you.

Mike: Thanks Jack and thank you for listening everybody definitely check out YunExpress. They work with tons of Chinese sellers, Chinese businesses and I know others that have been in our events and have heard of what they are up to and have enjoyed his services. So it's worth checking them out and they are building out their English website and English services for sellers and business owner around the world and as we say here going Global from Asia and as always we have a shownotes at globalfromasia.com/episode216. Sorry a little bit low energy my eyes are half open here as I jet lag still record this intro. Let's keep this show on track no matter what we keep this Tuesday 10 a.m. Hong Kong time and even if we're on another world, we stayed the schedule of the team is amazing, they're doing better than I ever was. We have Honeybell and Rhea and Mindy and Sheryl, Boban are trustworthy editor, editing this show as always. Thanks Boban for that and I know you're listening because you're editing. But I think he also enjoyed what we talked about here and it's been great, I mean so many years now. I'm working with Boban and you guys listening and getting the rhythm, making this happening. So I am going to try to get over my jet lag and get back on to Asia business life. Have a great weekend everybody. Thanks for listening. Cheers.
---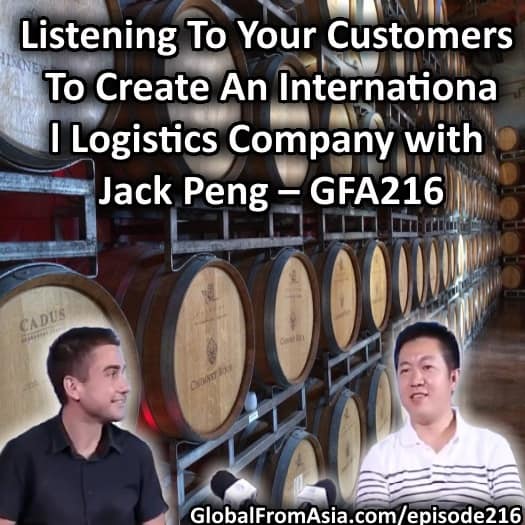 Podcast: Play in new window | Download
Subscribe: RSS