Podcast: Play in new window | Download
Subscribe: Apple Podcasts | Android | RSS
Happy Tuesday morning everyone, I am so excited you're here with me – it is HOT HOT HOT here in South China, August is always a killer but still even after all these years not used it, sweat through a shirt or two a day ha!
This past Friday I went down to RTHK (Radio Television Hong Kong) to be on the air with the Money For Nothing Show – they asked me to come on their 8am Friday live show to talk about the China startup scene and my experience at Unchained Apps and it was pretty awesome. I've doe these podcasts now for almost 2 years, but they had the full studio setup – and just that it is live is even more awesome. They do also record it and put it online so if you want to have a listen I'll link it up to our show the at globalfromasia.com/episode97
Crazy close to episode 100, honestly still thinking what to do when we hit that milestone! It will be when i'm leaving for a few weeks to United States of America, first time to take my son to US soil, and meet my family – insane!
Also I'm inspired by the Empire Flippers Justin and Joe, been a quiet listener of their show since back in the day, and they inspired me to start creating an escrow service Loadpipe.com for settling online businesses, they mentioned it on their latest show Episode 143 – keep on rocking it guys.
Alright, now for this week's show – we have Tom Grundy, a very bold British journalist in Hong Kong who recently started a new media company called Hong Kong Free Press. I have used a few of his articles in my weekly newsletter and he definitely stands out – and I'm curious to learn more so let's dive in!
Topics Covered in this Episode
Introduce Tom Grundy
how you got started in journalism
How did Hong Kong Free Press get started?
The story behind the protest article that I didn't see much other media companies cover
comparison of Hong Kong Free Press from other English media companies in Hong Kong
What is your business model how do you earn money
How you maintain to be non-profit and non-biased
The economic environment and the difficulties of the lower and middle class
The protests last year in Hong Kong, the mindset
Ways people can reach out to him and send news tips
People / Companies / Resources Mentioned in this Episode
Unchained Apps Limited
Loadpipe.com new online escrow service I'm working on
Episode Length 23:03
Thank you Tom for coming on – and also being so bold to keep this free press going. He also quoted me in an article about China startup scene. Sometimes I worry if I can get my China visa renewed with some of these quotes I have floating around the internet dot dot dot…..
Next week we have Gary Murphy from Little Soya sharing about how he has carved out some market in the soy sauce market in USA, pretty motivating and exciting stuff, I know you'll like it. Ok Time to take my kid to the pool.
Download Options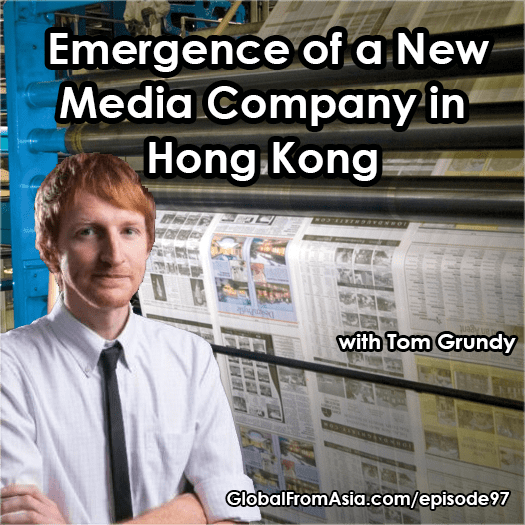 Listen in Youtube