Which is right – Hong Kong or Singapore? Prefer to read it as a blog post, we wrote up a guide on HK vs SG here.
Cooling down in South China – wife bought me a new light jacket and it's the proper daddy feeling. CAn't believe it's 2 months away to baby #2! Being a parent has been such an amazing journey, highly recommended!
Just need to keep pushing, I have finally opened a proper office in Hong Kong and will be spending a few days a week there – keeping the family in China for now and in Hong Kong Mondays to Wednesdays. I'm going to host a small meetup at my office on Tuesday night November 24th from 7pm to 9pm – will do a live podcast interview and also get to know some others in town. For details check out GlobalFromAsia.com/officeopening
K enough of the soft stuff, this week's show we have a good one – comparing Singapore to Hong Kong, as well as other options for where to setup your international business. Edmund John is a wealth of knowledge on international incorporations and a friend of mine for years. We dive right into the interview so I'll read off his bio here then we'll get into the show
Topics Covered in this Episode
Intro Edmund

Edmund helps entrepreneurs set up companies and bank accounts. As a registered agent and professional intermediary in several jurisdictions – he develops apps to help entrepreneurs compare options for incorporation and residency. His work at the intersection of law and technology can be found at Incorporations.IO, Passports.IO and FlagTheory.com

Singapore + Hong Kong, in Asia

The top 2 choices for Asia incorporation – Hong Kong and Singapore – why is that?

Company Ownership

Company Ownership – can it be fully foreign owned?

Company Secretary + Directors

Company secretary / director situation in Hong Kong and Singapore. Whats a secretary, whats a director, and what are the costs?

Annual Filing

What are the annual filing requirements?

Banking Options & Environment

What is it like for banking in Singapore? Comparing it to Hong Kong, and the trends over the years.

Offshore Companies

Banking situation for offshore companies in HK and Singapore

Raising Capital, Investment

How is the VC scene in Singapore. How does it compare to Hong Kong.

Residency

Foreigner's Residence situation in HK and Singapore – passport, residency.

Quality of Life

How about living. Enjoying life. Pollution, etc.

Tips for Deciding Where to go?

Tips for those stuck deciding where to setup?

Contacting Edmund

Ways people can reach you online.
People / Companies / Resources Mentioned in this Episode
Edmund's blog Flag Theory
Passports.io
Incorporations.io
Rise Conference
Global From Asia Office Opening Party – Tues Nov 24, 7pm in HK
Episode Length 40:29
Thanks Edmund for coming on and sharing! I learned quite a few new things about Singapore and certain programs there.
So that is all for this week's show – if you enjoy these podcasts, I'd really love a review on iTunes – you can go ahead and do that by going to globalfromasia.com/itunes and there is a tab for "Ratings and Reviews" – if you're signed into your Apple account you can leave a rating and review.
If you're locally in the Hong Kong area on Tuesday Nov 24th, I'd love to meet you! 7pm at my office in Tsim Sha Tsui (TST) kowloon. For all the details and to RSVP go to GlobalFromAsia.com/officeopening It will be a fun night to remember!
See you all next time, thanks again for listening!
Download Options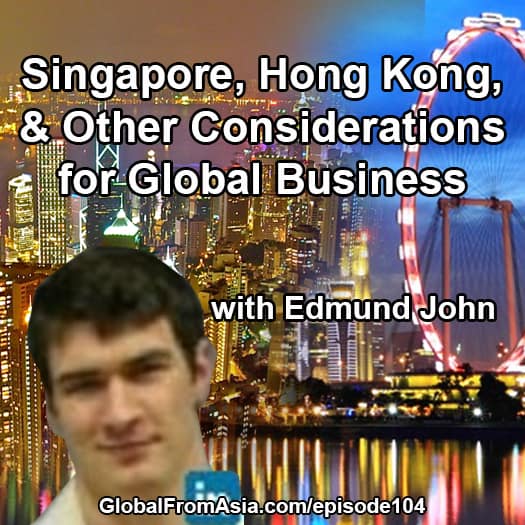 Podcast: Play in new window | Download
Subscribe: Apple Podcasts | Android | RSS