Do you want to be an Amazon FBA international seller?
Sell in the USA market and others?
Today, we dive deep, so listen up and enjoy our mini Asia to Amazon mini course 🙂
People all over the world prefer to shop in the most convenient way. Gone are the days of dragging yourself to the mall to purchase something, as are the days vendors had to hand out flyers or leaflets to market products.
Can you still even sell products without the internet?
How To Start Selling On Amazon
Today we will discuss a few points: the fact that you can sell globally on Amazon with a few clicks, and that you (and your company) can be almost anywhere in the world.
What are the benefits of being in a different country when selling on Amazon?
Let's dig in.
The internet has made everything easier. With social media, ads and whatnot, marketing and selling have become a lot easier. Selling a product online allows you to reach a wider audience and new customers, and as a buyer, shopping online is basically like having a big shopping mall right at your fingertips – one click and you have access to the whole world. Truly, the internet has changed the way people buy and sell things by removing traditional geographic boundaries.
Effortless Selling on Amazon.com

One of the world's largest online retailers is Amazon.com. Over the years, it has expanded to sell a wide variety of consumer goods, from books to everything you could think of. Amazon isn't just a powerful tool when it comes to buying stuff, it's a great place to sell them as well. Amazon has over 300 million users (source) which gives sellers a massive number of potential customers. The site has comprehensive reach, categorizes just about everything and anything you could possibly want to sell, and has millions of users who frequently sort through all of those categories. Beyond a doubt, the website is basically a haven for sellers. It certainly takes business to a whole new level by putting your products in the spotlight effortlessly.
As of today, Amazon has 11 marketplaces: the US, Canada, Mexico, the UK, Germany, France, Italy, Spain, China, Japan and India. They have 120+ fulfilment centers, 180+ countries with loyal Amazon customers, and 30+ product categories (source). This allows you to grow your business internationally. Introducing your products globally takes your business to a whole new level.
Check Out The Amazon FBA Infographic!
Prefer to check out images? We made a full infographic of this blog post for you to download and enjoy! Check it out now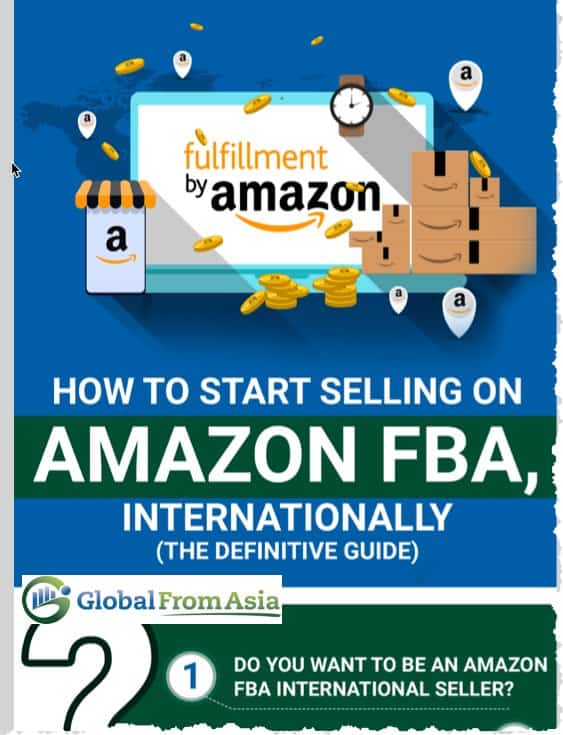 Why Sell Internationally?
The internet has made it easy to sell globally. It's just one click and you have access to the world, so why not take advantage of it? If the business is doing well locally, why not step out of your comfort zone and introduce your products to the world. Test the waters. After all, it wouldn't cost you that much and this could hardly put your business at risk. However, you'll need extra time and extensive research to pinpoint which country/region you want to sell your products to. There are a few things to consider like the culture, the market, the law (restrictions, taxes and duties), the language, etc.
How Does Signing Up Work?

First things first, you need to decide on which marketplace you want to sell your products. When deciding to sell on Amazon, the best advice is to know your business and know what you're getting into.
By focusing on your business' information needs and strategies, you'll be taking your business success to the next level in no time. You need to know which products are appropriate to sell, which products are profitable, and which products are unsuitable for your marketplace (e.g., Japan: goods that may violate the Law Concerning Wildlife Protection and Hunting). In addition, you need to consider the language this marketplace uses. Language proficiency is essential in order to provide good customer support – unless you use the FBA (Fulfillment by Amazon).
What is Amazon FBA?
FBA is basically sending your products directly to Amazon's fulfilment centers where their warehouse would handle shipping, packing and customer service/support for your products. All you need to do is send your products/inventory to Amazon and let them manage the rest. This sort of program allows you to focus on other aspects of running your business (like marketing & advertising) while Amazon handles logistics, packing and customer service.
FBA is ideal for anyone who owns a small business because it could save a lot of time and money. Easy, right? However, this program is not free; you will have to pay for the fulfilment fees (per unit) and monthly inventory storage (per cubic foot). Please refer to this link for the fees.
If you've opted for FBA, Amazon will give you the details and shipping address of where to send your inventory and then you can sit back, enjoy a cup of joe, and wait for sales to come in (with a lot of extra effort on marketing, of course).
What Is Amazon Global Selling?
Amazon Global Selling is a program that helps you expand your business internationally by giving you access to Amazon's 11 marketplaces and millions of customers. Basically, it means selling in more than one Amazon marketplace.
How to Get Started
1. Know your products – Which products can be globally profitable?
2. Choose your marketplaces – Do a little research on each marketplace and identify where it is best to sell your products.
3. Create an account – Sign up and go global. If you're already registered as a seller on Amazon.com and want to expand your business in Europe, then you need to sign up again on Amazon.co.uk or whichever marketplace you want to sell.
4. FBA/Individual fulfilment – I'd choose FBA if we're going global so we wouldn't have trouble with language barriers/customer service, packing and shipping.
5. Start selling
This is another form of Cross-Border
E-commerce

What is cross-border e-commerce? Many say it started when eBay entered the Chinese market and started to attract Chinese businesses to sell on eBay's US marketplace. Some say it is selling into Mainland China from outside of China, and yes, this is PART of cross-border e-commerce – but not 100% of it.
We define cross-border summit as "international e-commerce" and the process of selling a product "across borders" from one country to another. It has been happening for years, but only recently have governments and border protections gotten so "hot" that the trend for cross-border e-commerce has grown so much.
Related post – How to get started with Chinese-based cross-border e-commerce
This Discussion on Video
Watch this video with our co-host, Lyka, as she explains to you what Amazon is and how you can start selling on this e-commerce platform:
Amazon's Registration Process

Once you've decided which marketplace is best for your products, you may now go through the registration process, which is fairly straightforward and can be completed in under an hour.
You can set up an Amazon Seller Central account by visiting this page.
See below screenshots to get you started.
First off, Amazon will ask you the basics: name, email and your desired password. Afterwhich, you will go through five stages: Seller Agreement, Seller Information, Billing/Deposit, Tax Information and Product information.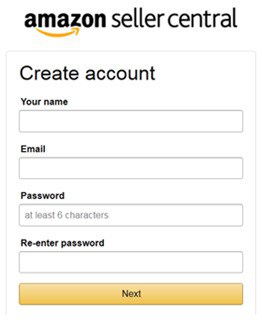 1. Seller Agreement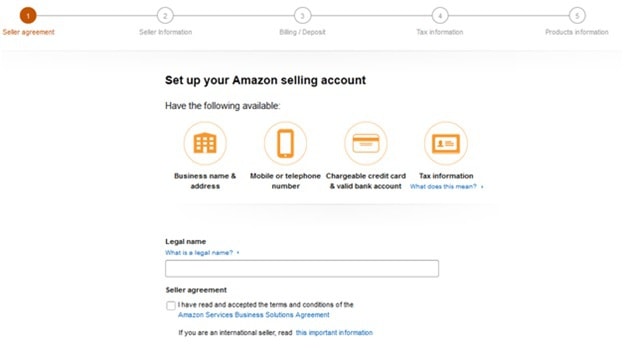 To expedite the process, you may want to prepare this information in advance:
Credit Card
Phone Number
Company Registration Details
Primary Contact Person Information
Beneficial Owner Information
Bank Account Information
2. Seller Information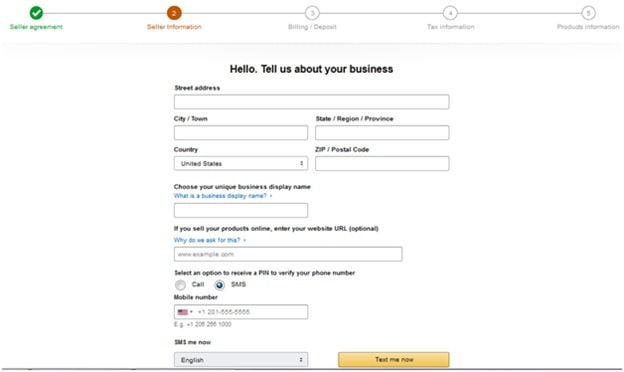 3. Billing/Deposit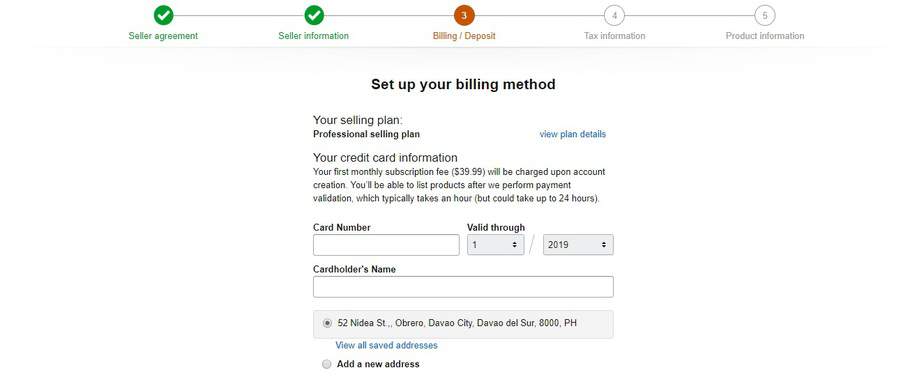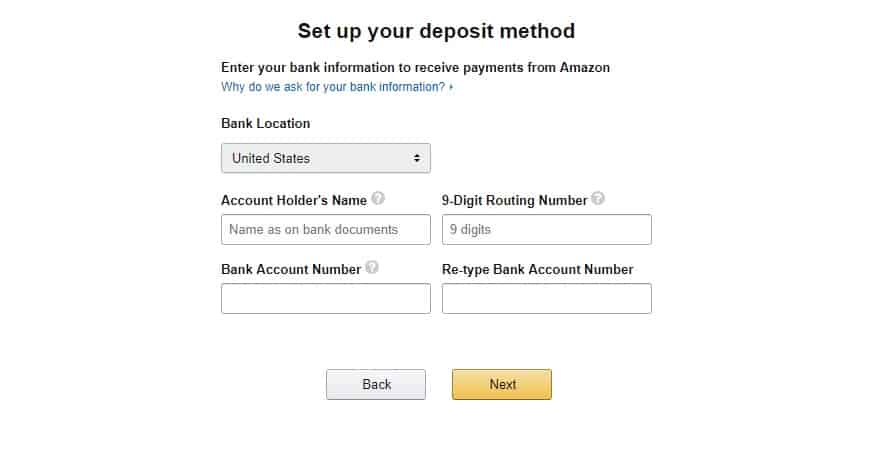 4. Tax Information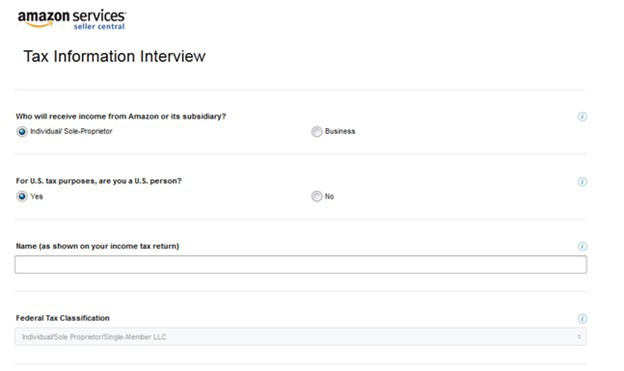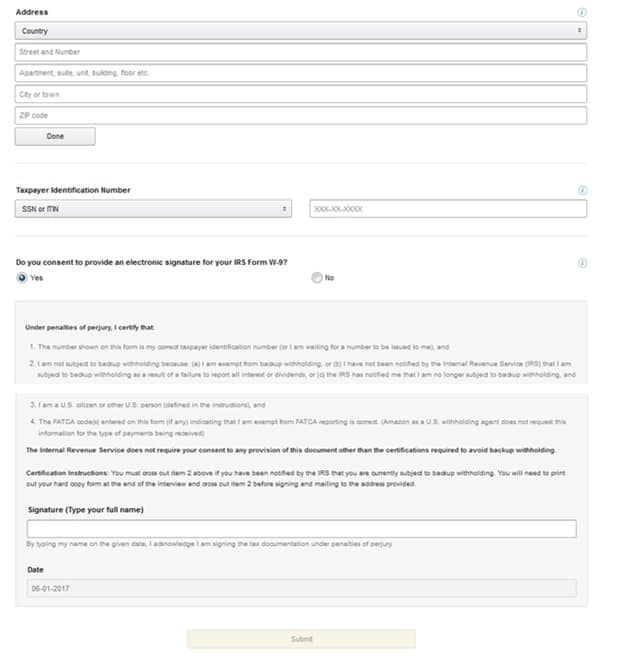 5. Product Information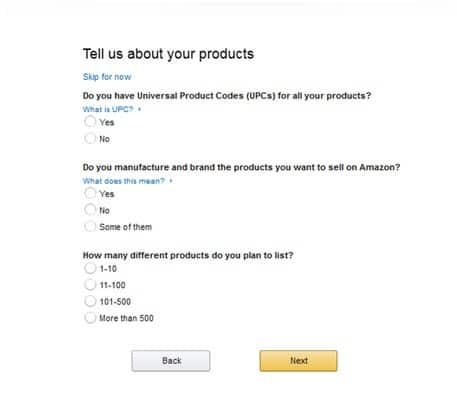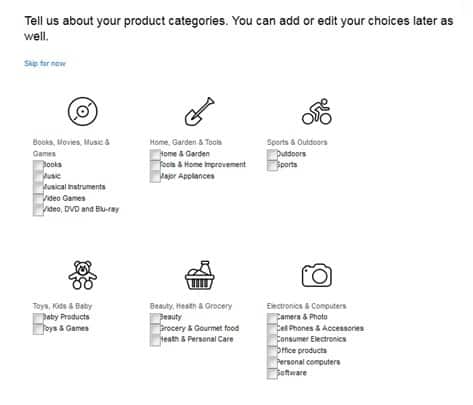 Do You Need to Have a Company in the US to Sell on Amazon US?
You can sell on Amazon US from anywhere in the world. It doesn't require you to have a US-based company. However, Amazon will require you to have US bank account information – this is where Amazon will send the money. So for international sellers, fret not, because Amazon has a feature called Currency Converter for Sellers – this allows Amazon to send the money to your local bank in your local currency. You can check the FAQs about this feature here and list of countries and currencies supported by Amazon here.
From Which Countries Can I Open a Seller Central Account?
As of today, there are 102 countries that can access and sell on Amazon. Wherever you are in the world, you have access to Amazon's millions of customers. Check below for countries supported by Amazon:
Albania, Estonia, Namibia, Algeria, Finland, Nepal, Angola, France, Netherlands, Argentina, Gabon, New Zealand, Armenia, Georgia, Niger, Australia, Germany, Norway, Austria, Greece, Oman, Azerbaijan, Guinea, Panama, Bangladesh, Haiti, Paraguay, Belarus, Honduras, Peru, Belgium, Hong Kong, Philippines, Benin, Hungary, Poland, Bolivia, Iceland, Portugal, Botswana, India, Russia, Brazil, Indonesia, Senegal, Brunei, Ireland, Serbia, Bulgaria, Israel, Singapore, Burkina Faso, Italy, Slovakia, Cambodia, Ivory Coast, Slovenia, Cameroon, Japan, South Korea, Canada, Jordan, Spain, Chad, Kenya, Sri Lanka, Chile, Latvia, Sweden, China, Liechtenstein, Switzerland, Colombia, Lithuania, Taiwan, Costa, Rica, Luxembourg, Thailand, Croatia, Macedonia, Togo, Cyprus, Madagascar, Trinidad & Tobago, Czech Republic, Malaysia, Turkey, Denmark, Mali, Uganda, Dominican, Republic, Mauritius, Ukraine, Egypt, Mexico, United Kingdom, El Salvador, Morocco, United States, Equatorial Guinea, Mozambique, & Vietnam (source)
Can I Sell on Amazon As a Non-US Resident?
Cross-Border Payments and FX Fees
Please keep in mind cross-border payments and FX fees. By selling on Amazon, they will pay you in the currency of the country in which your seller central account is based. Many don't even look at other alternatives and have Amazon give sellers a horrendous exchange rate.
Don't make that same mistake!
Check out our complete guide and comparison on cross border payments for payment provider solutions and to understand the process in more detail.
Professional Seller vs. Individual Seller
Once you've finished the registration, you will need to decide which type of seller you want to be: a Professional seller or an Individual seller. Professional sellers are basically sellers who showcase a large number of products, whereas individual sellers are typically sellers that have a small supply of products for sale.
To be a professional seller, you will have to pay a monthly fee of $39.99. Signing up as an individual seller is free except Amazon gets $0.99 from every item you sell. Have more than 40 products to sell? Do the math and sign up for a Professional Seller account.
Benefits Of Being A Professional Seller On Amazon
Amazon gets no fee from each product sold.
It keeps the account active, even if you don't list or sell anything. (But hey, Amazon still charges you $39.99/mo., so your account better be active!)
The shipping rates are customizable.
Offer special promotions and gift wrap options for your products.
Professional Sellers can create new listings.
Eligible for top placement on product detail pages.
Only Professional Sellers can apply to be allowed to list and sell in 10 or so categories of products that are currently gated on Amazon. These categories include Clothing, Shoes, Jewelry/Watches, Beauty, Collectibles, Automotive, and Video.

On the other hand, you may always flip back and forth from being a Professional Seller to Individual Seller, especially during off-peak season to save you from the monthly fee.
Still haven't worked through the issues of whether you want to sell on Amazon? Check this Ready-to Sell Checklist made by Amazon!
Before listing your products, you will have to select an Amazon Category. You need to determine which category your products fall under. Note that for other categories there are requirements to fulfill like invoices, images and questionnaires.
Next, you'll have to gather all the important details about your products in order for your clients to know more about what you're selling. Create a product description that convinces your potential customers to purchase from you, make it short and concise, and make your products look their best. As for the images, Amazon requires the products to be professionally photographed. Once your listing is up, your product is now for sale on Amazon!
Do International Sellers Have to Deal with Sales Tax in the US?
If you're an international seller but with no physical presence in the US, then you only need to pay for customs duties & import taxes.
However, if you're an international seller that has any physical presence in the US (such as office, staff or warehouse) then you need to comply with the US sales tax.
Basically, if you're doing your own fulfillment, then you need to pay for your sales tax in your own home state. If you're FBA, then you need to pay for US sales tax. So yes, either way, whether you're a US citizen seller or a foreign seller, you can never get away from sales tax.
Do International Sellers Have to Deal with VAT Taxes in Europe?
If you have chosen Europe as your marketplace, then one thing you need to consider is the VAT.
Basically, VAT is paid by the consumers, and it is the seller's responsibility to collect and file it. VAT is typically added on to the retail price of any goods/services posted/sold on Amazon. It is best to get advice from an accountant or a professional advisor to help you understand your VAT obligations in the European Union (EU).
Weighing The Pros and Cons of Where You Incorporate When Registering on Seller Central
Leverage the fact that people can do business from anywhere. Countries need to compete to attract you to use their location and services — not the other way around. There are always a few things to consider when opening a new company (or adding new corporate layers to your already existing empire)
Taxes – that country needs to collect money for maintaining you in their jurisdiction. What are their upkeep costs?
Taxes overseas – do you still need to pay taxes in overseas markets where you're selling?
Hiring – do you plan to hire full-time staff in that country?
Centralizing operations – are you "in love" with a certain country and want to live there long term? Or are you making most of your payments to suppliers there. Whatever the case, having one location for business will always be easier than constantly wiring money internationally.
Residency – do you want a new passport, or at least a long-term residence permit? Having a company and investing in the local economy is a great way to do that.
Lifestyle – do you plan to live there long term for personal reasons?
The Easy Days of Registering on Amazon FBA Are Behind Us
Gone are the days when you could open up an Amazon FBA account with little to no due diligence now. Most new Amazon FBA sellers are required to submit proof of address documents, bank statements, and other proof of activity before being allowed to list products.
But don't let that discourage you! As an entrepreneur and business owner, there will always be obstacles and we need to persevere to get through.
Questions and Feedback From Readers
We love getting questions and feedback from our readers especially for this topic. It gives us the validation that more and more people are going into Cross Border E-commerce. Also, we get to learn more about what help does our community of e-commerce business owners need.
Here are some that were sent to us:
Hi I am from Saudi Arabia and I would like to start selling my products on amazon I would like to know if I am allowed to use amazon store. And if so, if they can do the delivery for my products?Soha
Hey! I'm a resident of Spain and I'm interested in selling goods on Amazon US market. I don't have an LLC or any other form of legal entity in Spain. I'm a sole proprietor and would be working from home. Will I definitely need an LLC in my country of residence to start selling on Amazon US? I've verifiable internationally chargeable card information, verifiable phone number, and home address. Looking forward to your response!Mary
You would only need to set up your Amazon Seller Central Account so you can start selling.
Forming an LLC is not a requisite to selling on Amazon. If you want to keep your business structure under a sole proprietorship, then you can do so. Just check the regulations or permits needed in your country of operations.
A lot though are moving in the direction of forming an LLC. And, this is mainly for financial and legal protection as your business expands, which you may not get in a sole proprietorship structure.
What's the Future of Global Selling, and Cross-Border E-Commerce
What do you see as the future of selling on Amazon? The world is a global market from the start, and that is what we are all about here at Global From Asia.
We'd love to hear your comments!
Looking For Help Getting Setup on Amazon FBA From Asia?
The team at Global From Asia has a network of specialists to help people get Asia to Amazon setup. From services to a more in depth course – we would love to work with you getting on the fast track to Amazon. Fill out the form below and we'll get you on the track you need.