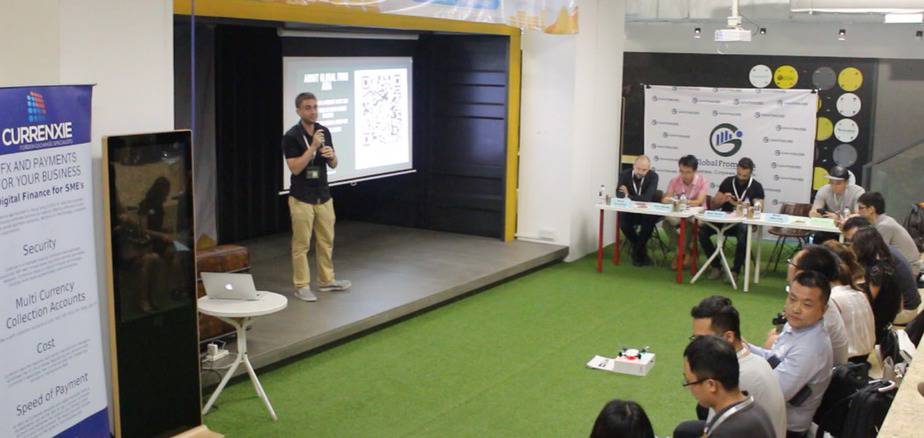 As we have been building up the meetup and chapter communities of Global From Asia we have been testing different style events. Recently we had a group of Investors and Executives from Brazil coming to Shenzhen, China and we thought it would be a perfect time to have a demo session.
Watch Highlights from Mike's Blog Video
We also have select clips of this e-commerce demo night event in my video blog number 116- check it out below
What Is an E-Commerce Pitch Demo Night?


There are plenty of startup pitch nights around the globe – but we are looking more at brands who are growing online and looking to expand their distribution. These are brand owners or manufacturers who are looking to get more exposure at the demo night, as well as get valuable feedback from the panel of judges on how to grow their business.
Each team has an equal amount of time (we set 10 minutes) to demonstrate their product and show what they are looking for (investment, distributors, customers, feedback, etc). After their demo session is complete, they can listen to the feedback and questions from our judges (we set 5 minutes). The audience gets to see some new products and business opportunities – many were investors and distributors, as well as get inspired by others #hustling and building the brand and product business.
After the pitches are done, they get some time to network with the audience an the judges go to a quiet room to select the winners. The way the judges calculate the score is not based on how pretty their presentation slides were – but on the actual business. Is it differentiated from others with higher barriers to entry? Is the product showing traction in the market? Is the team solid and capable of getting things done.
Once judges have agreed on the winners, the audience and pitching companies come back together and take a networking break. Each judge announces the teams and gives the feedback on why they were ranked as they were. This is so that the team can get insights and feedback on how they can improve their business (and hopefully win at a future e-commerce demo night).
Winners receive different prizes depending on the night. We awarded our first demo night winners a lifetime membership access to our GFAVIP members program as well as exposure and recognition on this very blog post.
Now, let's check out the teams that pitched:
Thank You To Our Sponsors Of The Shenzhen Chapter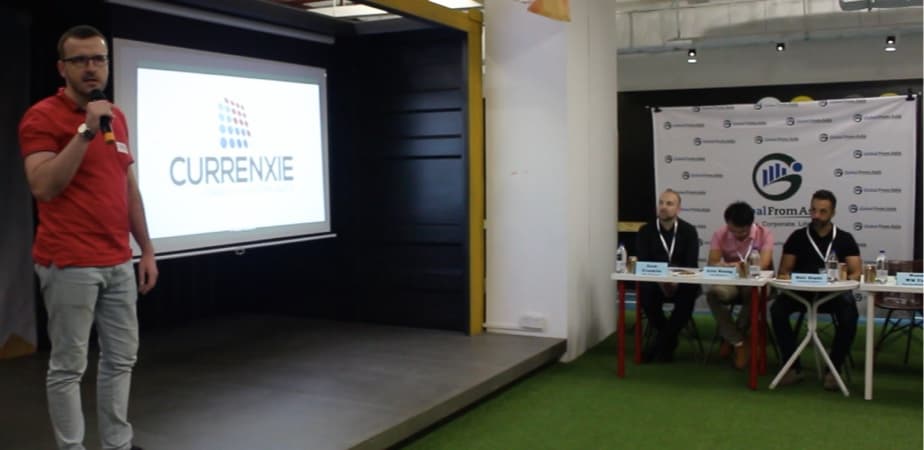 Also, want to recognize our sponsors who helped make this event a reality. We had 4 sponsors this time
* Currenxie – a FX exchange service. Ivan has been really awesome to come and share a brief intro at the last 2 meetups
* 1ShipDirect – a logistics company headed up by Samson, he attended our May meetup in SZ and really supports what we are doing.
* Sexy Salad – "bringing the sexy back" in salad and eating healthy. They brought salads for us!
* TGN Workhub – sponsored the event venue. A great space for coworking – and a nice stadium style seating area for these kind of pitch nights.
Team 1: Drones

Jerry from J Me company and his colleague started the night off with their mini drone company. They also attended our Cross Border Summit in April and since then have launched their product to the market.
They had the working product here at the show and demonstrated it to the audience and judge panel. I am happy to see their progress since April – as they now have firmware that supports it working indoors in close range. I'll write up a full blog post and review on this drone soon – stay tuned.
Team 2 – MicroMart Chinese E-commerce Platform

Next up was Nihal from Micromart. They just launched their platform the week before so they were excited to share with the audience. Micromart is a "single level" MLM (multi-level marketing) e-commerce platform for the Chinese market. This means that overseas brand owners and distributors can list their product inside MicroMart, and Chinese sellers can re-sell those products in Wechat and other social media (or any method honestly) in their networks.
Basically, an affiliate platform and a way for you to be able to have another reseller level on top of your own seller account so you can earn some income from those re-sellers you bring onto the MicroMart Platform. They explained since launching last week they already have over 1,000 signups on the sell side in China and are adding more products rapidly.
Judges asked about the legality of MLM in China, but the team explained it is legal on a single level basis – but not a "multiple" level (pyramid) level.
Team 3 – Dancing Bluetooth Speakers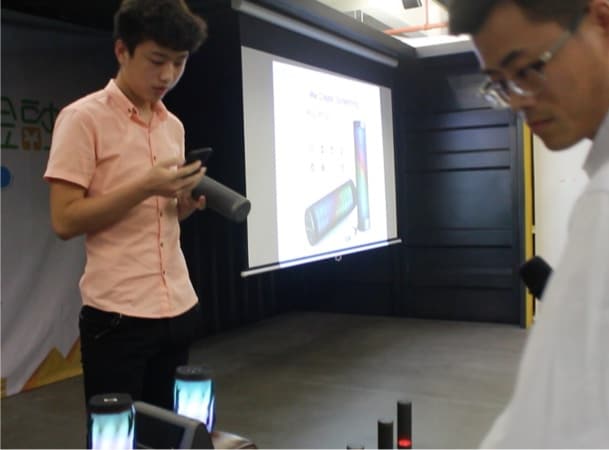 The next team had a top selling product on Amazon – a "dancing bluetooth speaker". This means as the music tone and volume changes, built in LED lights inside the product increase and decrease. You can also connect a whole series of speakers together and create a surround sound experience in your home.
We were able to enjoy the music a bit during their pitch, and afterwards during the networking time. Judges asked what the team was looking for – and they said more sales. But they asked for clarification as the team said it was a top seller on Amazon. Then we all learned that that was through a reseller, and that this company was a OEM / white label supplier to that Amazon seller. This company is looking for more distributors and brands to cooperate with them.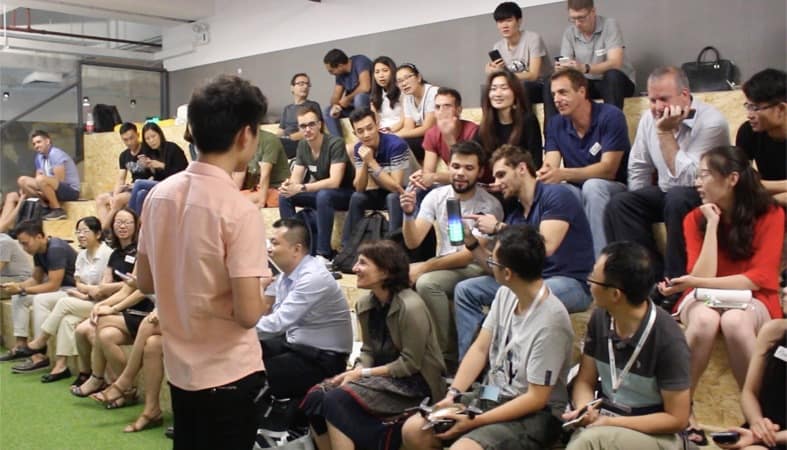 Team 4 – Sports Camera (GoPro Style) & More

The fourth and final team to present was a camera factory. This company had a range of cameras for adventure sports and inside of your car. High resolution ability, waterproof, and also touch screen (something new) – they had a whole series of cameras for all different situations.
We were even able to remotely dial in the CEO of the company and let him talk to the judges from one of the camera products they had on hand. The judges were confused how this would be different from GoPro – but the presenter explained that it was a cheaper price and more available to a wider audience.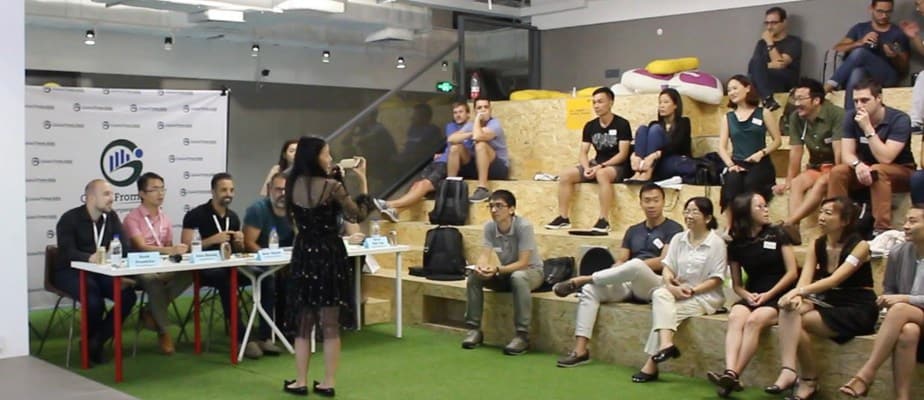 Judges Decisions and Presenting Results
Once the 4 teams wrapped up, judges huddled in a back room to calculate their scores and pick a winner. I was able to come in and hear their discussion points. They wanted a team that had something new and unique, or at least some differentiation in the market. Looking at the business model and competitive moat.
After about 10 minutes, they had their winner. Zack Franklin announced the winner as MicroMart. He explained they won because they had a way to help companies get into the Chinese market and it was a unique angle on that. We all hear about foreign brands wanting to sell into China – and MicroMart seems like a potential channel to help them do that without needing to invest in making their own Wechat Official Account or store.
Excited To Grow E-Commerce Pitch Night – Turning Into Cross Border Matchmaker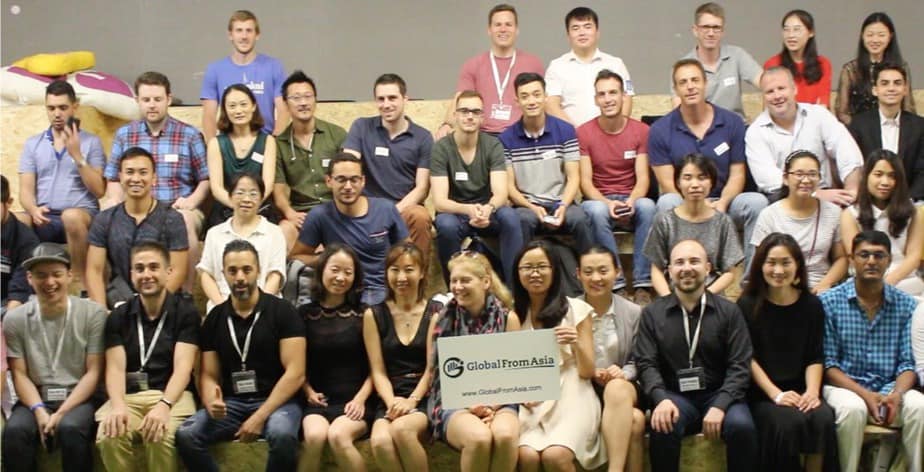 We thanked all the teams for presenting and celebrated with a group photo. During the networking session a lot of people approached us interested to pitch their company and product. I was happy to see a lot of innovation and new products from the attendees – both on the foreign side and the Chinese side.
This is turning into something massive and we are excited for the long term growth of it. Now we are investing a lot of time on our bigger event – CBM – Cross Border Matchmaker. The date is looking to be in October this year – with a regular series of events to allow the community to see a wide range of products and series. A day of innovation, showing products to investors and distributors around the world and helping make global connections.
Time To Go "Global From Asia"

Referring to Gary Vee's visit to Asia – this is where the world is going – "global from Asia". We have had the entire world investing in infrastructure in China and other parts of this region, and now the innovation and distribution is being built directly in Asia.
Brand owners and business owners need to see this coming trend. Don't wait to get left behind – get involved in setting up a global empire from inside the Asia region and be in control of your destiny.
This is what Global From Asia is all about – and we are excited to grow this community and take it to the next level. I'd love to see your e-commerce company and innovative product pitch at our upcoming matchmaker events!