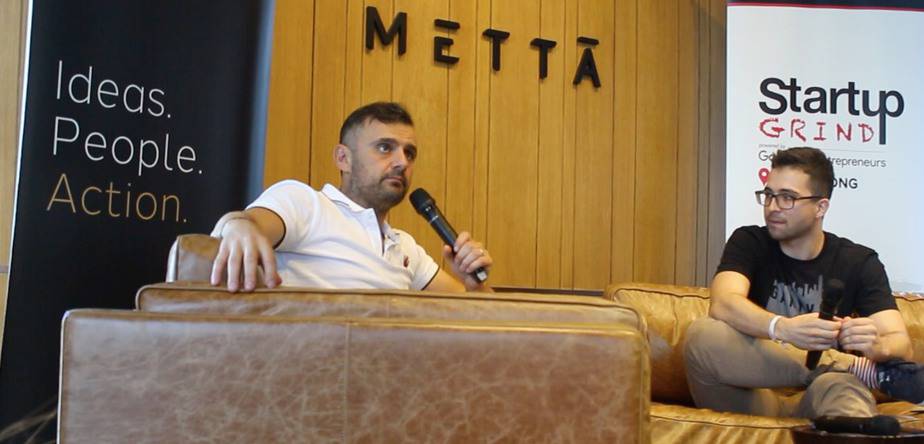 Global From Asia had the pleasure to be media at this year's Rise Conference, and I was even able to get a front row seat at a fireside chat and AskGaryVee book signing event hosted by Startup Grind. While the event was streamed live and recorded by a ton of different media and bloggers – today I want to highlight some of the points of his discussion specific about the Hong Kong, China, and Asia perspectives he shared.
His First Trip to Hong Kong – Even Asia
When he was asked how he likes Hong Kong – he said this was his first time here – and he had just landed a couple days earlier. He really likes the energy and the "hustle" and joked that he told his wife that they are relocating to Hong Kong.
It was his first time anywhere in Asia – he said he has been to Australia and India – so depending on exactly how you define Asia – and this is showing him how serious he is about the region. He said he's coming back to Asia in October for an event in Singapore as well.
This is great news for us here at Global From Asia – and as we will see in the rest of this writeup – he really made us feel we are in the right position on helping people grow their international empires from Asia directly.
We wish he was serious about the Hong Kong relocation – he had to remind everyone that it was a joke and he's staying in the New York, New Jersey area as his home base.
Plans To Dominate China in 3 Years
Gary Vee has China in his sights. He is paying close attention to it now and says he wants to understand the market a bit more before he says he can come in and dominate.
The "dominate in 3 years" is his own internal challenge more than a public one – like his quest to buy the New York Jets. When someone asked him why he is targeting China – he said in some many words as "there are a lot of bleeping people there" so it is hard to ignore.
I can't wait to see how his China marketing strategy rolls out. So far, many of my Chinese friends are not familiar with him and I wonder if they will like Gary's more direct and rather aggressive persona.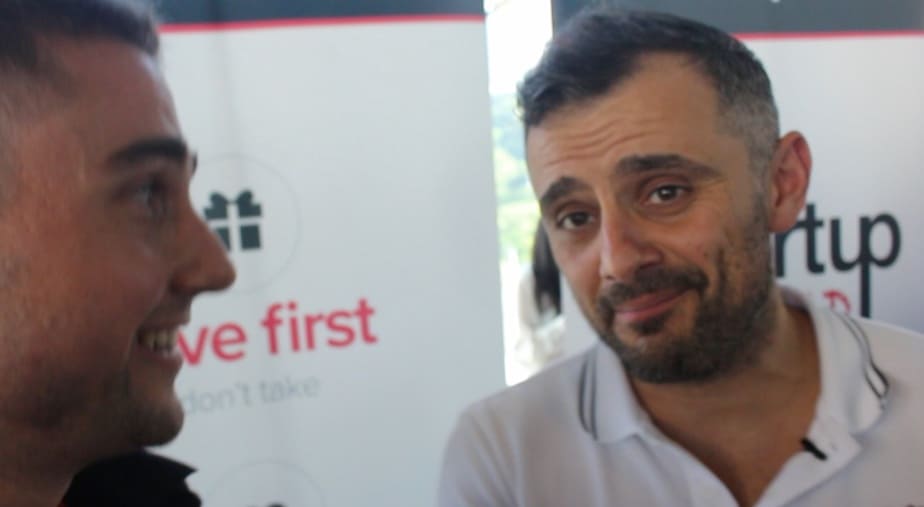 Just Learned The Keyword KOL
Another joke is that he learns the environment fast and just found out what KOL (Key Online Leader) means. He says it is just another word for what he calls Influencer. I liked his summary of an influencer versus a blogger as someone who gets others to take action.
Other fun facts about KOL and Influencers – it is safe to say that the influencer market in China is much more developer in America. There are already platforms and systems much more advanced for brands to pay KOLs in China to promote their products and integrate it into their content. While this is developing in America – the sophistication is much more advanced in China.
Maybe these trends have also been a factory in Gary paying more attention to the Chinese market? He also mentioned how much more of an advantage Chinese marketing has because of the monetization. Wechat Pay and Alipay are much more integrated in the social media experience and payments and e-commerce is much more of a natural experience in Chinese internet than in the West. He explained how "bulky" and fragmented it is to make payments in the Western social media world and how smooth and more user friendly it is in China.
This gave me some hints on his Chinese marketing strategy. Even with his event I attended, he made his book part of the event – buy the book as part of the ticket. From the podcasts and videos I have watched of him, he always tries to integrate e-commerce or "utility" in the transaction rather than just paying a fee.
He could become a gateway for foreign brands into China once he establishes Gary Vee in the Chinese social media space – and then through his content as a KOL in China himself – can promote his New York City agency (Vander Media) clients products and services to the Chinese market. Everyone wants a piece of the action.
Don't Need Silicon Valley, Don't Need Harvard MBA
Questions from the audience ranged from education to replicating Silicon Valley. Gary explained that Asia has its own advantages and angle – don't try to be like Silicon Valley.
He boiled it down like this – Silicon Valley, Harvard, they are trading their brand equity. Facebook was started in Boston, Pinterest in Pennsylvania. They moved to Silicon Valley for the brand. Same thing with Harvard MBA – they have a massive brand that attracts the talent, and then trade in those "smart and successful" people to further grow their brand and repeat the cycle.
Its a trade on brand equity. You pay the high cost of living fee in San Francisco or the high tuition fee to Harvard University in exchange to put that address or that brand name on your resume (for yourself or your startup). Your ROI is the network inside of those communities, and the brand recognition you get when applying for investment or a corporate job.
But the value of these brands are decreasing. He said you can do a startup from anywhere, you can learn from anywhere. Just make it happen – #hustle.
I loved this and this rings so true to our Global From Asia mission – to build a global brand from Asia. You don't need to pay so close attention to what America is doing – innovation is happening directly here. Gary Vee seems to be noticing that with Wechat Pay and other Chinese social media innovation happening. Others will soon follow suit and realize that China and Asia is no longer about American copy cats, and instead it will be the other way around.
The tables have turned, and which side of the table do you want to be on? Time to go "global, from Asia".
The barriers of borders and countries is being broken down – now anyone with the will and desire to learn and work hard is open to anyone. No more excuses that you can't afford to go to college or you can't afford to travel and re-locate to where all the startups are. Do it from right where you are.
And it is getting exciting and strategic to do that action from right here in Asia.
Number One Advice For Asia – Don't Copy America
To extend on the point of not needing Silicon Valley or Harvard MBA – don't try to replicate what America has become.
A few of the audience questions were about how to do something in Hong Kong's startup scene to become like Silicon Valley. Or how to build a company like X,Y,Z.
Asia has its own unique strengthens and position – leverage that. By trying to copy, or replicate something else will only mean you can be as good as #2. To be a leader, to stay on top of the game – you need to innovate and utilize your own unique competitive advantages.
Those advantages are being highlighted more and more – massive and growing population in China and Asia. More and more investment money coming into the Asia region. More online payment capabilities to help startups monetize earlier and not rely on advertising.
Keep your eyes open and see the advantages in growing the Asia business ecosystem.
Gary Vee Is Coming Back to Asia – Singapore In October
For the super fans of Gary – he will be back in Asia. He is coming in October for an event in Singapore. Still nothing lined up for Mainland China, but based on his discussion at this fireside chat – seems that we will see him speak in China soon as well.
This guy is motivating. Sitting front row and hearing him show his excitement about Hong Kong, Asia, and China got me amped up. Feel we are doing something meaningful here at Global From Asia – and still in the early stages of that roller coaster ride.
Now that Gary Vee has his sights on Asia – I am excited to see more people following in line. What do you think – will Gary Vee dominate Chinese social media in a few years? I will have this article bookmarked and check the calendar in July 2020!