---
This week – we are in Japan! At the Rise conference I got a chance to catch Masaru Ikeda
We are in Japan this week! Masaru Ikeda is a popular blogger – yes in English language – about Japan. I met him at the Media area of Rise Conference and was able to get some of his time and expertise to talk about the Japan market for foreigners and for e-commerce sellers. In the episode I learned about some new cities as well as investment opportunities for those willing to venture into the land of Japan – let's tune in.
Topics Covered in this Episode
About Masaru Ikeda / Blogger

Masaru started his career as a programmer/engineer, and previously co-founded several system integration companies and consulting firms. He's been traveling around Silicon Valley and Asia exploring the IT industry, and he also curates event updates for the Tokyo edition of Startup Digest.

Which Japanese Cities?

What are some different areas in Japan to consider for a foreigner doing business in Japan

Any special programs?

What are some benefits new business owners can get.

Integrating with Local Japanese businesses

Strategies for networking with the locals in Japan

International vs Local in Japan

Can you do a global, cross border business inside of Japan? Can you go local and global?

Examples of foreigners going into Japan

What are some stories you have worked with of companies entering Japan?

Ways to find you online

Thanks so much, how can people find you and your blog?
People / Companies / Resources Mentioned in this Episode
Episode Length 39:45
Masaru Ikeda – thank you! Thank you Masaru Ikeda for your time. This is what Global From Asia is all about – Asia business. When I picked the domain name, even though we started in Hong Kong business, I picked Global From Asia. Some Chinese newspapers have called me "Global From Futian (A district in Shenzhen, China where I am based)" – but heck, this is Asia! And I'm glad we have our second podcast talking about Japanese business. It does seem so, special, and you need to adapt to the local policies and people to succeed there.
What other places in Asia do you want to dive into with Global From Asia? Thanks for listening and catch up soon.
Download Options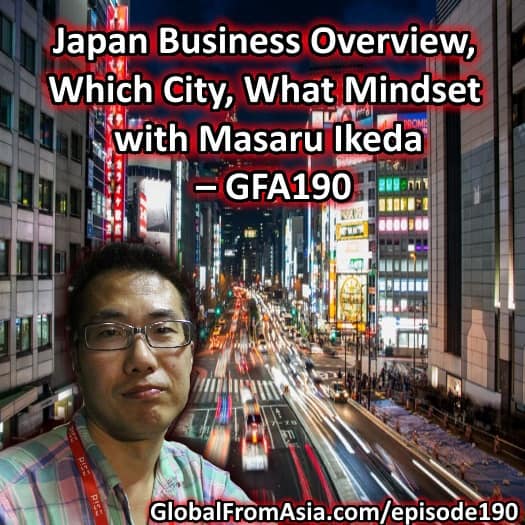 Podcast: Play in new window | Download
Subscribe: RSS