Wondering what is happening in the world of international insurance?
Besides banks upselling insurance to new clients (doh!) there are more things happening like inflation!
Today we have a guest post from Pacific Prime to share more on global insurance, enjoy!
The cost of healthcare around the world is constantly rising, and no one knows this more than expats and foreign workers. Unless you're from a country with a generous public health system, such as the UK's NHS or France's Couverture Maladie Universelle, the notion of purchasing private health insurance which offsets the rising cost of healthcare while covering your medical needs is a familiar one. When you're an expat, usually you have no choice in the matter of whether you need to buy health insurance.
The concern here is that like the cost of care, it is pretty much a certain thing that health insurance premiums will also increase. One of the most common questions people ask when it comes to health insurance would be around why insurance prices keep climbing year-on-year?
There are a number of factors that influence how much premium prices inflate around the world and knowing what they are can help both individual and company insurance consumers understand what determines what they pay for coverage, and what to expect in future.
So what drives insurance inflation globally?

According to Pacific Prime's International Private Medical Insurance Inflation – 2017 (IPMI) report, there are a number of key factors that positively and negatively impact the rate of premium inflation each year. Whilst there are of course regional factors that come into play, the broker has found that there are four main drivers that have generally influenced insurance prices the world over:
New medical technology: The health sector is among one of the biggest in terms of demand for new technology. From new machines, procedures, to new medicines, this increases the cost of delivering good health outcomes and, as a result, the price insurers pay when covering claims.
An imbalance of healthcare resources: Global challenges such as ageing populations, general increases in demand for healthcare, and higher disposable incomes and service expectations combined with a slower rate of private health facilities being built has resulted in increased prices for care and insurance in many countries.
Increased compensation for healthcare professionals: Increasing training, education and practicing costs around the world are leaving new doctors, nurses, and other healthcare professionals with significant liabilities to be paid for through their remuneration, shifting the costs on to patients and care consumers.
Healthcare overutilization: Another significant factor influencing insurance premiums around the world is the way in which both patients and medical specialists combined have tended to overuse medical treatments, increasing the amount of claims insurers are asked to cover. One of the ways this is being combatted is by increased premiums.
These drivers have had a constant influence on the price of insurance premiums around the world since the inception of the IPMI report.
A brief look at insurance inflation in Asia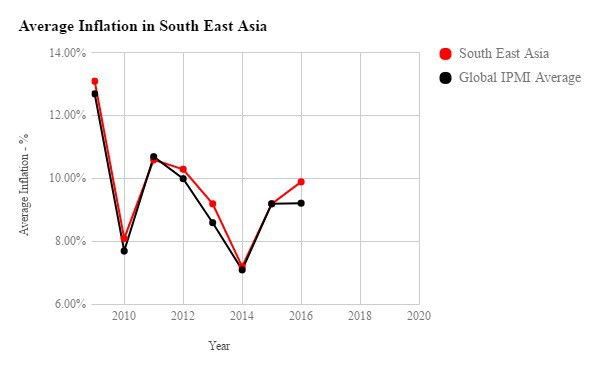 Source: Pacific Prime's International Private Medical Insurance Inflation – 2017 report
One of the more interesting findings from the report focuses on the Asia region which has seen a higher rate of inflation in recent years. From the cart above, inflation from 2011-2014 was decreasing, however 2016 saw prices increase by 9.9%. Even more interestingly, the IPMI report shows that Asia's average increase was above the global average for the year, which was 9.2%.
Of the countries included in the focus, the two highest insurance price movers were Hong Kong (12.1%) and China (12.06%). Both had IPMI increases higher than the global average, and in both countries the behaviour and incomes of the people had a large part to play in the rise. Singapore also posted an above-the-global-average inflation increase at 11.2%, bolstered by its booming medical tourism industry and government initiatives.
By way of contrast, the countries of Thailand, the Philippines and Indonesia all had IPMI rates hover below the 10% mark, with Thailand and Indonesia showing signs of their inflation increases lowering from previous years. Again, the movement of people as a result of global economic pressures has likely meant many of the purchasers of high-end insurance policies have moved elsewhere.
Looking at the future of IPMI inflation


Continued global economic uncertainty: Tougher economic times for all nations has meant a lot of belt-tightening from governments, and conservative decision making when it comes to both public and private health sector spending.
Changing population dynamics: Expat movements as well as changes in the makeup of "high networth individuals" has meant that the people who pay for higher-end insurance policies are influencing the products and prices insurers offer.
Technology and big data efficiencies: In the future, the health sector and insurers will be able to better utilize information and streamline processes to reduce costs. Whether or not these trends will continue is not the aim of the report, yet there's enough information surrounding them to put confidence in their impact for years to come.
In addition to the four strong drivers of insurance inflation discussed above, there are three other trends that look set to change the global cost of insurance in the future:
What else can the IPMI report tell me?

The annual report expands on many of these trends and regional impacts that are affecting Asia and the world. In particular, there is discussion regarding the IPMI rates of both the Middle East and the Rest of the World, and an in-depth look at the way in which the Dubai Health Authority mandatory insurance law changes have affected Dubai.
The takeaway for many readers will likely be an understanding of why their premiums change year-on-year, and just what they can expect in future; whether they're an individual or family insurance client, or you're the HR manager of your company looking at your group policy. The insurance inflation analysis provided by the IPMI report can help you make better decisions about your insurance in future.
About Pacific Prime