Confused about how to set up a company in China?
Who isn't!
I was there for many years.
Even in today's day and age….culture, language, and administrative issues create roadblocks from doing international business. I am overwhelmed with opportunities and examples of seeing this "margin of error" and always think of ways to solve it and hopefully get my fair financial gain for doing so.
First, I recommend you read and decide if China is right for you where we discuss the pros and cons of a Chinese structure.
But I Finally Got My Chinese Company Setup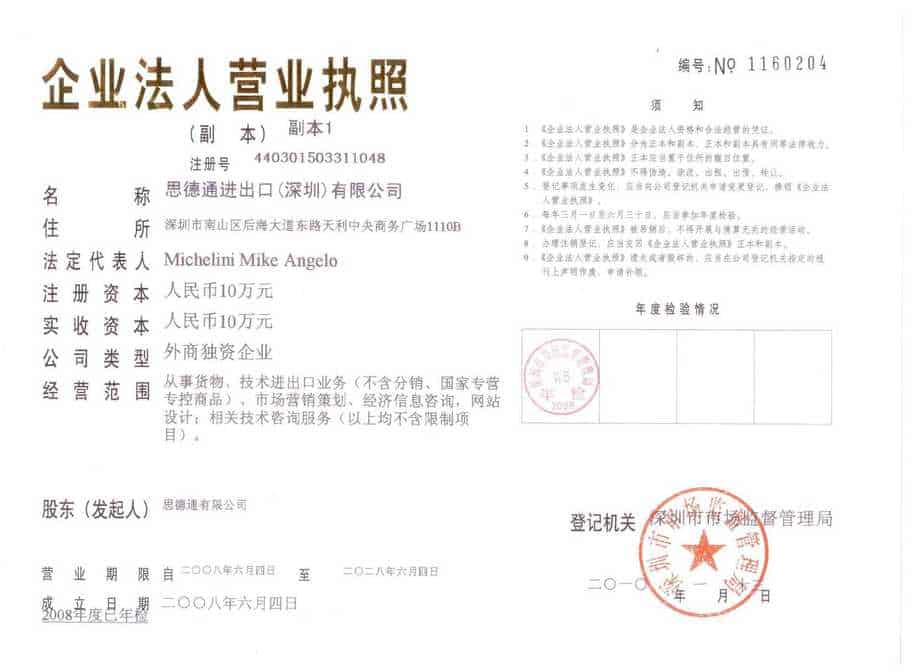 I love getting emails and comments from my blog posts. Lately its been more feedback than ever and I'm trying to keep up! A few days ago, a Hong Kong reader Arthur asked me:
Hi Michael,

I came across your blog and find it very interesting.I've always admired foreigners living in China despite of all the challenges they have to deal with.

I am currently based in HK and would like to start a business in China.I learned that you are running business under your WFOE.I would like to inquire about the procedure and process of opening the WFOE.

I have consulted with a few people but was told with different information. It seems difficult to obtain clear cut solid information in this aspect.I would appreciate of any info you may provide.Thanks.

Do you use MSN?

Regards,Arthur
It is SO TRUE! This is one of the reasons I moved to China in the first place…I was talking to lawyers in USA about China business…either they had no idea, were making it up, or wanted to charge an arm + a leg….I just couldn't figure it out.
What is a Chinese WFOE?
Ya, its a strange acronym, but commonly known and used in China. Its a 100% foreign owned company, WFOE, Wholly Foreign Owned Entity , some people say WOFE (wholly owned foreign entity), but they mean the same thing. It is essentially allows a foreigner to own and operate a company in China without doing a JV (joint venture) with a Chinese business partner.
Trying to answer this question myself back in 2007, reading online in USA, I decided to take my first trip to China where I tried to learn as much as I could that month in Sept to Oct 2007 to figure out how to do business in China. I was listening to factory owners, talking to foreign companies. I remember meeting Mike Bellamy from Passage Maker and he connected me up with a lawyer. Got her email when I was back in USA…and it was bouncing (some anti-spam on their server…blocking a potential client!) So frustrating from outside China to learn how to do business INSIDE CHINA
Then…I knew that I had to base myself in China in order to figure out all these questions about how to do business here, which led me now to make a presentation on how I experienced doing business in Shenzhen, China and have presented it a few more times, at Startups HK, Startups SZ, and SYB (start your business) club in Shenzhen, and many others in South China.
It has been a favorite presentation from those listening, and I will have to record it soon.
But let me outline my "non-lawyer" (i.e. use this information at your own risk and don't blame me if something has changed, as it always changes here) experience:
When thinking about doing business in China, first WHY DO YOU WANT TO DO BUSINESS HERE?
Mainly, having a registered company allows you to do 3 major things:
3 Things You Use a Chinese Company For
Mainly, having a registered company allows you to do 3 major things:
Hire Chinese staff and give them proper employment benefits – you can write contracts to Chinese citizens and give them a full-time job. You can hire a Chinese worker without a WFOE (using a representative office) but technically they are not under your contract, but rather Chinese government, and you need to pay the Chinese government agency and then they pay your staff for a fee per worker.
Sell in China (give official tax receipts / fa piao) – sometimes I get emails from foreigners who want to sell in China and get paid in their USA or offshore (non-China) bank. I think maybe now Alipay (Chinese paypal version) allows non-Chinese companies to open an alipay account (I see Godaddy accepts Alipay now, not sure if they have a registered Chinese company for that). But to officially sell in China, you need to issue Fa Piao or official tax receipts to your customers that they can use to put in the accounting books.
Get a Work Permit in China – sure, you can be employed by a Chinese company that issues you a Chinese work permit but technically then you are doing business in China under another company.
OK, so reading the above you agree that you "qualify" for needing to go through the costs (and headaches) of opening a Chinese company, here are the basic overview of steps I went through in 2008:
Preliminary steps before starting registration
Consult a local Chinese lawyer – I could have done registered a WFOE without a lawyer, but then again, you can do anything yourself, you can buy from a factory without an agent or QC, you can build your own website without a web designer. I think it is money well spent, and depending on the needs and requirements you have, if you are in China with your own Chinese translator, use a Chinese speaking lawyer or an english speaking lawyer, roughly you can put the costs from 10,000rmb to 50,000rmb depending on the complexity of your case, and if you need English or Chinese language help.
Register an offshore company to own the WFOE, do not put in your personal name – I was advised to put the company ownership in a company, rather than my personal name. A Hong Kong company is probably your best bet to do this. That way its more liquid to fund the company (China / Hong Kong relations are very easy), and as an American citizen, maybe there can be some political tension …a Hong Kong company owning the company instead of a direct American citizen…just seems safer to me. That is the advice I received, and that is the advice I would also pass along.
Hopefully you do those 2 steps, they can be skipped, but I do not recommend it….
Then Start The Formal Registration Process
Defining your company scope – What will your company do? Chinese government doesn't allow any type of business to be registered as a WFOE. Some, like Chinese internet business is highly regulated and may need to be setup as a Joint Venture

Also, its not like America, where a company can do ANYTHING. It has to be registered as that type of a business, and it must be in the company scope clearly outlined to allow the business to operate in that fashion.

Capital Allocation – how much money will you fund this China business with? Depending on the company scope, I think the minimum for any business is 100,000 RMB (at today's USD/RMB exchange about $15,500usd, at 6.2). My company WFOE is Shadstone Imp & Exp (Shenzhen) Co., Ltd. which is registered as a trading company. Consulting companies and trading companies are the lowest capital requirements. If you want to register an IT company.
Which kind of business licenses do you need? – I only applied for an export license. I did not, and still do not have, an import license. Even though my company is called Shadstone Imp & Exp (Shenzhen) Co., Ltd. – I didn't have to get an actual import license. If I wanted to get an import license, I would have to have a registered capital of 300,000 chinese yuan (this is in 2008, I cannot speak for current rates / regulations).
Notary Public from government of investing company – if you are registering the ownership of your business in the name of another business (taking my advise above in putting ownership in a Hong Kong company), then you need to get a Hong Kong notary public to notarize a specific letter. To be honest, I cannot fully remember what it was called, I went through Hong Kong Notary Public in Central district across from HSBC, but it cost me about 5,000HKD in mid-2008.
Bank Letter – The bank of the parent company you are investing from, you need to have that bank issue a letter to prove you are the owner and person you say you are, and that they are aware you are investing in a Chinese WFOE. Didn't seem like a big deal to HSBC Hong Kong, but still a step I had to go through.
Company audit from parent (investing) company – I believe I was required to have a business license provided from my Hong Kong company. I think I was lucky because I just registered the company, so no audit was needed. I believe I was told that even if I had a current Hong Kong company, I should register a fresh company to own the WFOE to avoid audits and other hassles.
Choose a registered agent – Normally if you are the owner and investor, you will be this person. Some people, for some reason, choose to give this role to someone who may stay in China on their behalf more often, perhaps. Basically, this is the person liable if the company gets in trouble….
Wait A Couple Months For Government Processing…
Now that you did those steps – next is to WAIT and then more fun stuff 🙂
Open a Chinese bank account for the company – I remember this being painful and a hassle, some kinds of letters, using the lawyer's assistant to go with me to the bank I wanted to open an account with….signing tons of papers.
Fund the company from the parent company – You need to send the money from the bank that you got the bank letter from. You do not need to 100% fully fund the Chinese WFOE at this time. You can do a 50% funding now, and have up to 2 years to fully fund the company. Again, this is off of my memory, and was in summer of 2008…so it may have changed.
Get a receipt you funded the WFOE's bank account – proof to the Chinese government that you sent in the foreign money to the new Chinese WFOE bank account.
Hand sign a ton of papers, maybe a half a meter high (chopping with Hong Kong company chop too) – I seriously remember my hand hurting after signing paper after paper with the lawyer.
Get issued your company certs – Wait a month or so – get your company chops, business licenses, certificates, binders, folders, documents. So many things to keep track of. And never lose those company chops, those represent YOUR signature.
That Is The Main Knowledge
Those are the main steps I remember. The whole process took me about 6 months, but that also included registering a new Hong Kong company. I believe I started in March 2008 and felt like WFOE registration was fully complete at the end of the summer, maybe July 2008.
But also, after the company is registered, you have to file taxes monthly, not yearly, and also have a yearly tax audit filed. Maybe you can do that by yourself, but unless you are a tax expert in China, you need either a full time accountant in your office, or hire a 3rd party accounting firm.
I use a third party, and monthly can be between 400 to 1000 rmb per month, depending on the month. The annual report costs me about 2,500rmb.
So there you go, I just spilled my guts for free. Hope this helps.
My main point is, you can do a decent amount of "business" in China without registering an actual WFOE company. Registering a Chinese business is a real commitment.
You can also check out our podcast interview we did with a Shenzhen, China lawyer here.