We had some great speakers at our second annual Rise Conference Global From Asia meetup. This is a great chance to bring together other cross border ecommerce enthusiasts who are in town for the massive Rise Conference and having a quaint meetup with Amazon FBA and ecommerce enthusiasts is always a good time to focus down to those in the industry.
Big thanks to our co-organizers Nick Bartlett and Attila Csayni  as well as the Paperclip HK coworking space in Sheung Wan for hosting us at their venue.

Here is a lineup of the speakers and event details:
Topic: Amazon FBA, eCommerce and Future with Blockchain
Time: 7:00 pm – 9:00 pm
Tuesday, July 10, 2018
Panel Speaker:
Chris Davey, Founder of FBA4U

Chris Rawlings, CEO Judo Launch and 7 figure seller

Nick, Top Chinese Seller

Alessandro Gadotti, Founder and CEO of Zwoop

Henque Centieiro, Blockchain Project Manager @ Zwoop
Address:
Papercliphk, 3/F, Nam Wo Hong Building, 148 Wing Lok St, Sheung Wan, Hong Kong Island
Organizers: Nick Bartlett & Attila Csanyi

And here are the topics that were discussed:
(The Pre-Amazon FBA world)
When did you first get involved in ecommerce? What was it like then?  
(Ask audience) / Poll
Who here is an ecommerce seller?
Who is selling on Amazon FBA
Who is selling on website, ?
Ebay?
Challenges of Amazon FBA now
Is it saturated? Is it too late for newbies to get in?
Launch strategies
How to get a new product into Amazon
US market, EU Market, where to go now?
Australia what markets are hot
(For Nick Di) What is the environment for Chinese amazon sellers now?
How have you (and the Chinese seller market) adapted over the years on amazon FBA
(Poll audience)
Who is selling in which markets –
USA market
China market
EU market
Australia Market
Southeast Asia market
What are upcoming markets for Amazon FBA?
Bunch talking about Australia
Selling outside of Amazon – worth it?
Shopify store
Best paid channel – Amazon PPC, Facebook Ads, Google Adwords?
How to know where to spend your marketing money.
Any tricks for getting 5 star reviews now?
The Amazon game is all about reviews
Now – let's talk about the future *** I suggest inviting up the 2 blockchain guys up now Maybe even switch some panelists to sit down in audience chairs ***
(Ask audience / poll)
Who knows what blockchain is?
Blockchain and E-commerce
What is the connection
Different ways we can see blockchain applied to ecommerce business models
Amazon FBA  + Ecommerce + BLockchain
Friends or foes? Will Amazon FBA be disrupted by blockchain, or can it adapt to the business model?
*** Questions for all panelists (if they sat in audience – maybe they cane come back up again) **
Future for Third party sellers
Ebay sellers, amazon sellers, shopify sellers- entrepreneurs are the sellers, the SMEs. What is the future for these guys the audience)
How to stay ahead of the curve – blockchain?
What is a seller to do now? Wait? Jump on a new marketplace?
How to connect with panelists – panelists share their website, contact info, etc
Question and Answer from audience
Thank you!
Networking time.
GFA Rise Meetup – The Future of Amazon FBA, E-Commerce, and Blockchain
And here are some photos from the meetup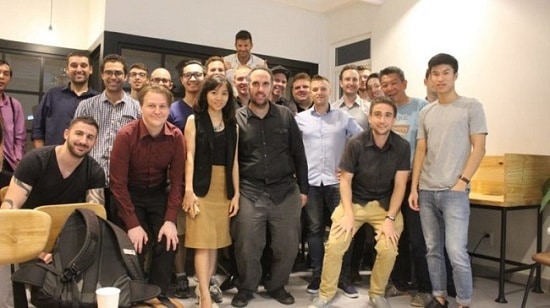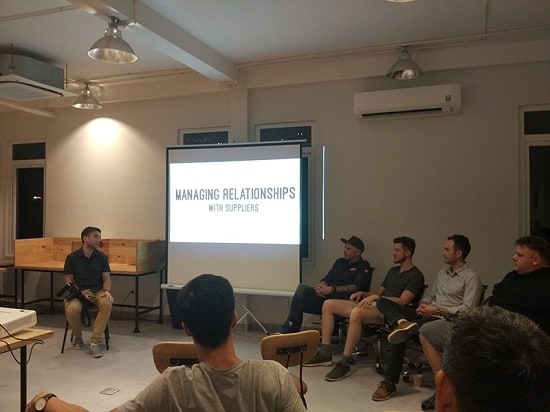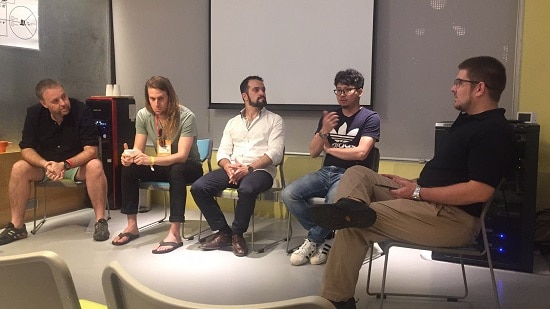 We look forward to next year's Rise conference and hope to catch you at the GFA Rise meetup in 2019!
Read up more on what the Rise Conference Is Here