Podcast: Play in new window | Download
Subscribe: Apple Podcasts | Android | RSS
Thanks for tuning in, we are now at episode 33 of Global From Asia – Drying up here after massive rainstorm and flooding in parts of South China. I got caught in the middle of the rainstorm commuting from Hong Kong into Shenzhen during it – and I was carrying a package of swimsuits from Europe – a listener is asking me and my wife to look into selling these in China and this is a sample order. Pretty exciting stuff and I'll keep you posted on the progress – it's women's swimwear too, so hopefully I can get some photo shoot sneak peaks to share – and Dustin, no I'm not going to model any speedos so don't worry about that haha
So this week we have Sunny Wong back, my accountant in Hong Kong who we had back on episode2 – I was visiting him when I picked up the product samples and thought it would be great to have him back on the show! The last episode we had with him talked about opening a Hong Kong limited company – this time I thought it would be interesting to talk about closing or selling a Hong Kong limited, the thought process, and what's involved. I can't find much information on this online – so definitely listen up! So let's go!
Topics Covered in this Episode
what to consider when closing or selling a Hong Kong company
assets
liability
Hidden liabilities and examples
Capital gains tax in Hong Kong
Buyer's bid, preparing to sell it
Just closing it
Asset sale vs stock sale (Limited company sale)
Keep it and change the name
Carry over losses
Contacting Sunny
People / Companies / Resources Mentioned in this Episode
Book value – Assets minus liabilities
Company History – notable after 5 years (in general) for banking
Hidden Liabilities – debts not recorded in the accounts
Contingent Liabilities – debts not recorded to their auditor (professional name for hidden liabilities)
Personal Undertaking – where original owners personally guarantee there aren't any hidden liabilities when transferring to the buyers
Liabilities on capacity of the company vs the original owners – when transferring company, as long as no negligence, then the original owners are not liable
Stamp Duty – 0.1% of NAV (net asset values)
March 2014 – Company law amendment – no authorized capital now – only the issued paid up capital.
Deregistration – if no 3rd party outside liabilities, takes a few months to process.
Accumulated basis accounting – taking the full sum of all years profit or loss total position
Contacting Sunny — https://www.globalfromasia.com/grand-consultancy/
Episode Length: 27:29
Thanks for that Sunny! Closing or selling companies seems always way more complicated than opening up a new one and hopefully everyone gets some good insights from the interview here.
I myself have re-incorporated companies from my very first eBay business in New York City – it was 2004 and I had no idea how to open a company, couldn't find information online, and my friends and family had no idea – I ended up going during my lunch break on wall street to City hall and then the country clerk's office to register in New york city!
I learned quickly this was not the easiest or cheapest thing to do – and went through a rather painful process of closing it down and reincorporating my eBay and e-commerce business in New Jersey that next year in 2005.
That transition was hard, and I know those of us running online businesses need to try to balance the time and complexities of operating a business, wherever you end up registering in the world.
Download Options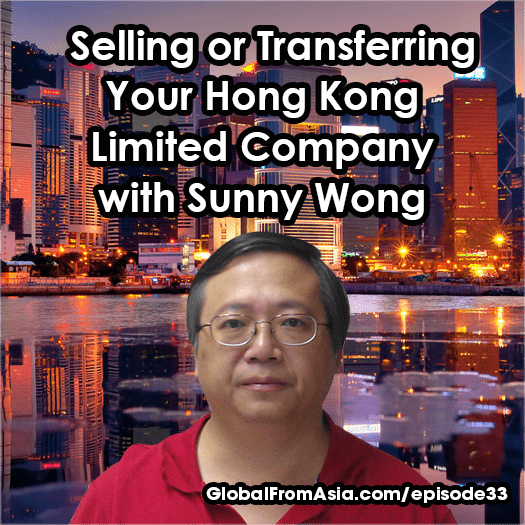 Surrendering Shares or Directorship in a Hong Kong Limited
We received an email from a blog reader as below:
Hi guys, im in a company envolved but i wish to leave (minority interest) due to mal management of the other 2 cofounders.
on your blog i dont see anything relevant on this. do you have some advise for me?

thank you,
Christine
There are a couple parts to dissect here, the first is: are you listed as a director of the company? If you are a director of the company, then you have liability if the company is doing malpractice. If you believe the other co-founders and directors are engaging in this kind of dodgy business that could get in legal problems, you want to surrender your role as director as soon as possible.
If you are not listed as a company director, and are simply a minority shareholder, there is no liability to you if the company is engaging in risky business. Sure, that may be a irresponsible way to look at it – but there is no way to "cancel" your shares in a Hong Kong limited.
If you really do not want to be a shareholder, you would have to contact the co-founders and/or other shareholders and try to transfer your ownership to them. We would hope you would ask for some kind of financial compensation for those shares, as there is some value there, but this is your decision.
If you are not communicating with the other shareholders, then you can simply hold onto your shares. There is no liability and no risk to you. Yet, as discussed above, if you are listed on the company as one of the company directors, then you would want to step down as soon as possible. The company directors do have a responsibility to do upstanding business and can face legal action if not.
If you're in this situation, you need to talk to a specialist with your best interests – and we at the corporate divisions department here of GFA would love to talk to you – please contact us today.