Podcast: Play in new window | Download
Subscribe: Apple Podcasts | Android | RSS
Wondering how to start a brand from China? Today we have some inspiration for you – global from asia episode 77
thank you everyone for tuning in today – it is getting HOT down here in South China these days in mid march – but I'm really happy to switch the jeans for shorts – so no complaints on this side.
I'm getting prepared for my first webinar for this show – it will be on April 2nd (my birthday) 9am- will be some gifts and giveaways so check it out. For the timing – I had trouble picking what time is best as we have people listening around the globe – so if this time doesn't work for you and you want to go – send me a note at mike@globalfromasia.com and i'll take it into account for future webinars.
I had a great call with Howie in Canada last week, and he was asking about Amazon and building his own brand, well his daughter's summer project – which i think is so awesome – and also this has been a hot topic – so I am going to focus more on upcoming shows on this and today we have a fun and experienced guest in this arena – PJ Entrepreneur , yes – his last name was legally changed to Entrepreneur! I have confirmed it by checking his passport with my own 2 eyes, ha! That just shows us how passionate he is about entrepreneurship. He has been here in China since 2009 and I have known him since about the time he came to shenzhen – he is always mentoring and sharing at many entrepreneur events and today he'll share some experience and stories about brand building in China.
OK and now for this week's show:
About PJ Entrepreneur
Here is some information about PJ Entrepreneur. First Startup Grind Speaker in Shenzhen:
I am a serial entrepreneur who started my first business, Paul's Polished Pebbles, at 9 years old. I am so passionate about being an entrepreneur that I legally changed my family name to Entrepreneur. I have founded, owned, managed, provided venture capital to or acquired over 150 companies around the world. The lines of business included the following: •Jewelry Manufacturing •Retail & Wholesale Sales of Hardware & Tools •Sales of Industrial & Laboratory Supplies •Manufacturing of Aviation Fuel Test Kits •Computer Telephony •Call Centers in New York and Manila •Real Estate Investing •Picture Frame Manufacturing •Writing and Publishing Books & CD's •Direct Mail Marketing •Internet Marketing •Importing Consumer Products •Importing Industrial Products •Fulfillment & Logistics for small packages of consumer goods. •Printing •Gemstones •Precious metals • Recently launched line of "Paul Jones" men's clothing. Here is my latest video from Annie Talk Show:
Topics Covered in this Episode
Intro PJ Entrepreneur
Retired to China, a little background on your story
What is Branding
How does Amazon play in all of this?
Pricing Strategies
What is in a brand?
Philippines shop with your name on it?
Amazon sales tips
Amazon compared to Google
Tips for those getting started
What you recommend someone just getting started with international business?
Ways people can connect.
People / Companies / Resources Mentioned in this Episode
Episode Length 34:12
Thanks PJ for coming on the show – I hope people enjoyed his adventure. This is what it is all about – just taking some chances, getting out of your normal element and seeing where life takes you. It is really scary, but you will find your way, find your passion. But first you need to take those steps.
Catch you next week – I didn't notice any new iTunes reviews – please if you enjoy this show the best way is to hop onto iTunes and leave a 5 star review – these reviews help others find the show and it makes me feel all warm and fuzzy inside.
Also – signup for my first webinar – Thursday April 2 at 9am Hong Kong time – check it out on globalfromasia.com/webinar
Til next week, keep exploring and find yourself!
Download Options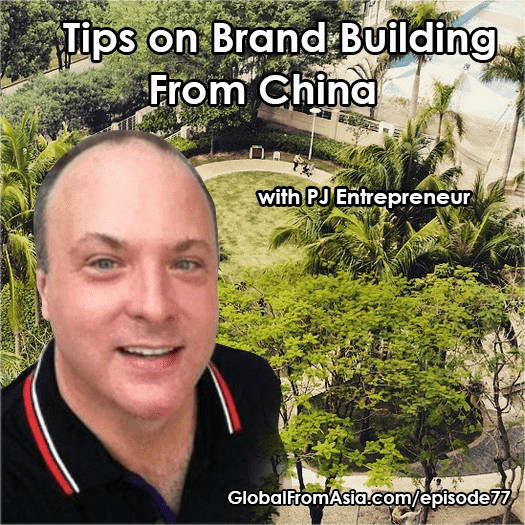 Listen in Youtube: