Podcast: Play in new window | Download
Subscribe: Apple Podcasts | Android | RSS
Story of building an e-Cigarette brand in UK from China and selling it for 60 million Sterling with Sam Marks
Happy Tuesday morning everybody – I'm heading to Shanghai this week for about six days, working some deals with Unchained Apps and our Chinese learned app WCC Dictionary, lined up a ton of meetings with Chinese learning centers – excited to work the business development magic – will be back down south for the next show so don't worry. Today's show also is a great motivator for me to getting things done.
I also recently made – at the request to some listeners – a checklist for what you need to know and do to get your Hong Kong business setup, i made it simple and 1 page, so you can print it out and motivate yourself to get it done – if you want to check it out go to Globalfromasia.com/hkchecklist/
So this week we're in for a treat – I've mentioned I am a contributor to Forbes China and have a podcast there, I was able to have an amazing interview with Sam Marks, an American entrepreneur, marketer, and all around hustler. He was introduced to me by Chris Gormley, who we have had on the show here a few times, and really thank him for that – today we go through Sam's journey starting up an eCigarette brand, SkyCig, in the UK, finding a distributor in China, getting deals done, and selling it for 60 million british pounds. HE holds nothing back and this one is an interview i'm sure you should listen to at least twice – and motivate yourself to keep hustling and pushing hard – so let's get into it
Topics Covered in this Episode
Introduce Sam Marks
What did you do prior to SKYCIG?
What are the most important skills you developed early as an entrepreneur?
How was SKYCIG started?
Discuss the challenges of taking an online business to retail?
What challenges were there in scaling the SKYCIG?
— What are some major factors you contribute to your successful exit?
— What was your plan for taking profits vs. reinvesting earnings into growth?
What is your mindset in bringing on equity partners to a startup?
What were some of the advantages in being boots on the ground in China?
How did you find your manufacturer in China?
How were you able to form your manufacturing joint venture in China?
What advantages did your joint venture in China give your brand in Europe?
What was your exit strategy?
How did investment bankers help support your exit?
What have you been up to since the last exit, what new ventures?
Ways people can reach you
People / Companies / Resources Mentioned in this Episode
Episode Length 41:23
Thanks Sam for sharing, I'm sure some listeners got some inspiration and ideas for taking their businesses to the next level.
I've had the chance to hang out with Sam a few times and he'll be spending more time in Hong Kong in the coming future, hopefully we can get him back on the show more.
So don't forget to check out the quick hong kong company checklist I put together at globalfromasia.com/hkchecklist/ – and as always please let me know any show topics or questions you have for future episodes. Enjoy the rest of your world – and may the force be with you as you build your international business, peace!
Download Options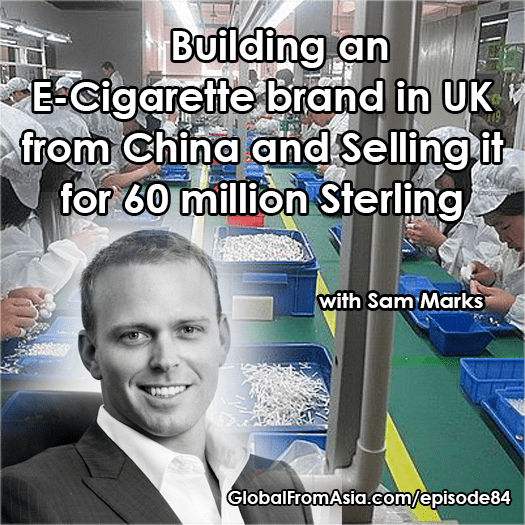 Listen in Youtube