---
I am on a bus! The typical Sunday evening heading into Hong Kong. Mid Autumn Festival has just passed and the bus is jam packed with holiday travelers heading back from Mainland China. globalfromasia.com/episode141, – you use the show notes right?
Speaking of cross border – we are doing another cross border business trip! People enjoyed the Qianhai one and now we are going into Hong Kong – talking Chinese e-commerce via HK – visiting some fulfillment centers and Jing Dong and other platforms – Friday Oct 21 – if you want to check out the details head on over to globalfromasia.com/hktrip
Shout out to my wife Wendy and also Cherish Liu – they are doing a great job keeping this event running smooth.
So this week we have Nathan Rose – an equity crowdfunding expert giving us some tips on how we can raise money for our startups and businesses. He gives some insights in various places around the world. Plus, I am happy to announce he is about ready to launch his first book, and when we recorded it he was just getting underway. If you want to learn more about his book launch – go to globalfromasia.com/nathan
Now let's tune in.
Topics Covered in this Episode
Intro Nathan

Good to meet you at DC Barcelona! Thanks for coming on, can you give us a quick intro Nathan!

Copy of Crowdfunding Industry

So how did you get into this equity crowdfunding industry?

Blog overview

I've read some of your blogs, very deep stuff – can you give entrepreneurs listening a quick overview?

Comparison

To start off – this is NOT kickstarter or indiegogo related – equity crowdfunding is totally different. I think people are confused sometimes (well let's say I am) – so care to make a quick comparison between crowdfunding platforms like KS and IGG and equity crowdfunding?

Angel List

Angel List is a popular platform. They have something called syndicates now, where angels and VCs have funds and accredited investors can put their money behind these Angel List users to invest together – is this equity crowdfunding? Or?

Thought Processes

What are some of the different thought processes you should go through? How do you decide when to do it?

Investors

Personal investors – can they get involved? Or have to be an accredited investor?

Crowdfunding People

You have mentioned to me before about people who do a crowdfunding campaign on KS, and then later go to do an equity crowdfunding campaign – how / why?

Owners' Rights

So let's say I do an equity crowdfunding campaign and it is filled – I set a minimum amount of money I want to raise, for a piece of my company. What rights do these new owners have? Can they all call me for updates?

What countries does this work in? Hong Kong one of them?

Complications

Some may worry having a lot of minority investors may make the cap table too complicated for a professional investor later (series A for example) – is that the case? Or said another way – what do big VC firms think of this equity crowdfunding?

Advice for Investors

Investors listening, how can they put some of their cash at this program?

Protections

What kind of protections are in place to protect everyone – the investors – but also the entrepreneurs ?

Contact

Thanks so much Nathan – how can people reach out to you and your business. You can help them – you work with both sides, investors and startups?
People / Companies / Resources Mentioned in this Episode
Episode Length 37:16
Thank you Nathan! This bus ride is getting interesting with some hyperactive Chinese mobile app video game commercials blasting – can you hear them?
But please, don't forget to support Nathan's book launch – I get no commissions on this – but he is a good guy and I am sending you the link at globalfromasia.com/nathan
I'm testing out Live radio! Seeing some other podcasters moving into live – I did a test walking around the streets of Hong Kong and people enjoyed it. Plus I just get more excuses to talk to random strangers!
Stay tuned for more – have plenty of amazing interviews lined up for weeks to come, cheers!
Download Options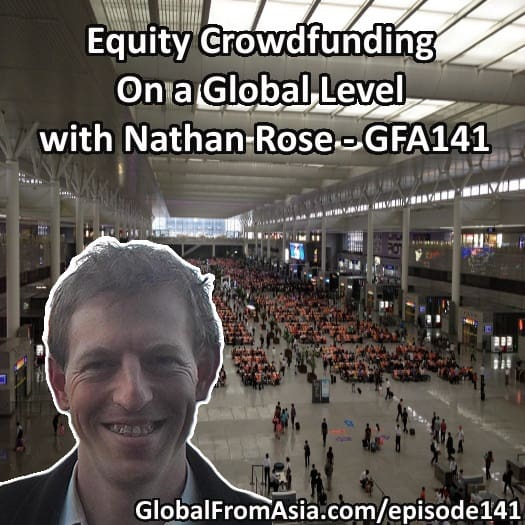 Podcast: Play in new window | Download
Subscribe: Apple Podcasts | Android | RSS