Podcast: Play in new window | Download
Subscribe: Apple Podcasts | Android | RSS
Today is a special one for me, being an alumni of Chinaccelerator program's 3rd batch where I started Social Agent and met my soon-to-be-wife Wendy, I get to host a "fireside chat" with Todd and Cyril while Todd was in Shenzhen on a roadshow. Applications for their 5th batch are open for another week so check it out and see if you can
Apply
your startup in their program today!
About Chinaccelerator – I noticed that during the fireside chat I didn't explain what Chinaccelerator was -so I'll give you guys a brief overview of it before I get into the fireside chat – Chinaccelerator is a 3 month on-site accelerator in China based after the Techstar's model. So that means you're working with about 10 other startups, get seed money to fund you for the 3 months in the program, and a network of mentors and a high-pressure structure to build, iterate, execute, and launch.
About Cyril Ebersweiler
Cyril is a venture partner at SOSventures and the founder of HAXLR8R (the premiere accelerator program for hardware startups – Shenzhen & San Francisco), Chinaccelerator (the first mentorship-driven seed funding program in China – Shanghai) and LEAP Axlr8r (building the future of interaction design – San Francisco).
He is mentoring at Techstars and 500startups, an advisor to the Global Accelerator Network (http://globalacceleratornetwork.com/about/) as well as a board member/advisor to a few startups including Leap Motion, Orderwithme, Nextly and gTar. He is the most prolific investor in the hardware space (40+) and has invested on every continent. Via Crunchbase (http://www.crunchbase.com/person/cyril-ebersweiler )
About Todd Embley
Todd is Program Director at Chinaccelerator. Todd is a serial entrepreneur who has been living in China for more than 5 years. His main areas of expertise are lean startup methods, marketing, and customer development. As the lead evaluator for applicants to Chinaccelerator, he has an acute eye for great founders and scalable, viable startups.
China-Axlr8r is a seasoned incubation and seed funding program based in Shanghai. Promising teams for their fifth class, starting February, 2014 (Apply). Their program focuses on mentorship, the lean startup, and "entrephilosophy". Accepted applicants will go through an intense 90 day incubation program, finishing with a Demo Day – where many teams find follow-on investment. (Read more about their last Demo Day.)
Topics Covered in this Episode
Cyril introduction, Founder of the program, as well as VC for SOS Ventures and Founder of Haxlr8r hardware accelerator
Todd intro and how he got involved as Program Manager of Chinaccelerator
The reasoning behind the program moving from Dalian to Shanghai
Application process & what they look for
Geeks on a Train (GOAT)
Mentor network
Formatting and structure of the Chinaccelerator program
What makes this program different from other accelerators and incubators
People / Companies / Resources Mentioned in this Episode
Chinaccelerator software accelerator in Shanghai, China
Haxlr8r hardware accelerator in Shenzhen
SOS ventures Venture Firm
Techstars
Leap Motion
Angel List (angel.co)
Founder's Fund San Francisco
Video Series For Social Agent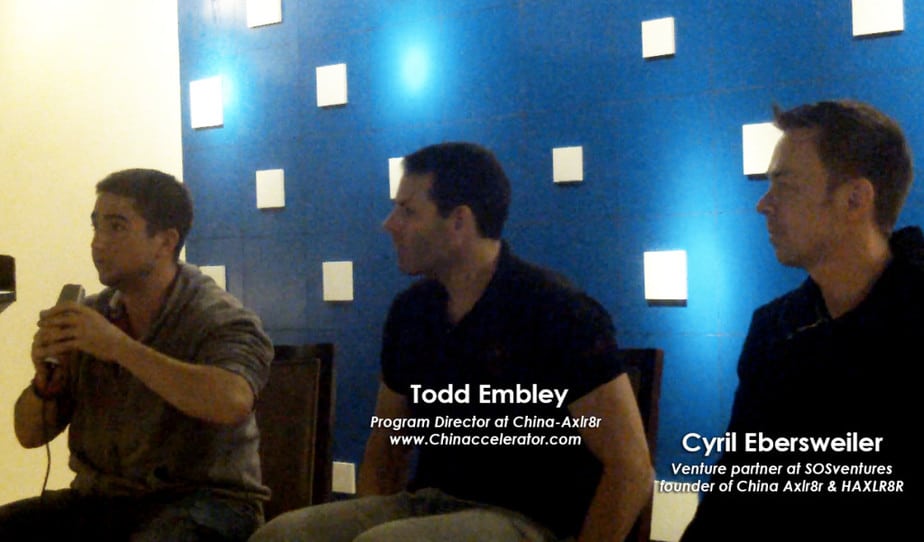 Reader's comments:Eoin Brown, China – Michael was very considerate, responsive and helpful following my contacting him to discuss Chinaccelerator through a recommendation from a mutual friend. We communicated on WeChat and the phone, during which he sincerely offered valuable advice and direct help in a number of different areas which I am following up with him about. I also found his sohelpful.me profile and business socialagent.me to both be attractive and useful tools which I now plan to use personally.
Episode Length: 36:37
Download Options