---
A long time listener and supporter – Viktor Nebahaj is on the show sharing his journey from Europe to Asia and back again, bigger and better than ever. Its his journey, and also how he followed his passion in equity crowdfunding to get into his current venture Free Trade so let's listen in!
Topics Covered in this Episode
About Viktor

Viktor's background. Originally from Hungary

Experience Working at Google

I joined Google in 2005 when it was less than 100 people in Europe

Moving to Hong Kong

In 2012, I moved to Hong Kong to join iProspect to oversee the takeover of the largest digital media account at the time (General Motors) from another agency.

First Time to Asia

I had never been to Asia before, so when I landed in HK with a medium-sized suitcase containing all my belongings, that was my first time. 😀

Moving Back to London

My girlfriend found a role and re-joined Google in London, and I moved with her.

Joining Freetrade

Joining Freetrade & equity crowdfunding.

Investing in Freetrade

I invested into Freetrade popped up on my Crowdcube feed. I turned out to be the first investor who committed a meaningful amount.

Getting the Freetrade CEO's attention

That caught the CEO's attention, which led to conversations that eventually led to my interview as their Head of Growth. I became the first employee.

Tips on Equity Crowdfunding

The second Crowdcube round went 350% above target in just a few days, to £1.1 million. Could give a lot of tips here about equity crowdfunding.

Differences in Fintech London and Asia

Fintech in London vs. Asia, how we in Europe see Asia, etc.

Freetrade Expansion

Freetrade's expansion plans in the next few years – looking at European countries and potentially Singapore.

Early Adopter Offer
People / Companies / Resources Mentioned in this Episode
√ episode with Nicole Webb – GFA198
√ episode with Nathan Rose – GFA141
√ Crowdcube.com
√ Freetrade
√ Class A Shares – normally have voting rights
√ Class B Shares – usually for general investors, no voting rights
√ Mentioned – Fill out this form for the Free Trade swag pack or early access
Episode Length 31:27
Thank you everyone for choosing to listen to Global From Asia. I appreciate that we can share knowledge and connect with people all around world – isn't it amazing. Feedback on the show is always appreciated, let's keep positive and making forward progress daily, cheers!
Download Options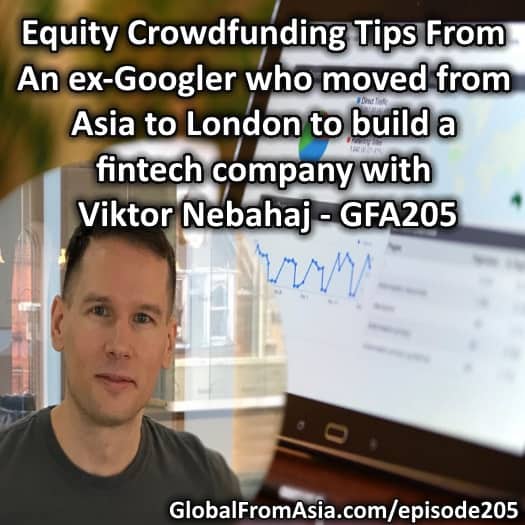 "What's I'm sure is really sort of like tactic or hack if you will ease giving reward and have a sort of sophisticated reward structure."
Welcome to the Global From Asia podcast where the daunting process of running an international business is broken down into straight up actionable advice and now your host, Michael Michelini.
Today's podcast is brought to you by Aureliapay. I use it personally for sending money to my Chinese suppliers from Hong Kong. It's a cross border payment solution between China, Hong Kong, and Southeast Asia. So, if I need to make a payment to a Chinese supplier, I just hop online to place the remittance, pay to the Aureliapay Hong Kong based big account and Aureliapay will settle RMB within the same business day. So, check them out online at www.aureliapay.com A U R E L I A P A Y .com or check them on their link at our show notes.
(Baby talking)
Mike: Now, she's talking, she's helping me record today's intro. Welcome everybody Global From Asia episode 205. We're getting deep into December. So like I said with Myles in intro, Merry Christmas and Happy Holidays to be more politically correct. We have lots of international friends here in China, there's not much for Christmas but there's tons of mall decorations everywhere with Santa Claus and Christmas trees. I think it's great for business, retailers love it, right. They, I'm sure the sales goes up with the Christmas decorations. I hope you all have stay warm. It's a little bit chilling here in Shenzhen but staying okay. Happened between Hong Kong, Shenzhen and as per usual we're really deeply from working hard on the Cross Border Summit. We got the date April 20th and 21st. Even adding an extra half day mastermind on the 19th, 2018. Four months away, can you believe that? More than that actually so we got plenty of time to plan. Hopefully some you can make it if not, we do have an online ticket and it does support me and Global From Asia's movement. Maggie's powdered milk in Hong Kong. So thank you everybody for listening. And today's short intro, we're getting to interview with long time listener Vicktor from www.freetrade.io. He is talking about some this journey, it's a story and also some tips on equity crowdfunding. He really enjoyed one of our shows we had Nathan Rose on Equity CrowdFunding and he comes on to share about that and how he follow that to his current venture and there are almost ready to launch into the New Year as well. So it's exciting show everybody. Enjoy. Thanks again for listening. Let's tune in. Episode 205, globalfromasia.com/episode205. Thank you everybody, Maggie is so quiet.
MIke: Thank you everybody for tuning in to another Global From Asia podcast. We have with us Vicktor Nebahaj and we've been talking for quite some time. I know you've been listening to the show for a while. So thanks so much Vicktor for coming on today.
Vicktor: Yeah, thanks for having me Mike.
Mike: Yeah, it's gonna be a great story today. We're titling this the ex-Googler who moved from Asia to London to build a Fintech company and I think it'll be a fun discussion. Maybe you could just introduce yourself a little bit. We have some notes here originally from Hungary and you're early Googler from 2005, where there was less than hundred people in Europe so, do you wanna give some people quick background from yourself.
Vicktor: Yeah, definitely Mike. My background was a little bit complex so it usually makes an entertaining story.
Mike: Nice.
Vicktor: So I grew up in this block in Hungary specifically. I think in 2004 we joined the [00:04:06] which was probably the best thing that ever happened to me. I guess the most people in Hungary. Because the doors kind of opened for us and I had to decide to work abroad. I was very curious kind of adventurous, I just finished university. I really love the internet. I grow up old man, not a long time before we joined the [00:04:32] and I really enjoyed it started googling, had a little bit of following, they mind doing the HTML, CSS coding. I came across Google and I just use it all the time. I was dreaming in on how it would be to join that company as well. And they opened. So I applied in 2005 and back then it was more of a startup, it's a gigantic enterprise, right now. So it's kind of hard to imagine, it was very un-structure and I had like 10 interviews probably and after the 10 interview, they sent me an email that they extend an offer to me. So I joined Google. The team I was in, it was actually pretty secretive at that time. It's called Service Quality Operations. It's like an extended dorm of the search quality engineering and you kind of look at the websites. You try to identify whether they do black hats search engine optimization. So if you do that kind of few, you learn some things that people would describe as secrets.
Mike: Nice.
Vicktor: It will give you a little bit advantage for sure. These days as the [00:05:51] is really advanced and people do a lot of of testing and I would not claim that I have such a big advantage but definitely you see a lot of interesting side of Google. So that kind of set up me for search engine optimization. After 7 years at Google. I got to travel with Google, a lot which I'm really thankful for. But after 7 years I was wondering, all the outside world might look like. You get a little bit of, even where you work at Google. You are in a little bit of a babble. You got free food and Google hires the Chefs who provide really high quality food for you everyday. Breakfast, lunch, dinner probably. And I wanted to do something else. I think 7 years tends to be a sort of turning point in Human Relationships as well. I was very interested in moving to Asia full time. I was there before with Google but I wanted to go there full time and be part of that growth. Everybody was moving to Singapore and I tend to be a little bit of contrarians. So, I was looking at the other option which was Hong Kong and I was looking for jobs, interesting opportunities and I came across head of and Iprospect which is virtual agency network. At that time they were as you working on migrating the largest digital media account at that time, which was general motors and other agencies which was Media west. There was a big pitch in the US and they want the account and they needed the somebody to head the Asia Pacific Africa and Middle East, search engine optimization teams, general motors. So, I accepted the offer, it was really great. Like I said I travel to Asia before but it was nothing like. It's very differently you moved that full time. Even when you travel you got a little bit of a babble, you don't really experience how it is to live there. Then I landed in Hong Kong, I had this medium-sized suitcase containing all my belongings. I'm kind of being, sort of like having SQ belongings as possible. So I learned it so that was pretty much, I've read up my life in Dublin, Ireland. There was quite a big move and I wasn't really prepared for it per se. But I think you are never really prepared to do this kind of big move. Just have to take action and go for it. There will be all these to do and not to do this.
Mike: So let me recap a little bit here. We've cover a lot. So you went to Hong Kong for Iprospect and you were working on one of the big accounts and then how did that get to Dublin.
Vicktor: Oh yeah, so originally I was based in Dublin. So that was may basis with Google. That was the base location I was based there. So very different place. So I spent 7 years in Dublin and Ireland is a very different place from Asia.
Mike: Let's talk a little bit about Hong Kong. You like, you enjoyed it there? I know we've talked in messages before. You enjoyed Hong Kong in Asia.
Vicktor: Yeah, definitely. It was very different from Dublin and Europe in general. Just a lot of energy and kind of the speed people worked at. I haven't mentioned anybody ask too much but one of the main different answers I found was that people just have a higher pays in Hong Kong in any nation generally. Very small things, various noticed. For example they would return your emails really fast. Well as in Europe there is a more focus on front line tellers, that kind of stuff and I just felt that would work faster and which is more in a shorter amount of time, working in Asia. So that was really bit. Everyday things definitely really different, their food. For example I grew in Europe so all that stuff are pretty new to me. When I grew up it really wasn't that cosmopolitan. I think in my head maybe Indonesian restaurant, maybe a couple of Chinese restaurants. I wouldn't really know that kind of stuff so that was very different but I decided to embrace it and immerse myself so that was quite a fun experienced. And generally getting to travel across the Asia as a part of my role, that was very interesting, learning about the different markets.
Mike : Make sense. I mean the fast paced also gets me excited about Asia and my experiences here is almost all this, I just cross border again yesterday before we record this interview. It's definitely, sometimes getting a little bit tiring. But, overall I like it, for sure. And then how long were you in Asia or in Hong Kong.
Vicktor: I spent a year then. I was hoping to spend more time. My girlfriend joined me in Hong Kong again. It was really hard to find the role for her. I think when you are a woman, I think that's, you don't get treated the same. I mean the same sort of they exist, in Europe as well to an extent. But I think I read this article about the text you have a women in terms of how much more education you have to have, in order to get the same opportunities, how much more you have to invest into yourself. So these are the thing that challenging. I would suggest, if you have to do it, if you were to do it again. They would find the role for her inside of Europe before she moves over. We were doing the same thing, I love Google, find them the role and the whole plus that she does that, too. And the entire, so after a year we moved back to Europe.
Mike: Nice. And then how was that movement back, I know it's only a year but we've had some shows in the past about the reverse culture shock or how was that going back.
Vicktor: Yeah, Mike definitely. I think there was culture shock can be more stronger than the original culture shock. You set yourself up in Asia or anywhere you moved. And you sort of get used to it anywhere yourself. Then you moved back. You almost immediately start to be seen things that you really enjoyed in Asia or let's say in this example. The pace all fast you can get things done. And the pace of things in your office definitely slower and just generate a level of energy is very different. Reverse culture shock definitely exist.
Mike: Nice. I'm gonna go back to the US or it's been over 2 and half years since I've been back to America and I'm already preparing mentally for the reverse culture shock. I agree with you. So let's get into some business talk and then your, so this sounds exciting the Fintech Company and you got into a free trade that company. Let's hear this story how you got into it.
Vicktor: Right. It's actually very interesting story. So my girlfriend got the role with Google London when we moved back to Europe, pretty soon in London. And that was an entire new location for me. One of the very interesting things in the UK is how sophisticated equity crowdfunding is. So I found myself pretty suck into that sort of scene. There are couple of really interesting things that companies in the UK. Most of the bank, one of the examples. And usually these companies they like crowdfunding because it almost immediately gives you a community and instant marketing pretty much. And I started the investing initially small amounts into these mostly Fintech companies. On Crowdcube specifically crowdcube.com. Freetrade pop up on my crowdcube feed and I'm actually a big investor like as a private investor. I invest into ATS and individual stocks as well. I've been doing that for a while. So, when I'm into the UK, I never found a good service to do that. The commission started saying, you want to buy stocks or ATM and I end up being lack of pounds, wire transaction, which is really high. If you really think, in terms of you want to, couple of funding pounds into your investment every month. You want to buy ATS source stocks. The transactions goes just really [00:15:09] . And surely the fees are very complex, you have platform fees, transaction fees and lots of different fees that you only find at the blueprint. Anyway, so free trade pop up and that was something I've been looking for, something like Robinhood but in the UK. And the company wasn't in an early stage. But when I switch on crowdcube, I piled better couple of thousand pounds. I basically put in as much money as I could at that point. Which into, pretty much at that point.
Mike: Okay.
Vicktor: It turned out I was the first investor who put a meaningful amount of money into the company. And most of the friends or family. So I guess that makes me a full, you know.
Mike : Yeah, that's the 3F's, friends, families, and fools.
Vicktor: I think I was in that category pretty much. I just believed in it so much. Because I was the first investor, who invested that much. I started talking a bit then with the CEO and how you end up giving advice sort of yeah you should do this for growth, you should do that or whatever is your expertise and that turned into a year long conversation with them. And after that, the time was right for me personally to join their company. So I told them why I don't try my own hat in the ring and apply for a role with them. Basically they interviewed me despite of maybe getting investor.
Mike : No preferential treatment here.
Vicktor: Exactly. That's what I think, you have to have certain standards and you want to make sure whoever joins the team really has the skills that you need. And I passed the bar. And I joined in June.
Mike : Okay, that's exciting. So there's pretty reasons. Tell us what have been so far, I mean you guys are still not yet open. We're talking about the recording. So, lots of work on. What have been the mostly doing there?
Vicktor: We had pre-launch. We start the role in 2018. Basically it about takes time and that's actually something that I want to get the word all about is building the fine and sure firm behind the app. So it's going to be more about our first inept and investing it. But at the same time you have to build a natural stock broker on the back end of that. So a lot of time, we spent a lot of time on getting authorization from the financial conduct authority which is the financial regulator here in the UK. That's very involved, you have to have the criteria and they just received on the second of October actually. So, about 2 months ago. That was quite involved and the other aspect which takes a lot of time is building the actual back end that you would definitely bought on, you buy stocks and executing that transaction. Lining up the technology systems integration doing test trades. We're actually in that phase right now. So our systems are close to be up and running. But we just want to make sure that we test the system first to ourselves in the team. We have our accounts and we will execute some transactions in the coming weeks. And that was a long road getting there. So pretty much building the store broker from scratch, that's what took time.
Mike: I can imagine all the regulations. So let's go some tips. I know you enjoyed Nathan Rose's podcast interview wayback episode 141. We even talked about him. We got to pick up on crowdfund, too which is cool. So equity crowdfunding, what would you say, you guys have done well. You had a second round on crowdcube that you said did really well. Do you want to give some tips.
Vicktor: Yeah definitely. So that episode, I really loved that episode. I remember I posted that. As you can see they don't really have the podcast feature, unfortunately. But that was a brilliant episode and it really caught my attention because I've been doing equity crowding that was still in the UK. The free trade we had to crowd funding rounds. [00:20:04] as a sort of [00:20:06] and a [00:20:06] round earlier this year. Most of them did really well. Particularly the second round. The event 360% of target. We were going to raise about 300,000 pounds originally in our second round. But it went all the way to 1.2 million pounds. If I remember correctly. And it just kept going so in the end we have to manually sort of switch off the campaign. I think it would have gone into multiple millions and there are couple of learnings for us from that. First of all, they've seen and they keep on looking at other crowdfunding companies. And we see that B2C companies tend to do really well. Because crowdfunding investors they tend to be consumers themselves. They tend to invest into something that they really understand and that they can be crossing yourself. I wouldn't say it's impossible for B2B companies to do a successful equity crowdfunding. But they just really have to make sure that they translate the product to consumers. So there is definitely a bias there. Other than that, what was, what's so sure that really goes of sort like tactic or hack if you will ease giving rewards and have a sort of sophisticated rewards structure. Because usually people let's say can commit a couple of thousand pounds and it's pretty much the same for them whether they commit 2,000 pounds or 3,000. You want to maximize those pledges you want to maximize those investments and rewards or a good of sort of tactic to achieve that. For example for people who had a couple of hundred pounds to invest in your second crowd funding round. He would offer like bags or tshirts, if they commit 500 pounds. And you will not believe how enthusiastic people get about or about their swag.
Mike: Nice.
Vicktor: So we surely relate with our vendor, we just always have a different priority, the authorization, all that stock. So we never got around actually doing the t-shirts and who this as promise and they kept getting the emails almost everyday. There is my [00:22:25] those kind of emails. So people are really passionate about that which is great and the other reward as well. For example if you invest over a certain amount you would have a class A shares versus for a smaller investment you get class B shares. So no voting rights. That kind of stuff worked really well. And some people really look at the, so they usually make a [00:22:53] decision whether they like your product or company. But many of them look at the [00:23:00] account as well. So, it makes sense to invest into the page that really have your. I mean this is basic start but you really have your story, properly told with Financials and all that. So this would be the trade tips and I have at the back of my mind.
Mike: Great. Thanks so much for sharing that. And then we're talking about. Yeah so you have some experience no both sides with Fintech in London and then Asia and we're even before the recording we talked a little about some differences you're seeing and a little bit on the show. So what do you see as some differences here in the Fintech world on East and West, maybe.
Vicktor: Yeah, that's a very interesting question because Fintech is such a focus in Hong Kong as well and in Singapore. And usual [00:23:54] has a very individual challenges and strengths. The biggest difference I see which is very obvious is related regulations. So you want to make sure you are properly authorized and you have the proper permissions and all that. In the UK the FCA is very innovation friendly. So they actually treated us much better than like third party companies, we wanted to work it. They just have such a customer service approach and they are really encouraging innovation as well. DFC has this sandbox initiative for Fintechs in the UK where they can sort of test your products. And the best porting. So there is not known with standing the best porting rides is just a brilliant innovation that you can pretty much sell your services across Europe. So that's definitely a big plus, the rest in Asia, the borders have more closed and of course they're gigantic markets like China for example. But those markets have their own complexities as well. So yeah regulations is a big one also I think in terms of what kind of service this people need. That's very different as well. Do you case of relatively sophisticated market whereas in Asia there are other opportunities. I think couple of companies do remittances really well in Asia where people who go from the Philippines or Indonesia to work in Hong Kong for example. They have immediate needs to send money back home. Which thousand existing Europe to the same extent. But if it does transfer wire similar company really covering really well. So there are very different opportunities in terms of products.
Mike: Yeah, I have not much in Europe to be honest with you. So I get some ideas here . So thanks so much Vicktor this is been a great show, a little bit of your stories, a little bit of equity crowd funding in Fintech and it's always a pleasure to have you on the show and even communicate for a while. I'm happier enjoying the podcast series. So you're expanding free trade is coming out soon, still not open to the public but we're chatting a little bit. You wanna hear from some of our listeners and get some feedback. Do you wanna talk a little bit about that.
Vicktor: Sure. Then we roll out, finish roll out in the UK but we are already started discussions in terms of delivering the expand. The things that we are doing they are best done at skill. Basically the more users the better when can do free stock trading. We've been considering which markets to expand into and Europe is very logical as a first step for us. We've been getting a lot of feedback particularly from Singapore, people we talked to. And then maybe a little bit of bias there because there are a lot of Singaporean people in London and we just made and talked to them a bit more of them than people from another companies. But basically, we are wondering if there would be any sort of interests for free stock trading in Asian markets. Particularly in Singapore. But we discussed with you, actually I want to run a survey if possible and put together a Google form, are we really interested if people could fill out that survey which is basically about that they would use our service free stock trading. And the sweeter the offer we have a little bit of incentivization. So if people fill out the survey, we'd love to give them, we'd love to choose random people and give them early access to the app. We've roll out gradually and it will take a couple of months to roll out and basically if somebody who fills out the survey major companies. Those would have UK tax resident would love to give them early access. But we recognized that not everyone has a, is residency in the UK. So we'd love to give away some snack pack to people or hoodie or t-shirts or be hope that people would love wear them in the streets or during their workouts that basically the regress.
Mike: Maybe will put some pictures on the show notes, too. So just to recap with some people/listeners, yeah you wanna get some more I guess it's always critical before you launch want some more feedback and ideas from people and put together Google form and how many you think you'll be able to hook up with the gift or this early access.
Vicktor: We'd love to hook up 10 people.
Mike: Okay, great. Awesome so that sounds like a bit opportunities before Christmas. So I think we're staying on the shows go online in December, will give a couple of weeks so December 23rd cut off. I'll put in the show notes so you guys can check that out. And for those that maybe listen to our shows later or just want to check out your website is freetrade.io, right?
Vicktor: Correct.
Mike: I'm excited for you so 2018 is an exciting year, you done quite a bit already and you get all the things, seems like you're almost ready to go live but you're making sure everything is even better and I wish you the best of luck, I really wish you best of luck Vicktor and the, keep track of your progress over the next year.
Vicktor: Thanks, Mike. I really appreciate it.
Mike: Awesome.
Mike: Thank you Vicktor for sharing. It's quite an interesting story in Google, in Asia now into London. Equity crowdfunding. I wish you all the best of luck and I hope some you guys take up his offer for for his swag or early launch. He says there's tons of people in Europe interested in this service so I hope you guys show you support for him. You can get the links from globalfromasia.com/episode205. And again thank you for listening. It's an amazing time in the world where we can share knowledge and audio, files or even all around the world, almost the real time. So I appreciate you guys choose to listen to Global From Asia. And feedbacks are always appreciated. I like getting feedback about how to improve the show, guests, and other ideas on how we can make this bigger and better into New Year. Take care everybody and have a great day.
To get more info, on running international business please visit our website at www.globalfromasia.com that's www.globalfromasia.com . Also, be sure to subscribe to our iTunes feed. Thanks for tuning in.
Podcast: Play in new window | Download
Subscribe: Apple Podcasts | Android | RSS