Podcast: Play in new window | Download
Subscribe: Apple Podcasts | Android | RSS
Interested to find and hire Chinese staff, then today's show is for you!
Hope everyone is having an amazing day, welcome to episode 76 of Global From Asia podcast. I had a great Saturday – OFFLINE – hiking up wutong mountain in Shenzhen – 5 hours up and down and a lot of great exercise -as well as clearing my head.
So I want to make an announcement, I am going to host my first ever webinar, giving you guys some video footage, not just this normal audio podcasts – showing some tips on operating a Hong Kong business – just got a bullet point list of things that should get some questions and interactions from listeners. It is also on my birthday (Thursday April 2) so I will have some special gifts to give away at the end, Will be 9am Hong Kong time on Thursday morning April 2 – which is 9pm Wednesday April fool's day for those in New York / east coast, and 6pm for those on the West coast. To see more and signup go to globalfromasia.com/webinar
Ok – and now onto this week's show – we have my friend David Ho who I have known since 2008 and have been friends since the day he arrived. He has been managing multiple businesses and outsourcing so has a lot of experience dealing with employees in China.
I also thought it would be a good follow on to last week's show where we Fion Sen from Bridges talking about hiring in Hong Kong – today is in Mainland China. Also the show notes as on globalfromasia.com/episode76 – so now let's tune in:
Topics Covered in this Episode
Intro David Ho
Today's show is about Managing staff, lets give us some background
So for Hiring in China, what are some tips?
Ways to find staff, what are some good channels?
For referrals, do you offer commission on finding people?
When vetting them, any interviewing tip?
How do you do Due Diligence on their background
What about employee Contracts?
How long is a Probation period
What are some stories on Managing staff
Let's …. discuss the delicate art of …Firing
What about Quitting, how is this different?
Bosses always stress about Chinese New Year bonus, recommendations on amounts?
For some fun stuff – do you have any horror stories
How about positive hiring and management stories, let's lighten things up a bit.
Ways people can reach out to you
People / Companies / Resources Mentioned in this Episode
Episode Length 23:54
thanks Dave for being so kind and sharing – I think hiring in mainland China is such a tricky thing, and we need all the tips and advice we can get. How has it been going for everyone here – would love to collect other's stories and ideas – check out the show notes at globalfromasia.com/episode76
Also – don't forget our first Global From Asia webinar, Thursday April 2 9am Hong Kong time, register at globalfromasia.com/webinar
That is all I got for today still sore from hiking that mountain last weekend,let's all try to get some more fresh air and exercise, not be too stressed with our businesses, ok? I'm out, talk later.
Download Options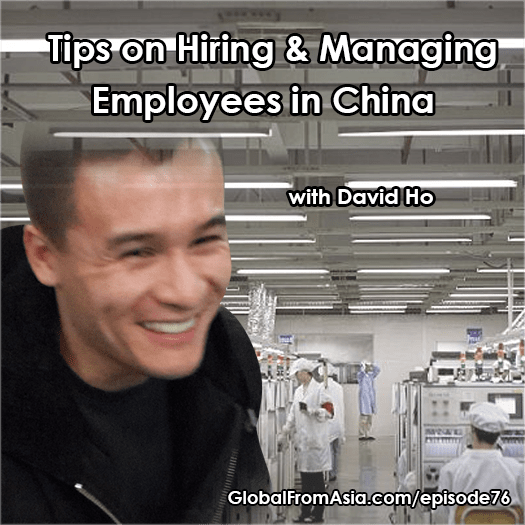 Listen in Youtube: