Podcast: Play in new window | Download
Subscribe: RSS
Thank you everyone for taking the time out of your busy today to list – Global From Asia episode 51 – Just had a jam packed day in Hong Kong today – saw the new Ferris Wheel they installed and took a quick photo of it I'll put in the bottom of the show notes – A bystander didn't do the best job in the photo and my face is pretty dark but if you wanna check it out go to the bottom of the show notes in globalfromasia.com/episode51
While rushing around in Hong Kong today, I got this awesome email from a listener and wanted to share it quickly
From: "Danny Guerrero"
Date: Sep 17, 2014 10:57 PM
Subject: Great Work!
To:

Thanks for the podcast, I listening to every podcast of yours and its giving me a much better understanding of how business is run in China. Don't think I would have found a better place to learn about China. I'll be opening up my own e-commerce store in China in about 4 months. Thanks again!

– Danny Guerrero
So onto today's show – we have Jon Wintermeyer from Paymentwall Merchant solutions based out of Silicon Valley, California. I got introduced to this company from a listener Jack in Taiwan who suggested this in the comment section in the Stripe needed in Hong Kong – episode 26 – and I'm happy he did so – I connected with Jon there and he not only explained Paymentwall's services for us – but also gave some insights on the merchant account industry, terms, things to look for when applying to these companies – so I think it is an amazing one where we can learn why it is hard for Hong Kong based companies to get e-commerce merchant accounts so let's listen in. And after the show I'll give some questions and answers I received from some Hong Kong business friends who dug into it deeper
Topics Covered in this Episode
Introduce Jon and Paymentwall
As we discussed to prep for this interview, so many listeners with Hong Kong companies struggle to receive money from customers online! Any insights on why this is the case?
How does your application process work at Paymentwall? And what is a "flag" for high risk?
Strategies for companies preparing to apply – that are in Asia. So many contact me nervous about the process.
Some ideas are alternative payment options besides just credit card (AliPay and Tenpay for example in China).
Fee structures of payment systems. They use different ways and wording. Can you tell us some terms that merchants should be aware of when looking at open a payment processing account?
How long does an application take?
So you focus on recurring subscriptions right? Can you give some examples of clients – don't have to share their name, but the purpose of giving listeners an idea if they are the right profile.
So e-commerce businesses are they welcome?
And in Asia, there are a lot of B2B companies doing import export with rather large transaction sizes – is this a possibility ? I know the larger the transaction size, the higher the risk right?
Your thoughts on international payment processing. Seems Paymentwall has been expanding around the world quite quickly. Is this because US growth level is more mature and there are bigger opportunities in new markets like Asia?
Tips for SMEs who want to start accepting credit cards on their website
Ways people can reach out to you and also apply for Paymentwall.
People / Companies / Resources Mentioned in this Episode
high risk
Paymentwall merchant services
KYC – know your customer, it is the responsibility of you, as well as the merchant bank, to follow guidelines about knowing your customer.
AML- anti money laundering – the words pretty much explain themselves, but this is in act to deter fund raising for terrorists and other shady business practices.
Looks do sometimes matter – A good looking, professional site does help when the merchant bank is reviewing the application.
understand business model – the merchant bank underwriter should understand clearly how you make money, and you're not tricking or deceiving your clients.
North Korea and Cuba – Paymentwall can't work with them
Paymentwall is not a merchant bank – but can get setup immediately
Own merchant account – working directly with acquiring bank
Chargebacks – when a customer calls his or her credit card company and states he or she didn't make or authorize this credit card transaction, putting a dispute to the vendor.
Friendly Fraud – people do chargebacks just because they don't want it
Actual fraud = scum who steal credit cards and buy stuff from your business online and the real customer later charges back
Average Chargeback rate = 0.8% chargebacks is standard industry
Merchant on Record – who is the actual merchant, Paymentwall for example is sharing that with you their client, whereas if you have your own merchant account directly, you are 100% merchant on record.
PSP – payment service provider – not a merchant account – they use their merchant of record on their account to let you accept credit cards
Local banks – can help better with local currency and payment options in that local market and currency.
Automation – what we all dream we had in our business, streamlining shipping and fulfillment communications.
Automation of Fraud – put automated systems in place to check for fraud orders.
Alternative Payment Options – Not exactly a credit card (see below)
Alipay – Chinese paypal
Tenpay – Tencent's (QQ / Wechat in China) paypal.
Union Pay – Basically the mastercard / Visa of China
Acquiring Bank – bank that underwrites your merchant application and assumes the risk of your account.
American Express merchant services – American express has it's own merchant bank you need to apply for.
Discover Card merchant account – merchant bank with Discover card.
Chargeback rate (under 1%) is best to maintain a good relationship with your merchant account.
Setup Fees – Fees to get setup, if any, with a merchant account.
Dating Website setup fee is 500usd
Processing fees – percent of the sales revenue you need to pay your merchant bank to underwrite the transaction.
Transaction fees – flat fee per order to pay your bank.
micro transactions – orders under 1usd
Interchange plus – flat fee plus plus a discount rate on top of it.
Airline Miles Cards – charge more to the merchant than normal credit cards (so merchants are paying for those free airplane flights!)
Debit card transaction – less than credit card
AVS – address verification system – to help prevent fraud, normally for an extra fee of 0.01 to 0.02 usd per transaction.
3D secure – System bank uses ensuring that the bank verifies they are who they are.
Articles of Incorporation – needed for acquiring bank when getting approval sometimes.
SaaS – software as a service
Authorize.net – gateway
iframe – checkout inside the frame in your own website, so the customer can stay on your site while they checkout on another site.
Reserve – 0 to 5 percent is normal, but can go much higher. This is to protect the bank if you run away. Keeps that amount of the funds in their bank account and released in 30 to 90 days.
Chargeback risk – chargeback can be done up to 6 months after the transaction
contacting Jon
twitter – Jon – https://twitter.com/JoWint13
jon@ paymentwall.com
bizdev @ paymentwall.com
Episode Length 48:57
Thanks Jon for being so amazing and coming on the show and sharing – I learned tons and I hope this gives other Asia and Hong Kong based companies insights on the merchant account industry and ways we can try to make the most of the current situations. As I said earlier, I wanted to mention a few questions and clarifications that some of my Hong Kong friends from the Startups HK group asked and Jon stated on answered after the show – I'll read off one of the most important here – and then add the other 2 onto the show notes at global from asia .com / episode 51
JW>>We do support Hong Kong businesses as a PSP model. This model is different than working with acquiring bank. It is also a lot faster for you to setup. As for payouts, it is standard for wire fees to exist. We work on doing payouts with as little fees as possible by expanding our business but since we are US company we do payout from our US bank so wire transfer fees may incur.
And I will also add a downloadable PDF of all the terms talked about and a list of merchant account companies I have found out – with notes on what I have heard a bout them, so look click here:
Download the PDF now!
That's it this time – next week we'll have Shlomo from App In China .co talk about getting a mobile app into the Chinese market – who I got to interview when I was up in Beijing – so catch you soon, peace!
Followup Questions from Startups HK Friends
I had some friends in Hong Kong already dig into this solution and had these questions, which Jon promptly followed up – so I thought I would add it here:
1) We currently use XING events and adapt for our needs, but some things are not quite right. The Terms of Service for Paymentwall say you agree to pay their fees, but can't see a fee schedule anywhere. Any idea what they might be?
JW>>We actually have our own ticketing system that we can use so no need to use a plugin or anything like that.
As for fees, they do vary merchant by merchant since location is a big factor for us in how much we charge. With merchants located in the US and SEPA (Single European Payment Area) we charge 2.9%+$0.30. The rates for all other options average around 5% on a revenue share. This is why we do not want to bait and switch merchants who do sign up and see something that is promised but in the end we can not deliver.
2) Paywall doesn't *really* support HK at least not like one would expect of a normal credit card processor. Their website says they pay out by wire something like once or twice month a month. You'd at least be paying your bank's incoming wire fee – and I find it hard to believe they wouldn't also charge their bank's fee to you as well. Michael Michelini & I had a discussion about this
JW>>We do support Hong Kong businesses as a PSP model. This model is different than working with acquiring bank. It is also a lot faster for you to setup. As for payouts, it is standard for wire fees to exist. We work on doing payouts with as little fees as possible by expanding our business but since we are US company we do payout from our US bank so wire transfer fees may incur.
3) I pay commission, plus their bank fees and my bank charges. It is fine for the time being, but a more local solution is definitely needed as we don't even get paid out for some of the smaller events due to all the fees charged by everyone.
JW>>We try to make it is as simple as possible with a simple fee structure. We do not charge extra for currency exchange, international transactions, monthly fees, etc… The commission is to cover payment system fees and if you do have a US bank account we can pay you out there with zero fees.
Photo of me at the Hong Kong Ferris Wheel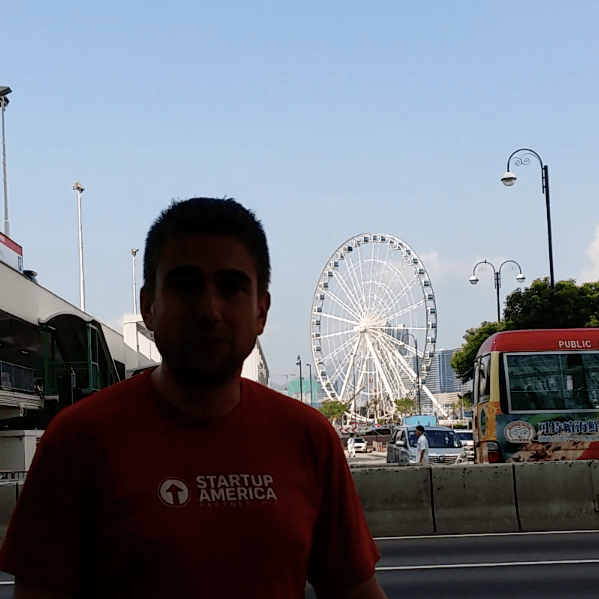 Download Options
Podcast Transcription
Below we had this podcast converted to text, as it is a top listened episode, enjoy!
Introduction: Welcome to the Global From Asia broadcast with the daunting process of running in a international business from Hong Kong is broken down in the straight up actionable advice, and now your host Michael Michelini.
Michael: Thank You everyone for taking the time out of your busy day to listen to Global From Asia episode number 51 had a jump pack day in Hong Kong saw the new ferris wheel installed while ago right on the Hong Kong island took a quick photo all at the show notes if you want to check it out. A little bit of ah shadow but ah it's best I can do under the quick rushing between meetings it will be at globalfromasia.com /episode51 at the bottom. While rushing around in Hong Kong I got this awesome email from a listener I just wanna give a quick shout out its from Danny Guerrero and he was just a hour ago so as it is thanks for podcast, I'm listening to every podcast of yours and it's giving me a much better understanding of how business run in China. Don't think i would have found a better place to learn about China. I'll be opening up my own ecommerce store in China in about 4 months. Thanks again. -Danny.
Well thank you Danny for listening and just give me a quick email that really motivates me to keep going and ah i love it. Alright know so onto today's show we have Jon Wintermeyer from Paymentwall Merchant solutions based out of Silicon Valley, California in America. I got introduced to this company from a listener Jack base in Taiwan who suggested what I was talking about the stripe services needed in Hong Kong in episode number 26, I'm happy he did and I connect with Jon, he got back really quickly which is the cold email out to him, and we talk about their services for ah Hong Kong businesses and they're really kinda growing internationally and give a lots of different solutions and choices for companies that are base in America or other like Korea for called first world places. I also got some insights in the whole merchant account industry terms to look for when your applying to these companies, so you know if not ah ah they didn't pay me I I'm not in the license just to learn and hopefully if you're interested in their services you can give them a try, I'm also take a look at them a little more in go three application process this is really hard you know, hardest show one of the things I'm hoping to do is make it little bit easier for us to ah understand how to get a good merchant account and do business with ah the newest technology so I think this guys are worth looking at and Jon really does share uhm openly about the whole industry also if wanna show in a live I talk some other friends in Hong-kong about it, and they give me some questions and ask sir Jon in real time answers and after the show is recorded and uhm put at on after afterwards uhm after Jon and so that you can listen and you all on the show notes and all the stuff so let's all listen in.
Michael: Alright thank you everybody for tuning into another Global From Asia podcast and I'm excited to have Jon Wintermeyer with us from paymentwall.com on merchant to account service, so thanks for being on the show Jon.
Jon: Thanks Michael for having me
Michael: sure and this is you know again this is listener feedback in Jack was uhm commenting about your service so similarly amazed you know it's just amazing again the whole cycle here of feedback we get on the show and sharing and learning about your services so thanks again and maybe we can start of with your introducing yourself and expanable.
Jon: Yeah ah Michael's I been a pin offers about three years now I'm in charge of that whole sale's team some base in our San Francisco office and I worked with about 15-20 sales people located all over the world, San Francisco, Las Vegas, Amsterdam, Berlin, KIAD, East Town Hall and Manila and soon Beijing and Brazil. So yeah so paymentwall what we do is we really help merchants provide this payment services to easily set-up an account and then the exact payments all over the world including China, including South America, Europe. There are over 108 countries so it's really great that actually one of your users gave feedback to you tag paymentwall on this on this broadcast because we we don't get that much marketing actually we have our end-users do marketing that includes merchants and people who are pin on paymentwall.
Michael: Cool that is my my first time to cut and represents a website and uhm can listen to my my question its coming up woah you know China, Hong-Kong or some people think similar but they have this diffrences and Hong-Kong companies seems to struggle receiving money online and it's kinda one of the main challenges I'm trying to solve on on the show is helping companies base in Hong-Kong or operating in Hong-Kong company the better received money online do you maybe how it started why do you think there are this problems now.
Jon: So yes I think I'll it's a problem with a lot of international companies so maybe not just Hong-Kong but all over, so that's actually it's funny with Hong-Kong companies we we work with a large number them and their first question actually is can you work with the Hong-Kong company, so I'm not sure why there so many issues reaching out but I think of a couple, one is maybe payment provider their their reaching out too. So there's different payments service or payments riders that they can partner with and it depends on the tight they reach out with if you can work with them, for example a PSP which is a payment service provider is actually the best; I should say easiest way for any campaign accepts payments online if their in Hong Kong, China, ah Europe the reason is this, is because they are able to use their own merchant on record of their payment channels to accepts payments on your behalf, what happens is if your a Hong Kong company and you reach out to maybe banker trying to work with a bank you have to be in a certain country or set location so could be the reason why it's really hard is because your reaching out to the wrong payments service so you really have to do your research when your looking for that payment service.
Michael: Okay that's pretty insightful I think uhm maybe another reason is this is pretty small market maybe of some company
Jon: Yah!
Michael: and they don't pay that much attention but ah you know I think again about this broadcast there's a lot of companies that use Hong Kong businesses but they're not located there so I think they're missing out on the real size and that's maybe why those people you talked to you are asking about Hong Kong cause it just seems like people are paying attention to you and hopefully you go over and hope solve that even today, so the application process I guess and I feel like by default being international is high risk and there's a flag or what are your flags for being like high riskier or what has the application process worker.
Jon: Yah, now are those good questions so were an open platform so paywall is very open we just have users complete like data their name, email, company name, and then they can set-up a paymentwall account. That way they will be able to really see the services test then things has to good as it and then by high risk so of course in the findings where accepting payments online there are KYC requires, KYC is know your customer so it's not your typical bank where you walk in to branch which he did idunno 20 or even 10 years ago you always want to walk in to branch for for your bank account. Now you can get online payment process without even meeting the person. We work with over 40 thousands merchants and I definitely have not bet 40 thousand over merchants so it's it's a matter of really knowing your customers so there are some requirements we have to know such as using government id's involved tax forms and these are able were able to checks to make sure that we do know our customer that we are not involved in AML is another abbreviation I don't even actually like using abbreviations but it's ah I think it's right people always use so it's good to then, AML is a anti money laundering
Michael: Okay
Jon: That's a big thing in the online world is to make sure that we merchants are doing these payment process and they're not laundering money if you look at examples in the past there's such things as as liberty reserve which is pretty much anti which is money laundering so so these are the kinda check we do is using requirements for certain documentations and let's say flags, what will flag us well to be honest it's a a good look inside cause it's one way actually. That's actually what I tell you why people join us like a like a professional looking site and the people that you're dealing with are professional. That's a good sign.I know that's not the only thing we do for our complains checks but that's the very like visual thing and then also we we really have to understand their business model, so if the answer asks a lot of questions about how they make money, how the process of this payments that's not like the good sign so if you have complicated business model that just seems little off let's say like ohh you these are flaws you wanna subscribe them for one dollar for one day and the next day is a hundred dollars that's kinda of flag just as especially if you're trying to take away maybe certain things in like ohh can we move this hashtag say it's every current bill that happens every month there's something. So we go through a lot of checks actually.oh how about probably between 10 to 30 member merchants going live everyday and we have to manually check this merchants so it's a it's a big step-up for us but it's it's very necessary when you're when you're dealing with merchants especially all over by regions we don't use a flag merchants, we, the only regions we cant work on our bargo list so that's like North Korea and Cuba, no those types of country where in any either country were quite open to and really were close to it to make sure that they can get payment process in that's what were really want to help people do is to get that online payment process.
Michael: Cool duh sounds really, sound really great and I have some interesting yuh like a lot interesting points to talk about and so strategies for company are preparing to apply, again I I think from asia is safe in terror in asia I think a lot of people still reach out to me and it's either they ask me about Im not gonna name names but you know some of these providers are like how they really care about the process seems so mysterious like what documents do I need, and things like that so I use where strategy but there were a point maybe a a these guys are newer internet e commerce kind of business businesses when they start to apply I think by default people get a paypal accounts kinda like that I think everyone in the world released in asia is like paypal first cause it's kind of straightforward but then I look at the merchant account leader some people we interview to are like leaders so that's something also thinker is something I can do right right off the bank we supply with the merchant account.
Jon: Now you can question I got tell you first I did paymentwall experience that kind of radiant for you so paymentwall we started here only a PSP like I said earlier where we the merchant record meaning that if the merchant sign-up for paymentwall they didn't have to have their own merchant account.
Michael: What is this mean?
Jon: Oh ows it makes it easier for you to sign-up. It makes it where can you sign up and your gonna start accepting credit cards that day on the other hand when you get big enough lets say your process in i dunno ah ah a million dollars a month that's something when you really want start looking a key in your own merchant account probably even before that where you have to work trackly with the bank. Ticket, ticket it's it's calling the quarrying bank and what the deals are under right you and they're be able to be credit card process now this the disadvantage of the distake lingering, things are slow it usually takes for 46 weeks but there are some advantages especially that you are working even closely here very closely with the bank and it's your own credit card process so you have more control the other side of those is more risk so since youre the breach on record your gonna have to be responsible for handling the risk command management so making sure there's no charge back to make sure that there's no fraud I know we work with uhm. So we actually focused on digital so that means like games, e learning sites, SAS companies but the physical world there are still experiences with chargebacks I know in asia especially would the city there are high announced of fraud so there such thing as called as friendly fraud which non always get a friendly fraud because not very friendly with the merchant what happens is lets say I user I something make the transaction and then they say oh I actually wanna pay for simple call their bank to do to chargebacks.
Michael: Yeah, horrible it's so
Jon: so yeah it's actually like its actual purchase it was successful you cant you cant stop friendly fraud. There are ways disputed it but you can't stop it and then there's other one it's like a stolen cracker where that is fraud so you have to have maybe use a third party to protect you from this because it's really important not taking charge back limit. Oh you wanna be under one percent so for over one hundred transactions you wanna have under one charge back. I think the average for maybe digital good I think there's on 0.8% just to give you an idea and so what's important is realize is the and then the _ Thing I'm going to be detail on this is because when you have your own merchant account you can get shut off and then it's going to be real have credit card processing in a after that. So you really have to be careful with that and make sure you take care of your charge backs don't don't let them get out of control or else it's going to be really hard for your credit card processing because the first time you get it they always ask for payment history Well if you're new business how do you have payment history you don't, so you don't know how much volume you're to have so it's not a bad idea to start with the P.S.P. get some credit history and then maybe go get an acquire after that so that's that's a route I would seriously look at do.
Michael: Oh that yes clear I think some questions that are popping in my mind that I didn't have in my list but a.. I think sometimes people think on what's the name on the credit card statement is that mean is that a difference because sometimes it'll say maybe when we say paymentwall or or say the company name on their credit card statement.
Jon: So yeah that's kind of the descriptor so what you can do it it really depends on the payment Fred or you're working with but if you are the merchant on record like you work with an Aquarian bank you'll you'll have your company name on that like ahh Michael Ink. you can put it on their if you were tracking with the bank, if you're working with a PSP maybe something like us we have different banks to work with sometimes it will say paymentwall or you can send us a descriptor and I could say paymentwall/Michael ink so it it really depends so that's a good question to have because usually I think I mean probably a lot good amount of online shoppers will check their credit card statements and check their names so what we do when we put our name we also put our phone number for contact if should in case they do have a question cause they're like ohh I bought something at Michael Ink. but it says paymentwall.
Michael: Exactly, Exactly
Jon: So we also another thing that's good to do is we send receipts clearly stating that on their credit card statement it will say payment off
Michael: Got it. I have to admit though sometimes I get can. Another one. I just bring up their name I don't know if it's a good or not but to check out it's another popular one that I've known a lot of people talk about and that seems like maybe a P.S.P. because it says on a merchant bank and it says on a credit card statement their name on the on their credit card and I've been on both a user and a customer on it so sometimes I get confused as to to check out on my person I Can't remember which which transaction that was for so is that P.S.P. then it's.
Jon: Yes, Exactly
Michael: Okay okay, Got it So I think that's pretty clear and so there's descriptors and you could give a descriptor then on your application. With you then it would stay paymentwall/MichaelInk is always or less special request or.
Jon: Ah I I It's a special request it's always a number of banks can do it so what happens when you work with us appears to be you as we work with a bunch of different banks to process credit card transactions so usually there's a couple ways you can do it it's we can send it to different banks and we route the user to a certain bank that's a local bank the reason we do that's because you want to process the payment and local currency for example if we partner with the U.S. Bank they can usually process in U.S. dollars So then that means if a merchant in Asia Is trying to pay they would have they would see they might see price point in local currency but they're going to be processed in U.S. dollars so it might not match up exactly on their statement with how much they thought they were going to pay and how much they got charged so what we do is we work with like a bank in Asia that will make sure process is locally in the local currency another good thing about process it with a local bank is the less likely chance it will be flagged like us Spain. Are going to recognise cards in Asia as well as a bank in Asia so it's going to get to know that and then I'd say maybe the bank in Asia allows for you to add a descriptor while the bank in the US does it so it's really up to the bank sometimes that we work.
Michael: Okay another little bit tangent but I was I laugh it now but it was a really scary nightmare for me. To be needed I maybe two thousands I was selling online Businesses and I had actually my younger turn of the brother was in college and shipping for me and he had it you were partners and he shipped an order to Dominican Republic for five thousand US dollars of goods from our warehouse in in the U.S. and ah right away like within an hour because you so excited to get a five thousand dollar order so it was already like gone it was like signed in the mail like goods gone how was I was in my job as a part of a part time business and I was freaking out it had a like billing address Miami Florida shipping address to make an Republic And I freaked out man and it was legitimate or though it was a legitimate order but the bank my pay my merchant account couldn't communicate with the bank in Dominican Republic it was a Dominican Republic Bank and so I had to call I personally called the bank and had I didn't speak Spanish but I passed the phone my job my day job to a guy in this book Spanish to speak to the bank in coordinate with the bank to make a settlement and I was totally confused how to actually work but then to actually work whereas the customers really like Luckily like being cooperative and sent a copy of his statement like showing that he saw us online Peking or whatever it was really really complicated. Thing but so I maybe that's I don't know it's a totally crazy Tanja to go on but I laugh at myself now I was really lucky but I stopped because for five thousand dollars you know. It's still a big deal for me and I was like it worked out but so in this case you know maybe that's where a local bank would help because I guess when I was going on with U.S. bank for my merchant account and then they were they were buying from Dominican Republic credit card bank so the say yes settlement had to like cross from that country into the U.S. to go to my bank in a series I think took two weeks or something to get deposited to me or something like that I can't remember.
Jon: No I think definite like vocal banks will help you with that like I. Just help process in conversion rates good which are great means when a user pays at the payment actually goes through it does help a lot and that also just with with frauds so that's definitely I. Know like when you're looking at the transactions going through your business depending on how many you have you can definitely you'll you'll see some flags here hike houses.
Michael: Right And then another mistake was automation so you know we connected our shopping cart directly to our where our fulfillment warehouse later on in our business and we directly shipped like five hundred dollars a teachers to Africa that was that was the last. Anyway that I want to give back So.
Jon: So to me it doesn't like to make your fraud. Sometimes I mean to go to SARS ahh There's payment services you can use that what have the fraud protection and a lot of payments cut through for Pay Pal for example I remember that's what merchant closely and he was expanding in Russia and in Asia and he said he could just like oh see a user. Make a transaction it's like I know this is going to be fraud but Paypal is not stopping it is like I can see it or get why Pay Pal can't stop it interest and I worked with them
Michael: Interesting.
Jon: and kind of I had to work with the head of our fraud team to make sure that we put up the parameters in place to like block those payments because I don't because you want it you know to be able to sleep at night
Michael: Yah yah Cool
Jon: Has a good that's a good point and I like that the international transactions the. Dresses and stuff is a good way to check it
Michael: Yeah so I'm trying to make sure this is structured questions and I have so many so many different ones but alternative payment options besides just credit card or like alley pay ten payer in China which are big and you know Iraq we had talked earlier about so you brought these up so it's kind of want to bring bring that up and you guys can support those.
Jon: Yeah soo alley pay or ten pay payer is the two big Chinese options and there's also union pay to which is another one.
Michael: is actually cover a car or two or a union paying discovery her like cooperating.
Jon: Yeah ah I'm not sure But I know I know you can pay is a little bit off the credit card market so so discover it was kind of interesting because they used to actually so like these Master Card do not work directly with merchants so they work with acquired banks but then you American Express is actually different you have to go direct to American Express to get American Express kind of car process they said you know go through an acquiring bank and then the other one discover used to have the American Express model where you would have to go direct to discover and work with them to do credit card processing but now they work with acquirers also so it's like China or does that really mean well it just means if you want to go direct as possible with American Express or to get their processing you have to work directly with American Express that's why you'll see. Some businesses don't accept American Express is because of that and because they have higher transaction fees and then with these alternative payment such as ten pay alley pay, union pay Is not really alternative payment but it's I would say a local payment option in China at least local payment options in China obviously have a lot of users, like as China is quite large so when you look at that uhm Do you want these local payment options you want what's the user's contre pain with because it's a pain point for an end user if they have to use and I think they've never heard of payments is very a lot about trust the Indians us to trust making a payment on your system except in oh this pain that one will go through to that if I sign up for it like pay that it is trustworthy secure my account will not be stolen so it's important to have these local payment options that are familiar with people so they can pay on your site.
Michael: yeah I agree I mean I think the rule of business is make it as easy as possible to get money from customers.(laugh) Or it likes I don't know why some people say I don't want to accept this payment to slake I don't want money from a customer I I always agree with the that saying like I'll take any money.From any anyway so we're talking about fee structures now and like all these acronyms and this really kind of sometimes can be complicated with all these different words maybe your to mention a few or maybe also put in the show notes but maybe some other popular terms that we should be aware of.
Jon: So oh Okay as I mentioned P.S.P. which is a payment service provider that something like that paymentwall does there is AML which is and Kate and Allan K.Y. see are the two kind of compliance terms you should know so anti money laundering and know your customer and then for other ones there is. Those are the ones you really want to know merchant acquirers merchant acquiring bank is something you should are acquiring bank has actually been cracked and those are banks that will will give you a merchant account for credit card processing which I think is a good one some other terms I charge back rate I went over so it's good to kind of know the average for that definitely under one percent you want to be for that to make sure your credit cards process is in good standing in time I think I mean like I said earlier I don't like abbreviations.
Michael: sure sure.
Jon: Yeah yeah and I think And I think I think those are the main ones I would stick with I can't really think of any i ones off the top of my head.
Michael: sure sure
Jon: Yeah I had yet or if you've come across one there like that's kind of
Michael: well I just feel there's in the fee structures later there's a monthly fee like for like you said in America Express I think charges like ten ninety five a month us and then there's like sometimes the merchant banks thirty five dollars statement fees and then there's like purchase action thirty five cents or twenty five cents in a percentage and it's it enters there's like Per like even a refund you have a transaction rate to run a refund and then author authorised a merchant bank and settlements and I mean yeah I mean I expect me all this on the show this this question but this is driving seeing actually you know that there are so many different everybody's got their hand out to seems to get a little their fee and that makes is complicated.
Jon: that's actually a good plan to spring up like fees a little bit so there can sometimes be set up fees for example I can tell you Mastercard they charge five hundred dollars for a dating site to get their own merchant account so that's what I'm familiar with but that like to talk about processing fees so let's say a typical credit card fee will be maybe like one did to pursue. Cent plus thirty cents or something so that thirty cents is considered a transaction fee this is a fee that occurs it's a flat fee and that people sometimes ask me about my car transactions which is like a usually a lower amount could be a dollar transactions and you think of a thirty cent transaction fee and to him that's really higher and so there are ways around it so that's why you have to work with year your payment provider and seen what you can do so that like the flat fee is considered transaction feed and there is a percentage fee so it's like one to two percent plus thirty cents but then there's also you're going to act sometimes or do interchange Plus what does that mean so there's interchange which is usually the amount so the ticker process is actually quite complicated so that's your change plus it will be like kind of a flat fee plus plus what happens with the credit card process is actually different credit cards will be different amounts different P.L.S. So for example it's a of a credit card when it gives you Miles or any reward credit card those usually cost more to actually on the merchant the merchant actually paying for a higher fee we use that type of credit card so then let's say you do interchange class or you get a flat fee no matter the card if you do if you don't do that sometimes you'll get a you know get this long the sharks are saying oh if this card provides miles their fee structure is this for those cards cashback it does this and it goes on and off the list and pages so it's really up to you and what you want to do so the advantage of doing it with the interchange is it's easier and simpler to know where you charge if you do it the other way these cards will but the problem is you can't control what these are paying with these cards you don't know if he's going to uses airline miles card so what happens is it's kind of a guessing game you're like oh I hope he is a debit card because the debit card transaction fee is a lot less than a credit card so. It's really up to you on what you want to provide for tips on what you do or what I would recommend I'm actually not sure I was told I'm still not sure we're still we play this game a lot and when we set up our credit card process is what we want to do we like we like to keep it simple for our merchant so sometimes we'll do interchange a certain banking and other times will do maybe the other way where it depends on the exact kind of card we usually do it depends on the exact credit card because we have all this data and we know usually cards are be news what percentage so we're able to analyze and perform a new smaller merchant maybe I see that makes sense as much
Michael: Okay
Jon: So it really depends
Michael: Cool
Jon: I think confusing scary everyone.
Michael: I didn't actually know that the. Do you know the airline miles actually listeners always try to do like travel hacks they call it where they they came became a fire you know trying to find the best credit cards with the miles and stuff so actually merchants are paying for those airline points ha interesting.
Jon: yeah and yeah and then it's there's also like added features they can do on your credit card process in you can do like you can imagine and when we did that one transaction your friend that you buy that was our transaction my on the interest like Dominican bank it's like what's going on so there's also like A.B.S. that's that's an abbreviation I remember just verification system. But that's another thing that it's actually an add on for credit card processing so that adds like maybe a couple cents to each transaction and then there's also three D. secure what is that that's usually used for banks to verify that the end user is the end user so that could include at answering a security question maybe as a mass fair question or loging in onto their online bank account just to show that they have act that it is their card.
Michael: Cool who you know I mean this is good I mean I think I think of In anybody except in credit card online should should study these and I think use of is really such a like mystery still even in today's age I think a lot of these and the website websites usually are so unclear or that you get these terms of conditions he's with such fineprint he can't really know exactly where all these things are so so this is great kind of going back to before with the application process the so then I think you're a P.S.P. and you said it could be a quitter or what was a normal kind of like application time.
Jon: so we include an integration set up and everything we've had emergency is an empire platform and we live the same day we can also since we're P.S.P. but we can also do acquiring we actually work thanks to underwrite merchants so that process takes maybe. I think we can fill it do it process it right away but usually end the end I'll take about probably three days but I me turn in all your compliance documents so I imagine I kind of government ID articles on corporation tax form we have to verify all this information before we can underwrite you as much of her credit card process.
Michael: OK And and if in these are fee up front fees for applying or
Jon: no so the only upfront fee that I know we actually are in charge it is the Master Card for dating sites but that we we try to keep it simple whereas already complicated enough.
Michael: Yup
Jon: enough for you to try and sell it you know. I don't.
Michael: sure sure so you also mentioned earlier in the show about your focusing on digital goods and the learning is that link so is is that of focus like so others are not really should not consider applying or maybe give us some examples
Jon: so yeah so. I mean you know we do focus on digital goods and services like SAS companies that has them scription and we work with gaming companies that have micro one ten transactions virtual currency. Thing could be like M.P. three we also use services and travel is not a physical good you're buying and having a shop. So I mean those those are what we focus on the reason is because we feel the issue is big enough for that and that is good kids is a little bit more as a payment credits this is not her focus we just choose not to go into it actually there's no reason we're just really focused and want to be the number one option for digital goods and services.
Michael: OK OK good that's that's great so then I guess listeners to do e-commerce or physical goods shouldn't shouldn't consider you as solutions.
Jon: We Well so we do have some solutions we could provide like I mentioned chargebacks we do have that's called a spider pipe like you mentioned authorized are never there so it's pretty much like that it's a gateway so you plug in your old merchant account into our U.I. and then we will help handle customer support risk management Oh I had no any charge back to speeds on your behalf so that's one way we do work with our merchant account and set up the road to do so. And the reason is another reason I can think of to be upright a lot of alternative payments and with alternative payments the sections differently as mentioned credit cards is a low percent maybe two percent plus thirty cents but you get into alternative payment options and the fees can get you know a lot higher they can be up to twenty percent even with S.M.S. billing it can get up to.Seventy percent in Brazil South America
Michael: WOW
Jon: So Yeah, so if you're busy or. I'm not sure how much money you can make if your side they get in the transactions cost seventy percent of the price.
Michael: Yeah To be some kind of like medicine or something
Jon: I mean there's a good there's I mean if you reach out to us I always try and point our chins in the right direction and I do physical goods we don't do adult processing and we don't do gambling or the three main things but still we get merchant inquiries so we do have maybe partners actually friends I like to refer business their friends more than partners at times you know just because I think that I know they're going to treat this person right they're going to act in good faith so if you do reach out to us we always try and say you know put the best person talk to
Michael: cool nuns that's great that's great. And actually the other point I didn't have in my my list but I'm thinking is on the flow the transaction flow so when the customer goes to checkout do they redirect to your website or is it stay on the merchant website for the complete transaction you know like I think you said you worked at PayPal So you know most paperless you used Pro which isn't supported in Hong Kong and I believe that kind of verify it but you know like a lot of times the merchant prefers it just to keep these are experienced on their own site so how does your user experience or flow work usually we
Jon: yeah we we're trying to keep it all on the merchant site so what we do is actually pay more can be integrated I pray on your site so what happens is it becomes a part of your site it looks like it's on your site we customize it to make sure it really looks really likes to make merchants spend a lot of time designing these sites so you want to make sure it still looks good so what we do is the I Frame will be put in you know have all the different payment options and then it will check out. And that I frame.
So yeah so we try to do that the sum payment options like you mentioned PayPal it take you to another page so it depends on the payment option but I would say the majority of the options we work with are all can all be checked out in that IFrame.
Michael: Okay Awesome And yeah like kind of get towards the end here you know international pin process seems you guys are expanding globally and seems like you're your to definitely paying attention uhm Kind of just curious maybe why or what you know sometimes a lot of people Steve in the US It's a big enough market or maybe just curious or if you're willing to share or if you know what your strategy
Jon: for at least
Michael: globally or Seems like you're focusing on your ex international market seems to be your said your start in Beijing now and you mention some other markets so it seems really great for people like me and the listeners I'm just curious me a wire or you know
Jon: so I think it's actually so why are like why are we so hundred national side I think it's actually and chess in to be so international and in San Francisco especially in a startup because most companies are so U.S. focused a they get their P.C. finally and they just get as many as they can in the U.S. and then they hope to get acquire something like that our thought process was a little bit different and I can pin that to our C O two hundred and he is a very very internationally ah he speaks lot of different languages and then as a lot of experience traveling he's actually I think he's in China right now so he went to China joy and now he's helping set up the office or working with a team and making sure the office is all set up there but it's it's the vision of that so it's recognising that there is a need there are regions outside the US looking for these kind of solutions and that really makes us focus all over the world we don't. We don't want anyone in any country to not be able to accept payments I mean the world is such a big place obviously I'm like How can you ignore our not really look at it spend it in China
Michael: Sure
Jon: so that's I think that's what it really is and it's really exciting for me as somebody I'm sure you've seen my ad and I think it's exciting parts of insider national I think you asked sometimes the companies are are so U.S. focused and then even Americans themselves don't travel I mean. Like you are right now you told me here if you like I'm traveling to Beijing I think tomorrow.
Michael: Yeah yeah
Jon: So ah so it's just kind of it's cool how much you're traveling and then to experience all these different things so it's I don't know how one company is focused in one market when there is so much opportunity out there
Michael: Now I definitely agree I think ah A lot of my American friends just I think just America actually somewhat similar in China Chinese people just think about China of course there's the export factories or e-commerce but the majority of the population is only really concerned and even investors in the startups a lot and just focus inside China but uhm I guess because the markets are big enough to make a decent amount of money and then later you can expand so but I think definitely excited you guys are are doing this international stuff I'm really excited about it and kind of just. Well actually said no to question is thought of is sometimes with a merchant account see if you're higher risk like I feel the thirty or sixty day forget the word holding or they don't release the money or they don't release one hundred percent of money that transactions of if I missed you know how long settlement maybe or maybe in terms.
Jon: So yeah so the reason it's sometimes called a reserve and some merchants or will have it what happens is this is a good point so it's a chargeback. Risk So what they do is they a chargeback can occur via credit card processing of the six months after the day of the transaction so if I made it transaction today is it in use or I can make a charge back next year and what that means is a credit card company or the pair of writers at risk for that six months of that transaction So for example it would say we paid our weekly but I user doesn't charge back from six months ago you already receive that money so it's a risk for the person pain you know so that's that's it's called a reserve usually And it ranges from like zero to maybe five percent.
Michael: OK
Jon: but it can also even go I think for higher merchants an uprising a higher here
Michael: Yeah yeah I know someone Ok step the thing to be aware about so yeah,
Jon: Oh it's so huge you settled out of well and also you can negotiate and say oh I only want there serve to be capped this high or something so that's something you can negotiate with your pimp right or
Michael: No this is great this is great.and I think that kind of wraps it up if you have always like to say need to pay for businesses you know see in Asia that want to get started you know except credit cards or accepting payments online
Jon: Yeah I mean yeah I think you had to start online I think I always think they should. Have questions ready no you want and then work with the company and then you know like for example if you're working and even asking for payment process now to ask a lot of questions and be very upfront to them about what you want to do you sort of make and help and work within finance a good solution I think it just makes it easier for everyone so I mean that's what I would do I. Why they come up with creative solutions for emergencies I'm working with and I'm the person doesn't want to work with you come up with these missions and probably start looking for somebody else they want somebody who you're likely especially when you're saying that they're caught you want to be responsive to the magic after you setup your account and they were unresponsive before now that they have you they're probably not respond to emails so just just be aware that
Michael: Clear, Great thanks so much and of course I'm sure people are interested to apply that are going to apply I think after this and uhm Maybe Well how can people get started course here at Paymentwall.com And one other maybe also if you want to reach out to you or your e-mail your customer service or what direct e-mail or Twitter or whatever you want to share here
Jon: I mean my you can you can follow me on Twitter. @J O W I N T thirteen emails my best way jail and @paymentwall.com So it's and then we also have some general emails they can be used visit us @paymentwall.com. TIZTEV @paymentwall. I think either way you reach out to me no matter what there's so many different channels of communication now I mean I mean how can we now. You know we should be going to there.So it's kind of funny so we were very global So we need all these forms of communication sometimes I look at my phone and I have so many alerts from so many different like Sky twenty.
Michael: I dump it all into Evernote that's how I actually everything like email so even a chat sometimes it just take a screenshot on my phone and dump it into Evernote and that's how I kind of manage all these channels so I don't lose something.
Jon: Yeah. I'm pretty responsive to all of them I think maybe the bridges I work with can tell you more but I feel responsive. And I really respond same day I get emails uhm
Michael: Yeah me said I was just showing you been really awesome too corny and yeah it's really great so thanks so much.
Jon: oh yeah thank you I really appreciate it and of course let me know if you ever have questions or once you open an office in Beijing to yes they come by and yeah
Michael: yeah i wanna go I go yeah maybe I'll tell it you know you know me tell me. Thanks and then that's a wrap for this show thanks so much.
Michael: Thank you John for being so amazing coming on the show and just sharing really openly I learned tons about this kind of complex confusing industry of merchant accounts and you know online receiving money commerce and again like I keep saying Asia Hong Kong businesses really need more more services and I'm glad you guys are paying attention to us I did want to mention some questions that I got from some of the Hong Kong business friends from service H.K. group and Facebook I talk to them and Johnny answer them to sell me just pick one of them that I think is most important to to bring up its payment wall doesn't really support Hong Kong at least not the one that would expect a normal credit card processor their website says they pale by wire once or twice a month he'd also repaying your bank's income wiring fee so it would be hard if you got paid bank fees on both sides so John replied We do support Hong Kong businesses as a P.S.P. model this model is different than working with acquiring bank it also is a lot faster for you to set up as for payouts enter it's standard for Wired fees to exist we work on doing payouts with as little fees as possible by expanding our business but since we're a U.S. company we do pay out from our U.S. banks so why are feesme in quarter so just keep that in mind guys that you know we would have the bank fees so I think they receive the money in their US account and then they wire it once or twice a month. To a bank account of our company in Hong Kong or anywhere and world also I'm going to add a downloadable P.D.F. I'm trying to get every show so if you want to get some more insights of terms and comparisons of merchant accounts I have a a list of in Cuban and I will make it all nice and neat and for us to look at so that's all I have for this show again as an episode fifty once a couple of measured a consulate episode fifty one next we're going to Shlomo from App in China dot co talk about mobile app market in China and how to get your app if you have one into the Chinese market I got interview when I was up in Beijing so I'm excited to release that and share so good next week piece