One of the top questions I get, and therefore biggest struggles, for business owners here in Asia is what their options are for merchant accounts. I have a running list of merchant account options that I try to maintain as I hear about new options, and I have interviewed a few on the podcast and will continue to interview more. Since I get this question quite often, today I will go through the various options and the thought process a business owner should consider.
Here is a recent email I received from Jason that sparked this blog post:
Hi Michael,

Thanks for your info on Global Asia regarding merchant accounts. However, just wondering regarding

1) worldpay – seems like users are saying it's not very good? (rejecting many transactions) What are your thoughts?
2) paymentwall – have never heard of these guys, are they reliable?

Again, appreciate your help on this, and thanks again!

Jason
My reply (may as well make it open for everyone)
Hi Jason,
Thanks for reaching out, you spawned a full blog post to help expand on this.
Worldpay – still is basically the only option for a "true merchant account" in HK as far as I know.
Paymentwall – not your 100% own merchant account, and they need to transfer the money to you on demand so you need to pay wire fees. I have a podcast with them if that helps, but still don't know anyone using it, had one apply and not get in, and another is in the application process.
Mike
What Stage of Business You're in
Like anything in life and in business, it depends on what stage you're in. Let's take a look at some of the stages and options.
Maybe Just Use Paypal
If you are just starting out, only having PayPal as an option is acceptable and can serve your purpose for a while. But it also depends on the demands of your customers – what do they prefer? If you're selling online to US customers that aren't too high tech, then I would assume they want Visa and MasterCard credit card payment options and not PayPal.
I know there are a lot of horror stories about getting accounts frozen and locked out, but this is still the most widely used, lowest barrier to getting started and accepting money from customers.
Sharing a Merchant Account
Listening to your customers is critical, and, therefore, you may want to open a "shared merchant account" via something like Paymentwall, which doesn't have a setup fee or the painfully-long application steps as other companies I have found. We had Jon from Paymentwall on the podcast episode 51, which you should tune into.
But, their company focuses on digital products, not physical goods, so keep that in mind.
Being the Merchant of Record (Your Own Merchant Account)
This is the most advanced and most troublesome option as this is where the merchant bank you apply through is vouching for you and is liable if you disappear. Here you can process payments and it will be 100% your company name on the transaction. Also this is where you have full control of the checkout flow on your website (it won't redirect to another bank/company website for entering the credit card details), as I know a lot of techie business owners want to "own and control" the full checkout experience and maximize their UX (user experience).
This basically leads you to Worldpay if you're based in Hong Kong or Asia as it allows for full control of the checkout. We interviewed Marie on the podcast who has gone through the application process, and you can see the long list of questions and the rather costly application fee.
We have talked to Joe from AsiaPay, which can also accept payments inside China as well as local markets in Southeast Asia; that makes it a much different option from other typical merchant accounts targeting the Western world. But for online businesses, their checkout process forces a redirect to their secure webpage for the customer to input their credit card information. Most of us techie geeks don't like this, as we want to have the checkout on our site and control for the best conversion rate. It also displays "Asia" on its site, which may scare off many US households when they need to input their credit card details as it is a scarier and seemingly more risky transaction to them (I would also feel less secure, sad to admit).
PayPal Hong Kong does have a merchant account option, though it isn't linked on their website. This is called PayPal Payments Pro (or Hosted Solution), and you will need to be introduced to an account representative. I hope to get them on an upcoming podcast so we can all learn who to contact. I have been introduced to one sales associate, but she needs to get compliance and the PR department to approve her being on the show. In the meantime, try your best to get a contact in PayPal Hong Kong to discuss the hosted solution, as this works just like a regular merchant account and you can accept credit cards on your website without requiring the customer to have a PayPal account or even redirecting them to a PayPal page. The cost is 300 Hong Kong Dollars per month (about 40 US dollars) and there isn't an application fee that I am aware of. It is still not a widely open application process as it seems to be based on referrals.
Update: 2 More Options – Braintree is in Hong Kong & PencePay
Braintree has started accepting Hong Kong businesses – I was writing this article back in March and since then they have started accepting applications. But I have been hearing they are slow to process and rejecting a lot of applicants.
Another option is Pence Pay – not as well known, but based in Europe with a team that gets technology and can help you out. Bozo should be on an upcoming podcast – and I hope to be an official reseller / affiliate of them soon.
Another coming soon – Tofu Pay
A startup in an accelerator in Hong Kong is busy working on a merchant account service to help Hong Kong companies, and is in early alpha stage.
Open a Company Where Stripe is Supported
I have business friends in Hong Kong and China who have set up subsidiaries in Delaware or other US states for the sole purpose of applying for a Stripe merchant account, as it is still not supported in Hong Kong. I did a podcast basically begging Stripe to consider Hong Kong, but so far we're still waiting for that to happen. This complicates things if you have multiple companies around the world, as you need to balance accounting, cashflow (costs will be in Hong Kong, income into US corp.), and pay the maintenance fees and taxes in all the countries you're in.
Some have simply decided to only operate out of the USA, even though they live and work in Asia. If you don't have full-time staff and operations in the country you're in, that should work out. It comes down to where you're customers are paying you, and the ease of dealing with your suppliers.
Maybe Bitcoin?
I've been excited to see the developments of Bitcoin over the years. I don't have much exposure to it, but the biggest benefit is for international business – as banks really do have a lot of leverage in how we move money from one country and currency to another. With Bitcoin, it knows no borders or currencies. You can transfer globally within seconds.
I hope this one becomes more widespread, but it's still too early to use as a primary merchant account.
Are You a High Risk Business?
Some of you reading may know you're a high risk account; others may either be in denial or unaware. By being an "international online business" without a base anywhere in the world, banks and governments don't know how to classify you. Banks and governments like to have assets and other "things" you own that they can seize if things get crazy. It also depends on your reputation in that country – if you are dependent on having good credit in Hong Kong and your business fails, you may have other governments and countries to go to.
This is the risk merchant account banks are reviewing for your account; they don't know where you even live or belong. While I love it, banks are scared of it.
Are the Products You Sell High Risk?
Maybe you're stable in one country and have good credit. But maybe the products you sell are on the higher risk side. If you run a dating website, online casino, or other "shadier" business models, you are fully aware it is going to be difficult to accept credit cards. Why? Well, because a lot of times the consumers either aren't educated when they make purchases and deny it, or the business owners have rather….aggressive ways to get the credit cards processed, creating a lot of chargeback headaches that then falls on the bank that approved the merchant.
Are the Suppliers You Buy from High Risk?
Another thing the merchant bank will look at is where your products come from. What if there is a quality problem that isn't discovered until weeks or months later? Imagine how many chargebacks can happen on your merchant account if you stop replying to customer service complaints. You may become insolvent and can't refund the customers even if you want to. The merchant account is assuming that risk.
Another concern is if the supplier runs out of the product and can't fulfill the orders. Maybe you already spent the sales income on something else and now can't issue refunds. Or the product cost now exceeds the price you received from the customers. This can get really messy; therefore, merchant banks want to know how stable and reliable this is before they approve you in their underwriting department.
Online or Offline Business?
My good hometown friend Andrew Moran from Merchant Solutions LLC wishes he could underwrite more international customers as he gets a lot of requests. But he explains that the banks underwriting want to have him visit the company's office and know there is something there. It is his duty to make sure they are a legitimate business and have stable operations.
I know a lot of you reading this are like me; we're online – that is where the future is going. But we need to keep in mind banks are the more conservative (and slower to change) of all industries.
If you do have a physical office with staff, I would make sure to highlight that on your merchant account application. Even as I write this in 2015, it is still advantageous to have a physical office when dealing with banks. And as this blog focuses on Asia, they are even more traditional than US banks, so take this into account even more.
Is Redirecting Checkout off Your Site OK?
If you don't mind having the checkout go through another website for the purchasing process, then you have more options. Of course, there is PayPal. Another one that I have used in the past is 2Checkout, which I am not sure accepts Hong Kong businesses because some of my friends have gotten approved while I applied and was immediately rejected with an autoresponder that they don't accept Hong Kong businesses. 2Checkout is a pretty widespread solution for "alternative payment solution" (you can't call it a merchant account as you are not the merchant on record). They will redirect the customer to their website for the transaction on your behalf.
I'm Always Learning from Some Merchants
The VPN service Astrill (an amazing VPN service, affiliate link) is always on top of their game and always adding and supporting every kind of payment method I can think of. For this blog post I went to their site and checked out the choices. Another thing to keep in mind about their checkout process is that once you confirm your order, it creates an invoice, and then under the invoice it gives you the payment options. This invoice starts out as being marked unpaid and sits in your account as an unpaid invoice until they mark it paid (or if the payment method supports a callback to tell Astrill's server that the payment has been made). Once the payment is made, the invoice is marked paid and you can then use that service.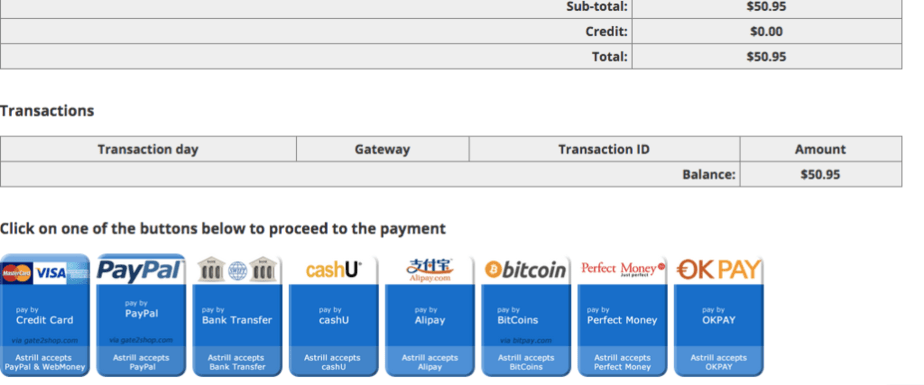 This service obviously has to deal with all kinds of customers and currencies and payment methods, so I like how they offer everything. I don't think this can work with a shopping cart, as that is normally done as soon as you make the order, add to cart, and checkout. But you could modify your shopping cart system so that it can create an invoice, and you can instruct customers how to pay in various ways.
Summary – Still Limited Options for Hong Kong
We're now in 2015 and it's still hard for online business owners in Hong Kong and other parts of Asia to accept credit cards online. Here are some ideas to think about:
What payment option does your customer use and prefer? That probably is credit card, but if it is PayPal, then that is rather easy. Tricky part is accepting credit cards.
Are you willing to allow customers to go off your site during checkout? You will have more options.
How quickly do you need the funds? Most of these providers will batch release the payment to your bank every month or more. Factor that into your business cashflow expectations and model.
Hopefully I sparked some interest and may get more people giving us suggestions. Please, leave a comment below to share your ideas and experience.