Podcast: Play in new window | Download
Subscribe: Apple Podcasts | Android | RSS
As a Hong Kong business owner, accepting credit cards online is a crucial piece!  Hong Kong has very limited options for accepting credit cards online, and many are very old fashioned and hard to use – especially in many of our e-commerce websites and technology startups!
Stripe is so easy to use, and it was built by developers, for developers!
We beg Stripe to work on accepting Hong Kong companies, and are starting this petition to start to show and build interest in the community!
Update Since This Post Went Live
We made this podcast back in early 2014 before Stripe was in Asia. They are in Hong Kong and Singapore now, and we hope this podcast was a part of making that a reality!
Update July 10, 2017
Stripe is "officially" live – and announced it during Rise conference in Hong Kong. I was lucky enough to be there, and wrote up Stripe's official go-live.
Update Nov 10, 2015
So I just got confirmation friends in Singapore are getting private invites to Stripe in Singapore. Checking the Stripe global page, Singapore is listed there. Tech in Asia heard rumors and it took a few months. Based on Stripe's chat at Rise Conference in Hong Kong, they are coming soon, believe if they are in Singapore, they are soon to be in Hong Kong!
I wrote up an article on Stripe in Singapore, Hong Kong Next?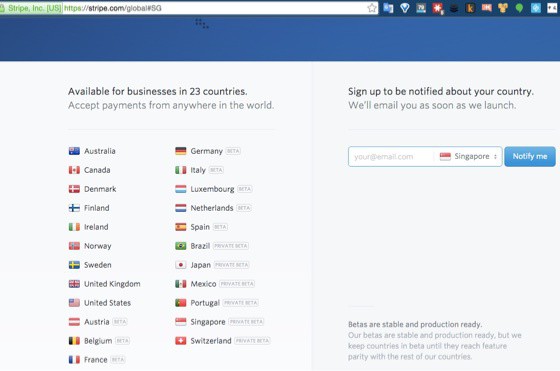 Original Post
Petition Link: http://www.thepetitionsite.com/482/986/964/we-need-stripe-merchant-account-services-in-hong-kong/
Stripe's Global website where you can also request: https://stripe.com/global
Topics Covered in this Episode
The current merchant account options for Hong Kong companies and why we need to wait for Stripe!
Asiapay – I have interviewed Asiapay (Jo Chan episode 16), and they have an application fee of about 3,000 Hong Kong dollars – so this is a big stumbling block for many small to medium sized businesses. Its a pretty high processing rate – but I think Hong Kong businesses are used to that. What I didn't discover until after the show is that when checking out online, you are re-directed to their AsiaPay secure checkout page when a customer chooses to pay by credit card. For e-commerce businesses, this is a big user experience issue – many tech companies want to keep the flow on their own website to ensure the quality of the checkout is smooth and no interruptions or "fear" is created. Going to an asia based website to put in a credit card, for a US or European person, may get a bit scary!
Worldpay – I am trying to arrange an interview with them – some people I have interviewed on this show use Worldpay (Marshall on Episode 6) but there is also a pretty high application fee and at least 1 month time to open the account. He has also told me that a lot of his transactions get declined from customers for unknown reasons. I know he is very anxious to have Stripe come to Hong Kong.
Paypal – the default payment that many I have interviewed use in Hong Kong. It is free and easy to open – but the exchange rates are pretty steep. I also have had account freeze issues, and a good friend of mine (name I won't disclose) finally got his PayPal un-frozen after about a week and a half. Its also not able to use credit cards (customer has to have a credit card), well they can use a credit card 1 time, but the second time that customer tries to use that credit card, they have to open a Paypal account. Update, I have recently written the Full Guide to Paypal for Hong Kong, read and enjoy!
Paypal Pro– This is a good solution for accepting credit cards and having it settle in your PayPal balance. Years ago I tried to open this service in my Hong Kong Paypal but it was only available in USA and UK based Paypal accounts. After some research, I see its now offered in Hong Kong and am looking into it.
2Checkout – In a business many years ago I was using it and withdrawing money to my HSBC Hong Kong account. For my latest venture, Social Agent, I went there to apply, read the documentation, and applied. They require a 15 USD application fee which I had no problem paying – but within 5 minutes of applying I received a system generated email that my application was denied because my business is based in Hong Kong and they do not support Hong Kong companies. I have no problem if they decide to do this -but they system should have detected that I selected Hong Kong in their drop down menu on the online form, and immediately told me not to spend the 15 dollars as I would automatically be denied. They refused to credit my the 15 dollar fee and I will never do business with them again.
Bitcoin – I'll do a podcast next week about bit coin – but of course this is still a very early stage technology and not widely accepted as a payment method. So not a viable offer as a main way to accept credit card payments from online customers.
From my experience, most online e-commerce businesses in Hong Kong solely rely on Paypal.
Comparing to other Country's Current Options
China company – Obviously a lot of people, so a lot of options. There is a multitude of domestic merchant solutions, and they also offer quite a lot of "high risk" merchant accounts for overseas / cross border businesses.
USA company – Obviously a huge population too, and deemed to be the lowest risk country when applying to banks.
Hong Kong market – sure its not big – domestically – but as we have covered in previous podcasts, there are tons of businesses that have overseas businesses that use Hong Kong as their headquarters. I was told 7 million registered Limited companies (discussed with Sunny Wong on Episode 2), and I'm sure a ton of them accept online payments via commerce or telephone from international customers!
Limited functionality in HK based merchants makes Hong Kong look less advanced – There are some major businesses in Hong Kong that when you checkout, you are redirected to Asiapay, or Paypal. This is embarrassing as a "tech dude" in Asia. I believe this is why the West discounts Asian tech companies, because these user experiences. Upgrading the payment gateways is a big user experience improvement on the Hong Kong tech scene!
So what do people do now who want Stripe in Hong Kong? I know some have US or Canadian companies for the sole reason to have a Stripe (or other) merchant account. This is more complicated accounting and more yearly fees for taxes and filing services.
Stripe may have to Modify its Offering to localize in Hong Kong – sure, they may have to charge an application fee in Hong Kong, and charge maybe a higher rate. I believe most people would still accept that. We want stripe because its EASY to USE! It is easy to integrate in our online businesses, it is built by developers for developers.
People / Companies / Resources Mentioned in this Episode
Episode Length: 16:49
So if you're one of the many Hong Kong based businesses who are begging for Stripe, please fill out our petition below and let's show the numbers!
http://www.thepetitionsite.com/482/986/964/we-need-stripe-merchant-account-services-in-hong-kong/
Announcement: I mentioned on previous episodes there is going to be a "Hong Kong" podfest – April 12, 2014 at Les Boules in Sheung Wan on Saturday. It will be from noon til 8pm, I should be on stage from 2 to 3pm – you can get up to date ideas from PodToThePeople.com (offline now).
Download Options
Leave A Review for Stripe Merchant Account Services
Now it's your turn to share – what is your rating for Stripe Merchant Account Services.

 

Hong Kong Needs Stripe Merchant Account Services

0

out of

5

based on 0 reviews.

Anonymous

Overall rating: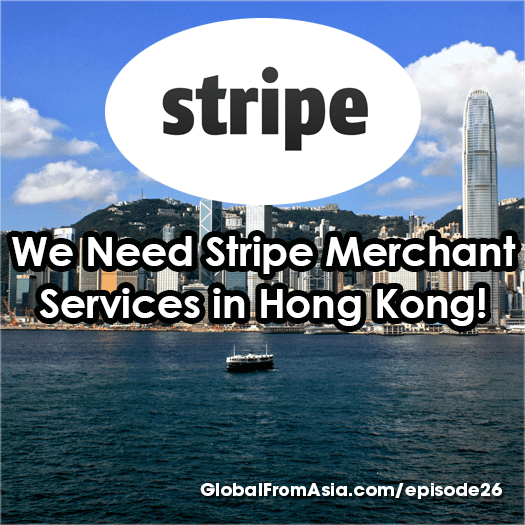 Podcast Transcription
Mike: Thank you for tuning into another episode of global from Asia we are at Episode twenty six and as a bit doing these weekly twenty six weeks is six months so it's a six month birthday for global from Asia connect with so many great people and built stronger relationships with business people I know around the world and it's keep me excited each week to release another show so thanks for listening out there another announcement is it's my birthday April second be thirty three years old so now it seems like my podcast is a half a year and I'm thirty three it's been an amazing year this past year this podcast and my business social agent and other amazing personal things was marriage and baby in Spain amazing year so even if next year is half of his what this year has been is going to be mind blowing so Today show is a bit special I'm going to do it on my own and I'm just going to jump right into topics so as a whole called business owner I do all my up business online remotely accepting credit cards is a very critical piece and unfortunately Hong Kong still has very limited options for accepting credit cards online and some are very old fashioned and hard to use especially when we want to integrate them in our e-commerce websites and tech startups so. Ahh we're talking about stripe and stripe dot com is kind of a new it's only a few years old it started out so a convoy and it's not paid by them I have no connection with this company I just love to use it and it's very easy to use it's built by developers for developers it's very easy to integrate with websites and payments very easy and the payment the setup is easy so. My my other team members and other companies I know in Hong Kong are always asking about it so it's currently not available for Hong Kong companies they are going around the world now they of course started in the U.S. but they went to going through Europe and they're opening in many countries around the world so where. We've been going on a waiting list you can fill out a form on stripe dot com slash global and put your e-mail address for notifications I did maybe six six months ago or so and I still haven't gotten any any notice so I just thought that today would be a great great time to bring that up. This kind of started from a start up a Facebook page people are asking about a stripe in Hong Kong or other solutions and I keep seeing people always asking about about this. And we still don't have a have a here are an easier solution and part of this podcast has been making it easier for people to do business in Hong Kong internationally so payment is a huge part of that I did start a petition online just a free petition website you can find a direct link on a show notes global from Asia dot com slash episode twenty six so I'd really appreciate it if you took the time to fill that out if you're interested in and in submitting your name in going in with this campaign so I think while while we await for us to write by I just want to be explain what people are doing now to accept credit cards online in Hong Kong so we. We start with PayPal and Pay Pal You know I think globally has done an amazing job you know they they make it pretty easy for people open up accounts anywhere in the world and to receive money but it's not really built for a credit card you have to have a PayPal account and they make both sides kind of happy Pal accounts I know that the customer can use your credit card one time on PayPal dot com to send money too. A paypal merchant but that's only one time if they try to do that twice it'll say you already use your credit card and you have a create an account now so it's not really if it forces all spalls sized happy Pal accounts so it's not the most. You know Widely used Still I know people everywhere in the world but a lot of people still use like to use their Visa Master Card discover Amex card directly so they don't want to get funds and PayPal. So there is a paypal pro ahm Honestly I learned this when I was researching this podcast that when I first start looking for people pro people pro you can accept credit cards and can accept an A in a shopping cart without going to People dot com and without the customer needing a Paypal account and it has these credit card. Ahm When I try to do this a couple years ago it wasn't yet available in Hong Kong it was only U.S. and U.K. companies but now it does seem available so I will put that link on the show notes too in the paper prosecution for people who want to direct link to the Hong Kong people pro So that's one one solution people use Paypal or Paypal pro Asia pay I did interview them on Episode sixteen they seem to be kind of the local choice they have an application fee of about three thousand or so Hong Kong dollars. Which is a upfront fee guaranteeing to have an account that goes through and they. They will you know decide in your risk factor of your company so you know I think that is a kind of a big stumbling block for small to medium sized businesses to pay. Ahm There is a higher processing rate you know I I think even if stripe comes to Hong Kong they're going to have a higher rate because there is higher risk so I'm not really going to put that against them.But one thing I didn't realize until after the show is some of my listeners brought up that when you check out with Asia pay a credit card on a shopping cart it redirects you to Asia pay. Dot com So it's like a secure checkout with your Visa credit card number and you know CD code and expiration date address so so so say you're buying something on your shopping cart or your website and then it's a customer picks credit card have to go to Asia pay dot com So you know I think this is a little bit not ideal I think this especially if the U.S. or European customer they have to go to Asia pay Web site with a kind of like Asian characters I think that doesn't really make a lot of international customers feel maybe secure with putting their credit card number so I feel that I might not. Always get the best conversion rate for for those e-commerce guys out there so another one we have is world pay I'm actually trying to get them on the show going to a couple different contacts to get them on the show so a lot of people I talk to do use them they kind of are the global international higher high risk merchant account so when I say high risk you know I think that means like offshore companies you know Hong Kong is considered I guess hot off shore so they they're more willing to work with these kind of higher risk merchants Marshall Marshall topless we interviewed on episode six he's using them you know you have to pay another higher application fee I think a few thousand Hong Kong dollars like to pay and also go through some you know pretty pretty extensive background checks credit checks.To to get the account open. Another thing that Marshall just mentioned to me was some of his transactions get declined for not really a good reason from customers and customers are really e-mailing him saying I tried to check out her card in go through so I know he's very excited or anxious to have stripe come to Hong Kong and he's a really tech tech guy to an interest stripe is very easy for tech people integrate with their shopping carts so. So those are the choices I do want to bring. Up a couple more that I've researched I used to use to check out dot com which isn't really a merchant account it's kind of like a alternative solution so they'll accept the money for you and then they'll debit it out to you but they receive it as a merchant and then they send it to you so they really want to make that clear but unfortunately no longer support Hong Kong based companies. Maybe in two thousand and eight two thousand and nine in a previous internet company I was working with we had to check out account and was able to connect to my H.S.B.C. Hong Kong and debit there in dollars which is very convenient but unfortunately they don't support that anymore I don't know their reasons I did reapply in my current business to get there. To Get an account and their on line form was pretty easy I filled out all my information and I'm in Hong Kong company and eccentric stature and then I paid fifteen dollar like fee for applications not a lot of money but within five minutes I got an auto response that they don't support or they don't know except Hong Kong companies and they denied me so I replied to them I said couldn't you have told me that before I applied I mean you saw when I fill out my application said Hong Kong and they didn't seem to really. Seem to really be concerned and you know it's only fifteen dollars but I would have expression to them to refund me if it was an automatic three Jack based on my country when I filled out my country anyway I'm never going to use them again. The next one is bitcoin Bitcoin I'll do a podcast next week to give some people some insights it's very early technology in a very kind of volatile so it's not really an accepted painted method for the normal wide you know range of audience of customers so I don't really think this is a primary way to receive payments from customers and maybe you can put this on your site but obviously it's not going to replay. Visa and Mastercard credit card transactions so those are the ones that I've I've researched and I've talked to people about for people in Hong Kong. You know them well let's next talk about you know other countries you know. China right next door to Hong Kong they obviously have a lot of people a big population so they have their own like kind of banks in their own their own like payment solutions and merchant accounts and and everything so you can do that domestically and then also for their international They have a few different high risk merchant accounts with also their higher application fees and they're a little bit higher expensive but there are a lot of different choices so just to give some people some ideas of. China I'm not going on to details and then of course in America is a big highly populated country and you know banks seem to deem it a very low risk country for issuing credit and so those callow processing rates and you know you have a lot of choices I am american you know I'd like I could easily you know have a U.S. company U.S. merchant account but I I live and do business overseas and my my funds are coming in and out of Hong Kong and Asia so. Me Like many of others living overseas you know going through a U.S. company and U.S. bank is just extra extra money and extra fees and delays and your cash flow. So when we come to Hong Kong right Hong Kong of course it's not a big population domestically I think there's fifteen million people and so maybe some companies think that's too small of a population but we've gone in all their pod casts really sunny Wong told me there is about seven million registered limited companies in Hong Kong and of course that means fifty percent of the population is got a limited company but of course that's not true a lot of people live offshore so seven million companies low. Media companies and a lot of those guys are doing business around the world internationally I know people you know they have home companies based in Thailand based in China based in you know Canada all over the world so they they would definitely anxious to have better merchant account solutions for their Hong Kong based company so you know I think sometimes maybe stripe or maybe other guys still look at Europe or U.S. or other other populations as a bigger market but you know I think they've got to realize that there's seven million limited companies approximately and. They're all very anxious and willing to use a merchant account that is a little bit more friendly for tech technology and e-commerce so you know I think also with the current limited Hong Kong merchants it does make Hong Kong look a little bit less advanced technique technologically. Sort of business in Hong Kong there when you check out your redirected to Asia pay or Pay Pal and these are pretty major like major companies I'm not going to schools which ones but you know I think that's a bad user experience and still a bit embarrassing for me as a tech dude in the Asia that there's the still like kind of archaic old fashioned ways of doing e-commerce from pretty large institutions so you know I think for Hong Kong to improve its image as a technology center we as a community should work on improving Z. merchants accounts and user experience of customers doing business with companies based in Hong Kong. And now we're going to the next topic. So what people do that really want stripe that are in Hong Kong you know I think basically what I know is people open up have U.S. companies or Canadian companies or other countries where stripe is accepted and they actually have a company for the sole purpose of accepting credit cards in those countries so sure I mean that that's something. Possible but it makes more complicated accounting more more difficult business cash flows and wire transfers from like that country to Hong Kong to pay or maybe your Hong Kong credit card or your Hong Kong bills or your payroll so you know that's just another complication in delay so you know The next topic is maybe stripe will have to change its offering to localize in Hong Kong and sure I think that's acceptable I we're all used to paying higher processing rates and exchange rates to do business here and I don't think the community will mind if there's an application fee or there's higher per processing rates I believe that people just want a more techno tech so technically friendly merchant account is easier to use and easy to integrate in a shopping car and control your user experience more so you know I don't think it's just about saving the money I think it's also about integrating with year with your technology and we want to have better e-commerce and technology in Hong Kong based companies. So that's that's all I Have for today really I mean I kind of want to go through what current options there are what people are doing you know I know maybe Hong Kong is a higher risk place for for banks and financial institutions but it is a financial center of Asia and it's just seems baffling to me that this is still so far behind in my opinion from Western financial banking solutions so so.Please go to our. Show notes on global from Asia dot com slash episode twenty six there's a link to the online petition so that we can just keep track of how many numbers are I have a friend who will send this along to some people you know. Stripe I'll try to send this over to stripe later and if A then we get some hope to get a response of their plans or the reasons why they're not here yet. I'm definitely curious I I maybe I wonder if there's regulations I just want to know maybe more reasons why it may be naive astride me readers other solutions or maybe a current providers here can make it a little bit easier for these online e-commerce companies to do business so. You know I hope I hope this makes some difference and thanks for tuning in.