---
Welcome to the GFA interview series – which one are you liking more – Global From Asia interview series or Ecommerce Gladiator?
This week's show we have a hot FinTech startup here – Neat HK – I call them a "bank" but they won't say they are. They have been working hard on a personal and business financial services solution in HK for years and today we have 2 of the founders on the show to talk about the story and explain their solution more.
Also – we have a nice bundle offer with Neat we will share after the interview, now let's tune in!
Topics Covered in this Episode
Introduce David Rosa and Igor Wos, co-founders of Neat

Thanks so much for coming on the podcast! We met many years back – I remember you stopping by the GFA office in TST and talking about the developments of Neat – so happy it has come to life – and especially happy you made a business product (as that was my biggest request/ requirement when we talked!)

How did Neat start?

Many are curious about it – where did it come up and what is the story. I know some other founders joined forces from other startups they were working on in the FinTech space.

How Does Neat Work? Is It A Bank?

So many of our GFA Corporate service clients ask us, as well as blog reader and listeners of this show ask – what is the deal – is Neat a bank or not?

It Connects to Stripe and Paypal - so who cares if it is a bank or not!

But what I tell people is – it connects your Paypal HK and Stripe HK accounts – so that is all you need. If you get an offshore bank (outside of HK) then your big problem is you can't connect to Paypal and Stripe (or other merchant accounts) so this is the perfect solution.

Limitations and How Users can Deal with them

But there are limitations – which is frustrating. Not to you as a FinTech startup – but the market as a whole – I have some ideas on how to fix those limitations (I'll talk about later) – but how are you guys dealing with all these restrictions and barriers? So far you have "come through" and I'm so happy you are growing and out on the market.

Sending Money out of Hong kong

One of the bigger limitations is not being able to outbound wire from Neat. But there is some solutions – like many of our GFA corporate clients are using cross border payment solutions such as Aurelia Pay (our friend and sponsor) to then get money to other countries.

Multi-Currency

Another one – people want to hold USD. Stripe has the same limitation it seems in HK – and one of the biggest requests I am sure you get is to hold multi-currency – or at least USD. I'm curious what the status is on that. Braintree, Stripe, offer it now – but it is a bit more expensive.

Questions from our Members

We have some GFAVIP members on the call today – let's see if any of them have questions to add

What is the future of Neat.HK

You're doing a great job so far, application processing has sped up I have noticed – and I'm curious what your rollout is (if you can disclose)

What is the future of banking in Hong Kong?

And the real big question is – listeners of the show and blog know I hate HK banking nightmare right now – it seriously lost many nights of sleep for me – is it going to get better? Well, I guess these restrictions are a good thing for your business, as you are one of the only options now!
Thanks David for sharing!
And Global From Asia is a proud partner, we have a special partner signup page at GlobalFromAsia.com/reviews/neat where you can get special treatment, happy to support.
People / Companies / Resources Mentioned in this Episode
Episode Length 41:35
Thank you so much David and Igor for coming on and sharing the story. As I mentioned, I have met both of you early on in your development of this business and am excited to see it come to life and become real. I can only imagine the headaches with regulators and paperwork and am glad you are sticking with it.
Download Options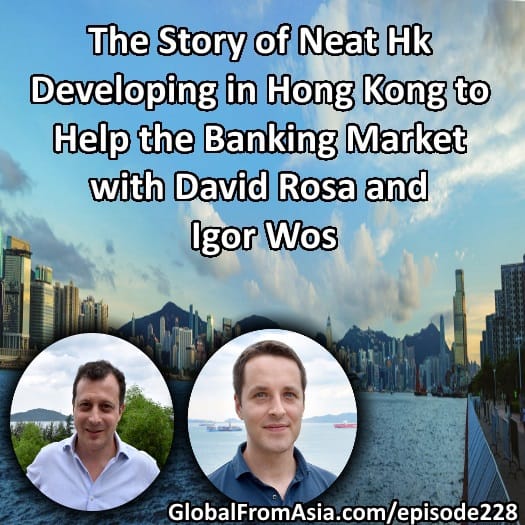 Podcast: Play in new window | Download
Subscribe: Apple Podcasts | Android | RSS