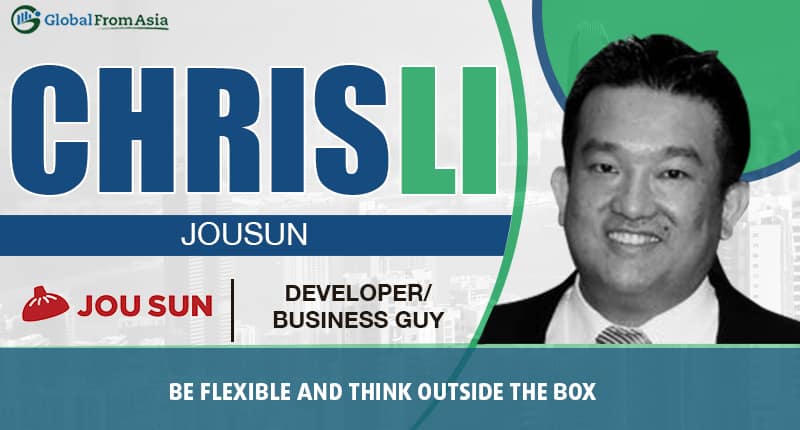 Who is Chris Li?
Chris is a developer/business guy. He has been doing development for the past 10 years, actually more than that and been in Hong Kong for the past 7 years. co-founded the 2 businesses and also have own consultation development company. The main focus in terms of development is the web development e-commerce to standard branded websites.
Business/Company?

His company, Jousun, is an online fresh groceries shopping delivery. They focus on organic products and anything from meats, vegetables, fruits. Currently, they have about 30 to 40 vendors and about a thousand plus products in their shop.
How did Chris get the idea or concept for the business?
Back in 2013 – 2014, when e-commerce is quite slow in Hong Kong, he and Jessica, his workmate, kind of brought the idea on doing online groceries, grocery service. At that time, they were just thinking online groceries and to help people that don't have the time to buy stuff. Hong Kong is well known for wet market. Open markets are quite wet and dirty. It's not something that a lot of the expats in Hong Kong, they don't really go there. So they thought of creating something that would fill in that gap. He gave the idea on doing online groceries service a try and built a basic site in 2014. That time, he was not really part of the team. He was just contracting. So about year and half after, he joined them because the business went well.
Company Mission/Vision?
Their mission statement: "Our mission and vision is to be the organic online groceries market in Asia. We try to source directly from the producers, directly from the farms, directly from the source so which we try to cut out the middleman, we try not to work directly with the distributors if possible."
What made you choose your current location?

Why Hong Kong? Aside from the fact that he lives there, he also thinks that it's a good test market.
Formula to becoming a successful entrepreneur?
"Just be flexible and learn from your mistake. I mean, never take mistakes as failures, that's very important. Be flexible and think outside the box."
He also added that you need to find a good and reliable partners to work with.
His feedback to Global From Asia:
He thinks that in Global From Asia, there are a lot of like real life examples of other people with experienced. For him, it's nice to see what Mike is doing, he talks to not just the people at the top of their game, he talks to everyone, everyone across the globe. And he think that's really because most of the business out there always talk to like all the guys that sells like a hundred million sales or the ones that are very like unique the ones that are outside of the norm.