Podcast: Play in new window | Download
Subscribe: Apple Podcasts | Android | RSS
Looking to get some tips and insights about PR in Asia – episode 91 is for you – let's do this!
Hey guys, so I'm heading down to Philippines this weekend for a week – last minute decision to go down but I'm going in to a partnership with my friend Josh on a SEO business there. He and I almost did this business back in 2010/2011 timeframe when I was down in Philippines, but he went to USA for a few years and just came back, and I moved back to China. So the stars are aligned, and I'm glad to have a reliable partner down in Cebu who I can work with on some web and internet marketing projects. I'll share some photos when I'm down, I do need a change from China and hope to catch some beach time as well! Sunday July 5 for about a week – just a one way ticket booked so far – and only 90 usd one way via Cebu Pacific, nice! Direct too. I will work out some standard services, but the office will fit about 30 people so if you want some dedicated seats with some talented people in a cool internet marketing company, hit me up!
Got a new 5 star review – makes me day so I'm going to read it out for everyone:
5 stars
leroyhedge
United States
2015-06-22
Title: Amazing Content!
I have been reading Mike's blog posts and listening his podcasts since the first episode. Mike is your man if you want to learn more about running a (global) business from Hong Kong/China. Each one contains a nugget of wisdom which you can use to help building your global business!
Thanks Leroy Hedge, thanks for being with me through 90 episodes and now 91, many more to come. So enough of the chit chat – this week's show we have Nathan Millard on the show – he and I have been in touch in the startup space in Asia for years talking on social media – he's based in Korea and just this year starting doing PR for companies here – so he is on the show today to give us some tips and tricks for dealing with media in Asia.
Topics Covered in this Episode
Intro Nathan Millard
So PR, in general, can you help define it for everyone ?
In Asia specifically, what are some of the special angles and differences from "normal" PR?
how should a startup or small business get started
So write up a PR release and start blasting it out ?
so building relationship with media – is this pitching them your business? What is relationship building with the media
send free samples? bribes?
How to deal with languages in Asia? Localize your PR, or just focus on English?
Can you share some case studies of companies you have worked with or know who have done it right?
How can people use your services?
Thanks for sharing – how can people reach out to you?
People / Companies / Resources Mentioned in this Episode
Nathan's PR company, G3 Partners Asia
Advertising = Pay, Public Relations = Pray!
Contact Nathan by email nathan @ g3partners.asia
hit him up on twitter Nathan_Mill
Episode Length 26:39
So thanks for coming on the show Nathan! Hope people got some ideas from that and wish you the best on your business.
Ok, I appreciate everyone for listening today and hope you got a lot out of this show. Next week we have a good one, which i Know will be popular talking about how this international e-commerce businessman does his logistics and fulfillment from China – I know it is a pain point for a lot of ya so catch you next week.
Now time to pack for Philippines, shorts – check, flip flops, check, tank tops, check.
Download Options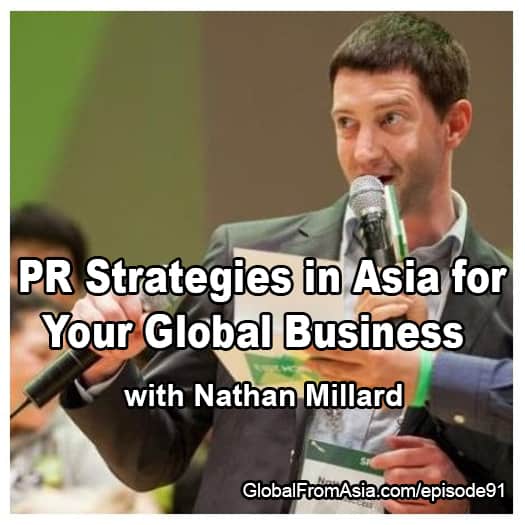 Listen in Youtube