Walmart is the largest retailer in the world, and also the world's largest and fastest growing e-commerce marketplace. Walmart.com has over 110 million unique visitors per month. Walmart was keen on determining what its customers want and need; hence, they have created innovative mobile apps, shipping options like Home Fee, Site to Store, Pick up Today, Ship from Store, and Same Day Delivery.
To date, Walmart operates e-commerce websites in the following countries:
Walmart.com (in the United States)
Argentina
Brazil
Canada
Chile
China
Japan
Mexico
South Africa
United Kingdom
How to Sell on Walmart.com

Selling on Walmart can take your business to the e-commerce spotlight effortlessly. In 2016, Walmart acquired Jet.com for $3 billion, which helped boost its online sales. Moreover, its e-commerce sales grew by a whopping 69% year-over-year. As time goes by, Walmart continues to innovate and grow its business in almost every possible way. In fact, Walmart recently applied for an airborne fulfilment centre with drones for item delivery.
Interested in selling on Walmart's marketplace? To get started, here's a step-by-step guide on how to sell on Walmart.
First off, Chrome is the preferred browser for completing the Walmart Marketplace application process.
1. Sign up
Just like any other marketplace, signing up will be the first step. To do this, click here. On the application page, you will have to input your contact details, business information, product assortment, e-commerce & marketplace experience & operations.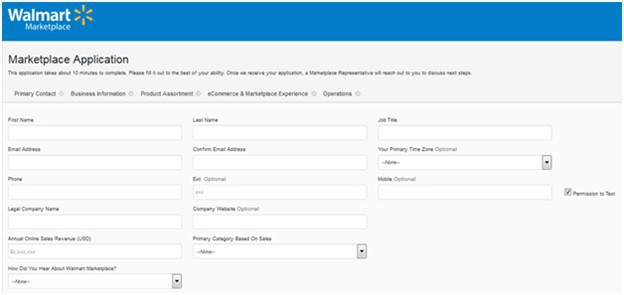 Signing up with this form can take about 10 minutes. To streamline the process, prepare the following: US Tax ID (EIN) US Tax ID (EIN) / Canada BN, annual online & offline revenue, total SKUs in catalog, projected SKUs on Walmart.com, number of SKUs owned, percentage of SKUs with UPC codes, number of active SKUs, and primary US warehouse address. Other required details are standard information like your name, email address, phone number, company & product details and whatnot.
Make sure everything is correct in order to get approved. Note that everything you put on this form will be reviewed for approval. Once done filling out the signup form, click Apply Now. You will then be notified by email if you've been approved. This takes 1 to 2 weeks.
2. Registration
If you've been approved to join the Walmart marketplace, you will get an email that contains a unique link to another set of registration forms, which has 5 sections: Account Creation, Company Registration, Taxes, Bank Account, and Shipping Info.
There's a registration wizard that will help you get through these sections. But to streamline the process, you can prepare the following information: company address, bank account information and a digital copy of your W9.
3. Complete Seller Profile
After the registration, you will find a link that says "Launch Checklist" – this basically tells you 5 steps to follow in order to set up your account such as:
· Complete Signup Wizard – This is automatically considered done after step 2.
· Complete Your Seller Profile – You will have to input basic information about your company such as company name & description, contact number, email, shipping options, return & privacy policy, logo and more.
· Verify Your Penny Deposit – After a day or two, you will need to check your online bank account – $0.01 should be credited to your account from ""WM Marketplace Penny Test." If you didn't receive the penny deposit, then you may have entered the wrong bank account information; you can correct this by going back to step 2. If you did get the penny deposit, mark this as done in your launch checklist.
· Set up Your Taxes – This includes setting up tax nexus requirements, providing sales tax codes & creating tax policy.
· Complete Item & Order Testing – The last step includes publishing and purchasing your products to test and make sure everything will look good and appealing to customers.
4. Start Selling
After everything on the checklist has been completed, it is now time to launch your account. Walmart will review your profile, and if everything looks all right, your products will be publicly published on Walmart.com.
Walmart as E-commerce Marketplace
Walmart is the second most popular retail app next to the undisputed e-commerce giant Amazon. Choosing Walmart as a marketplace is ideal for sellers whose products are under the categories of Consumer Electronics, Books, Clothing, Household Goods, and Office Supplies.
Advantages of Selling on Walmart

Walmart has loyal customers – They continuously gain and maintain customers with their reward platform such as cash-back, discounts and coupons.

Large audience – Walmart has over 110 million unique visitors per month, and the number is still growing.

Offers two-day free shipping for orders totaling $35 or more. Customers are crazy for free shipping.

No subscription, monthly, annual or setup fees.

Customer support – Just like Amazon or any other marketplace, Walmart also provides the first line of support for shoppers.

Credibility – Walmart has been in the retail business for over 5 decades, and it has built trust among its consumers.

Fulfilment Center – Walmart can also house your inventory and ship your products directly to your customers on your behalf.

Walmart is a competitive marketplace – Amazon reigns supreme over e-commerce marketplaces, but with Walmart's growing e-commerce marketplace, Amazon is probably a little bit threatened.
Disadvantages of Selling on Walmart
It is an invitation-only professional seller community. The approval process takes 1 to 2 weeks and if approved, on-boarding and integration takes about 2 to 4 weeks.
*Sellers are chosen based on experience, scale and reputation related to quality of assortment, strength of pricing, and customer service track record. (Source)
Walmart takes a referral fee from every product sold depending on the category your products fall under. To know more about these fees, click

here.

Competition – Just like any other marketplace, Walmart has a huge number of sellers / retailers who compete with each other, making the marketplace undeniably crowded. When Walmart acquired Jet.com, a large number of sellers received email invites to sell on their platform.
Bottom line
Personally, I see great opportunity for selling on Walmart.com. The company is huge; it is the biggest retailer in the world after all, and it has a good financial infrastructure it could use to compete with Amazon or any other marketplace. It could be the world's number 1 e-commerce marketplace, although it could take years, maybe a decade or more; the possibility is big. And for sellers, I see great opportunities for choosing Walmart as a platform.