---
(note, version 2 of this episode) Episode 152, we are in the last month of 2016. Just love year and and reflections – one thing i'm excited about for next year is a few other podcaster friends and I are launching a network – Asia Podcast Network .com – to help cross promote, build relationships, content, and more. Check it out at asiapodcastnetwork.com and stay tuned for more updates as well as see the other podcasts in the network.
For those of you on our Global From Asia newsletter, you have noticed a survey going around – I've been reading everyone's feedback, and some being a bit brutal, I appreciate it! One thing I have gotten is the site needs to categorize content more – so we have 3 main categories on the site – Business, Corporate, and Lifestyle, and sorted the 300 + posts we have on the site to one of those categories to make surfing the site better, hope this helps.
Ok, now for this week's show – Joe Finkenbinder (commonly known as Joe Fink), a pioneer on the craft brew front here in China talks about his journey opening for business here in Shenzhen China and gives some boots on the ground advice, let's listen in.
Topics Covered in this Episode
Intro Joe

Thanks for coming on the show today, great to have you. So I remember bumping into you in Beijing at a startup event and you mentioned you were moving down to Shenzhen – wow – that was like, 2012 and time is flying. Well, we have you on the podcast today and I'm excited, so can you give us a quick introduction of yourself Joe?

Craft Beer Trends

I think of craft beer in China and I think of Bionic, how did this idea come to life?

Beginnings

You and Bionic have always been supportive of startup events, sponsoring and supporting the community, which is awesome so thanks for that! And you were doing kind of events before you had an official location? Care to share your early story

Venues

I'm in some of your wechat groups and I know you guys have had a lot of issues with neighbors in the past. And lease contracts and landlords. Sounds rough, but you have been doing well in Bai shi Zhou district here in Shenzhen for a while now – and have a new pop up venue in Shekou district. How do you go about picking a venue?

Venues / Beer / Business Model

So what is the business model. I see a lot of locations in Shenzhen carrying your line of Bionic craft beer, and you also have your own locations. Is the strategy to get the beer distributed, and kind of use the bar as a headquarters?

Licenses in China

So many people ask about licensing in China. How to get approval, etc. Is this something you did right away, or kind of do as you go? I don't want to put you on the spot – but the reason I ask is there is conflicting advice out there, you have: A) people who say "just do it, validate, then invest"B) don't risk legal issues, get things setup properly before launching.I know some beer entrepreneurs who are making brew in their home bathtub and just selling it! The costs for proper licenses in China I can only imagine is through the roof. Any insights here would be great.

Beer Fest Events

And you recently had another Beer Fest. This is a ton of beer companies and then of course enthusiasts who come over to grab some brews and share in the craft beer movement. Is this organized by you, a committee?

What's the long term plan

So where does Bionic go from here? I know you have some other brands of bars, and beers? I'd love to hear the strategy.

Thanks Joe!

Joe, you are awesome, a great asset to the community here for startups and entrepreneurs. And thanks also for your support last year at our first Cross Border Summit, and I look forward to cooperating on the 2nd one this coming April 2017!

Contact

How can people find you on the web, and of course find Bionic to grab a brew!?
People / Companies / Resources Mentioned in this Episode
Episode Length 26:29
Thank you Joe! I loved the tip about just doing it, knowing what you should do to do things correctly, but still making moves and not getting stuck in your tracks. I know it is so nerve racking about what could happen if police find out and you're making a mistake, etc etc. But that is part of entrepreneurship, especially as a foreigner in China – you need to just do it – be ready and prepared – and keep learning.
Also, thanks Joe for your support at last year's Cross Border Summit and I'm looking forward to this year's – April 14 -15 , 2017 in Shenzhen, China . And all you listeners, let's make it happen and see you there!
Download Options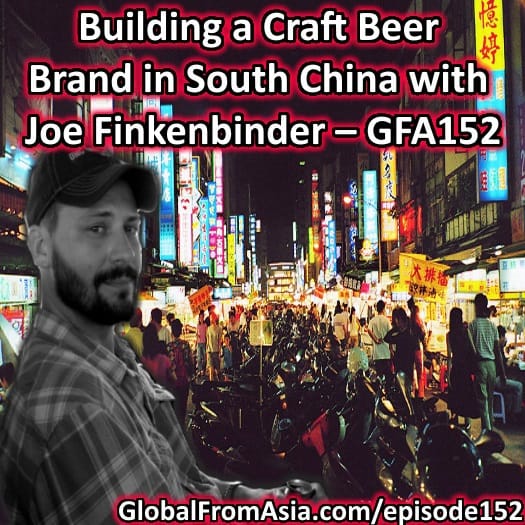 Podcast: Play in new window | Download
Subscribe: Apple Podcasts | Android | RSS