Changes and innovation are key aspects of growing a business. As time passes, people change what they like to buy and how they shop. Just as the Internet has grown into an effective medium of marketing and selling, e-commerce has been the greatest rival to traditional shopping. Hence, for sellers, jumping on the bandwagon (e-commerce) became essential to grow their businesses.
Amazon is an e-commerce pioneer, and today it is the largest online selling platform in the world. If you're already an Amazon seller and thinking about growing your business beyond Amazon, then you're having a tremendous idea. Stepping out of our comfort zones is indeed a great challenge as it opens a lot of doors that lead to opportunities, success, and, yes, maybe failure.
In this article we will review Shopify, which aims to make e-commerce better for everyone.
What is Shopify?
Shopify is an online tool or a hassle-free platform that helps you build your retail business. One of its goals is to keep up with fundamental changes of e-commerce over the years. Basically, Shopify has one whole package of tools you need to put your products online – from having your own domain name to putting your products in the spotlight.
Signup for Shopify Now!
What Shopify does:

Fully customize your online store – How your shop looks is one of the most essential components of a successful e-commerce site. If you lack design skills, Shopify has got you covered. There are over 100+ paid and free professional themes to choose from, be it fun and lively or minimalist. Moreover, every template is customizable (HTML and CSS), and it's mobile-commerce ready. Actually, Shopify has just about everything you need to fully customize your website: themes, domain name, hosting, blogging platform, etc.
Manage Inventory – Shopify has a user-friendly interface wherein you can upload your products in seconds, organize products by category or by different variations, track stock counts and pending orders, and add multiple images for your products.
Store Management – refunds, drop shipping, customer accounts, email templates, fulfilment centers, order fulfilment – Shopify has made them all easy and less complicated.
Shopping Cart – With Shopify, customers has 70 payment gateways from around the world to choose from; the checkout page comes in 50+ languages, and you can set up flexible shipping rates or offer free shipping, and you can let Shopify handle major country and state tax rates. What's even better is that every shopify store includes a free 256-bit SSL certificate, making all transaction information protected.
Marketing & SEO – Shopify has been around for quite a while, thus they are pretty much experts when it comes to Search Engine Optimization. Shopify supports SEO best practices like customizable H1, title, and meta tags to help potential customers find your store using search engines such as Google. Moreover, all Shopify websites can be integrated with social media accounts such as Facebook, Instagram and Twitter.
Analytics – You can easily generate and export reports from your Shopify Dashboard. You can review reports such as sales, visits, referrals, orders and traffic – all of these to help you analyze what could be missing, what could be improved, what is making more profit and whatnot.
Support – Shopify has an amazing support team available 24 hours a day, and if you want things to come your way like a breeze, you can always count on a Shopify expert to help you get going – be it a designer, developer, marketer or a photographer.
Shopify Apps and Features
To help you make the most of e-commerce with Shopify, there are lots of applications created and designed to scale along with them, such as the following:
These are only a few of many applications designed for Shopify. To explore and know more about these useful apps, you may visit this Shopify App page.
How to Use Shopify
Shopify has a 30-day free trial, so you can navigate around it without having to key in your credit card information. Shopify's dashboard is user-friendly and self explanatory.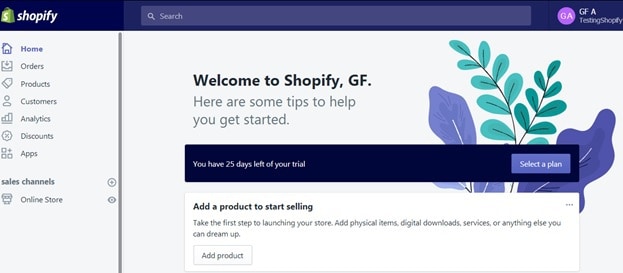 How to add products on Shopify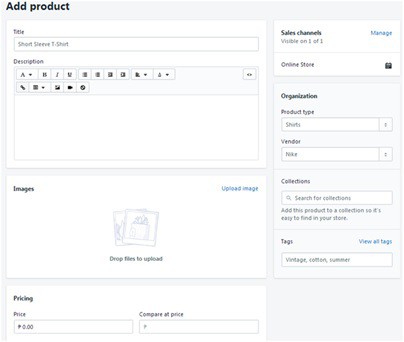 Log in to your Shopify account

On the left corner of your dashboard, click Products

Click "Add Product"

It will lead you to a page where you will need to fill out fields pertaining to your products, such as the title/name of your products, description, images, price, and variations.
How to add multiple/bulk products in Shopify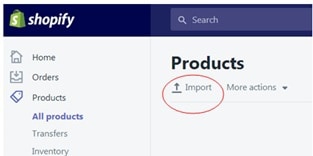 To upload multiple products at once, you will need to transcribe your products in a .CSV Excel file. Shopify has a set format required that you can download by clicking here.
When the file is ready, all you need to do is go to your dashboard > Products > Import > Browse and select your file to upload.
How to get a Shopify theme
Choosing the right theme for your virtual store is vital because it represents your products, your company and the whole business itself. Shopify offers 100+ free and paid themes you can find on the Theme page of your Shopify dashboard.
To try out free themes, you can go to the Theme page and click "Explore free themes," select a theme and install it. If nothing from the free themes suits you, then you can always try visiting the Shopify Theme Store for more variety to choose from. Note that you can try out premium/paid themes before purchasing them so you can see how it will look on your store. When trying out themes, you will find 3 options at the bottom part of your screen where you can cancel, purchase or customize the theme.
How to get a domain name for your Shopify Store
If you want to "own" your brand and build a more professional-looking store, then consider having your own custom domain name. You can directly purchase your domain name in Shopify or use your existing domain name. To do this, go to the Domain page of your Shopify Dashboard.
If you plan on buying your own domain name from Shopify, click "Buy new domain," in the dialog box, input your desired domain name and select the extension you like (.com/.net/.biz, etc.), then click Buy, and complete your order by entering your credit card information.
If you plan on using your own existing domain name or one you bought elsewhere, go to Domain page > Connect existing domain > in the dialog box enter your custom domain name > click Next > set up DNS settings from your domain provider (here's an extensive tutorial on how to do it).
How to transfer Amazon products on Shopify
If you have existing products on Amazon you want to transfer or cross-post on Shopify, you can basically just use migrating apps to streamline the process (e.g., Spreadr App)
Setting up Shopify & Amazon FBA
Amazon has the best logistics provider in the world of e-commerce – it is fast, reliable and trusted by many. The combination or integration of Shopify and Amazon FBA works pretty well for e-commerce.
First off, Shopify's built-in FBA integration is only available in the United States, excluding APO (Army Post Office) and FPO Fleet Post Office addresses.
Here's how to integrate Amazon FBA in your Shopify account:
Log in to your account and go to Settings

Click on Shipping, scroll down and go to Drop Shipping and Fulfillment section

Click on Add drop shipping button

It will lead you to a page where you'll see some options, one of these is Fulfillment by Amazon, find it and click on Activate

You will then be redirected to Amazon seller central, where you will have to key in your Amazon username and password

After signing in and agreeing to its terms and conditions, it should bring you back to your Shopify dashboard and it must say you're connected on Amazon FBA

Next, you will have to head over to your product(s), click on the particular product you want to link with Amazon FBA

Below, you will need to add an SKU number/alphanumeric code which should be exactly the same SKU you used in your Amazon FBA. (you can simply get the SKU inside your Amazon seller central account's inventory). Note that the Weight must also exactly match with the weight provided in your amazon FBA

Under the Fulfilment Service drop down menu, choose Amazon Marketplace Web

Click on Save and you're done.
Whenever a customer purchases your product, that order is automatically sent to Amazon FBA for fulfilment, and they do all the work including packing, handling and shipping. Isn't it amazing how you can run an online shop and make money even if you're away from your computer, even you're asleep or even you're on vacation? That's the greatest thing about integrating with Amazon FBA.
How can a seller outside the US integrate Amazon FBA with Shopify?
As previously mentioned, the built-in Amazon FBA integration feature is only available to US sellers. For sellers not residing in the US, there still is a way to execute this – one is through an app called FBA Shipping by ByteStand.

Basically, what this app does is allow you to connect your Amazon FBA to your shopify account even though you're outside the United states through an application program interface. To do this, you'll have to get the app from here, and follow these steps:
1. Once the app has been downloaded, you will have to enter your Amazon credentials and an MWS Auth Token.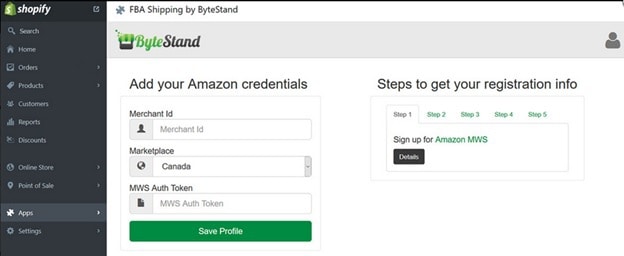 2. You will need to sign up for an Amazon Marketplace Web Service (MWS) account here to get an Auth Token.
3. Next, it will lead you to a page where you need to select an option that says "I want to give a developer access to my Amazon seller account with MWS."
Then you will have to input the following:
Developer's Name: bytestand.com
Developer's Account Number: 9152-6216-7461 for North America & Mexico, and 4048-6340-0484 for all Europe marketplaces.
Then click Next
4. Accept the Amazon MWS License Agreement – make sure to read this part as you're about to agree with some legalities.
5. Click Next and it will give you your account identifiers, which you will need to set up your Bytestand account – take note of these credentials as these details will not be emailed to you.
6. Once your credentials have been entered (Amazon username, password and MWS Auth Token), you will be taken to the shipping speed settings where you will have to choose and set up shipping speed either Standard or Expedited
7. Now that the shipping speed has been set up, go to Settings > Check Out > Order Processing > Under "After an order has been paid" tick "Automatically fulfil the order's line items."
8. Lastly, to set up your products to be fulfilled by Bytestand service, you can head over to your product to edit, scroll down to the Shipping section, and choose Bytestand as your Fulfillment Service. Furthermore, just like in the built-in Amazon Integration app, you will also have to input the exact SKU and weight from your Amazon FBA account.
For a more detailed step-by-step tutorial on how to use Bystestand's app, you can watch this tutorial.
Shopify – Pricing
Plans
Basic Shopify
Shopify
Advanced Shopify
Monthly Price
$13
$54
$107
FEATURES
Staff accounts
2
5
15
Number of products
Unlimited
Unlimited
Unlimited
File storage
Unlimited
Unlimited
Unlimited
Retail Package
$49
$49
$49
24/7 support
Yes
Yes
Yes
Transaction fees
0.00%
0.00%
0.05%
Fraud analysis
No
Yes
Yes
Manual order creation
Yes
Yes
Yes
Discount codes
Yes
Yes
Yes
Website and blog
Yes
Yes
Yes
Gift Cards
No
Yes
Yes
Professional reports
No
Yes
Yes
Abandoned Cart Recovery
No
Yes
Yes
Advanced report builder
No
No
Yes
Third Party calculated shipping rates
No
No
Yes
Learn more and Signup for Shopify!
Shopify's Phone Number
Well, many ask what is the phone number for Shopify – they have one! +1 888-746-7439 so you can give them a ring if you ever need help.
We also recommend you put a phone number on your own online shop as well. It builds trust and authority in the space.
Bottom line

It's a wonderful idea to consider growing your business beyond Amazon.
Nothing beats owning your own brand.
I personally find it so much more fulfilling, and it makes you more dedicated on what you do. I firmly believe that success comes from dedication and commitment. I honestly find Shopify helpful and useful for people who want to venture into e-commerce. It's nice to have everything you need in one place; indeed, it is hassle-free.