Interviewing Top Chinese Amazon FBA Sellers
Want to see top Chinese Amazon FBA sellers?
Yes, we do too!
Global From Asia is right here in the heart of it all – in Shenzhen, China. Wendy and I have taken a camera crew and visited these top sellers as well as suppliers growing multi million dollar businesses. The goal is to uncover what they did to grow such massive powerhouses that are dominating the Amazon FBA market. How they started, how they financed it, the struggles, the ups and downs.
Many of these sellers and suppliers don't speak English! We asked the questions in English and have translated their answers into English so the international market can follow along.
Find out topics such as:
* How did they get started?
* What skills and experiences did the founder have before starting
* How they picked their products (or services) to grow and expand in the marketplace.
* What their favorite hobbies are (let's get a bit personal and fun!)
* What kind of people they would like to meet in the international community (leading up to the Cross Border Matchmaker event)
China FBA Sellers:
Learn From Top Amazon FBA Sellers
Find out the secrets to becoming an international Amazon FBA seller from business owners on the ground in China. This is as direct to the source as you can get!
Foreigners and Factories:
How Working With Chinese Sellers Changed My Life!
Hear how Davide Nicolucci spent years working with a top Chinese Amazon FBA seller and how it changed his life forever.
Listen in Now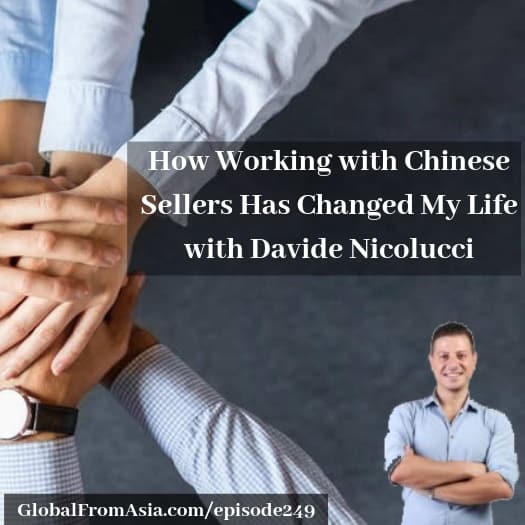 Chinese Factories:
How Chinese Factories Work With FBA Sellers
Learn how the Chinese factories are registering their own brands around the world. See what is happening behind the scenes in factories in the South of China.
Service Providers:
China Based E-Commerce Service Providers
What service providers are these top Amazon FBA sellers in China using? They are not your standard service providers you find from a Google search. Learn the local Chinese services being leveraged to grow international Amazon e-commerce businesses.