The world is in a tough place nowadays. With the current state brought about by the pandemic, people should be even more cautious about keeping their health intact.
It has been stated since the start that staying at home and keeping a healthy distance from one another is one way of ensuring that the pandemic does not make its way to your doorstep.
Apart from the health problems, the virus and pandemic have also introduced many other issues. These issues are for people's jobs and the various industries turning upside down as a whole.
The truth is that many people are struggling to find a job and even earn money.
If people haven't explored it though, online selling could be a convenient and easy way to earn money. This was also a point of discussion in one of GFA's podcast with Andy Lee where he talked about Opportunities in SE Asia and Ecommerce.
One online selling platform to sign up for is Lazada. Selling your items online via Lazada means that you can earn safely and soundly in the comfort of your own home.
If you have no experience with online selling, you really don't have to worry. Signing up and selling on Lazada is as easy as looking up items to buy online. And don't worry, we're here to walk you through the simple steps to get your online business up and running.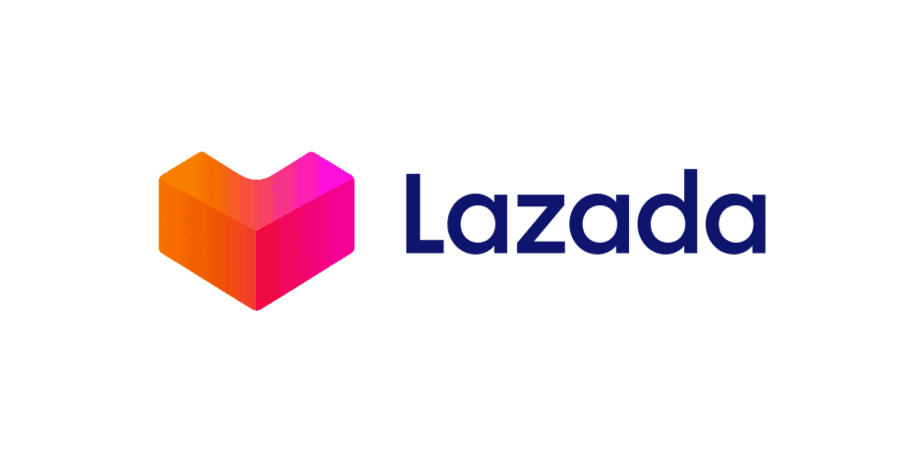 Why Lazada?
Lazada is a great online selling platform that is very popular across Southeast Asia. It currently has marketplaces that operate in six countries. These include Singapore, Indonesia, the Philippines, Malaysia, Thailand, and Vietnam.
If that hasn't convinced you, then maybe the number of visitors will. As of 2019, the Lazada sites have had more than 40 million visitors each and every month.
Applying as a seller on Lazada will mean that your products can reach more than 600 million people in Southeast Asia.
Lazada also has no commission fees (unless selling in the Lazada Marketplace), significantly reduces the cost of business, and offers convenient shipping methods.

Moreover, the sign up process is very easy. Let's check out how easy it all is.
Cross Border Seller
So the question is, how does one sign up to be a seller on Lazada? Well, the first thing you have to do is navigate the Lazada website and click on the "Sell on Lazada" button found at the top of the page.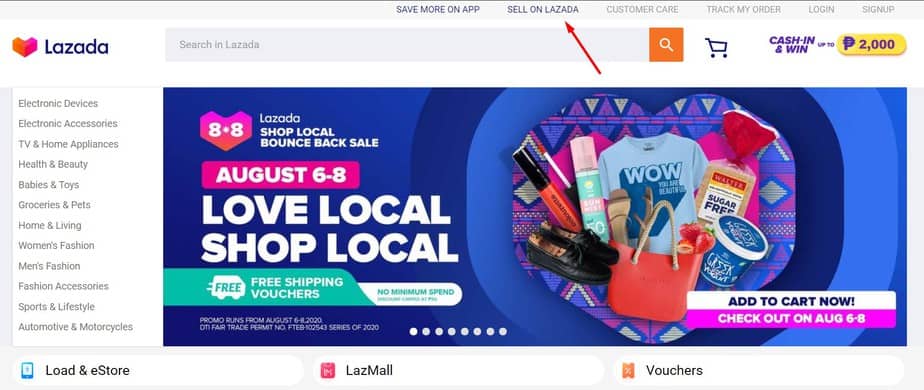 ---
Depending on where you are situated (Singapore, Philippines, Vietnam, etc.), clicking on the "Sell on Lazada" button will show you different content. However, most of the things that you will see will always lead you to signing up.
There are several seller variations. Let's first tackle the cross border seller. For ease of navigation, you can also click here for the registration form of the cross border seller. This is the type of seller that allows for you to sell to other countries in Southeast Asia.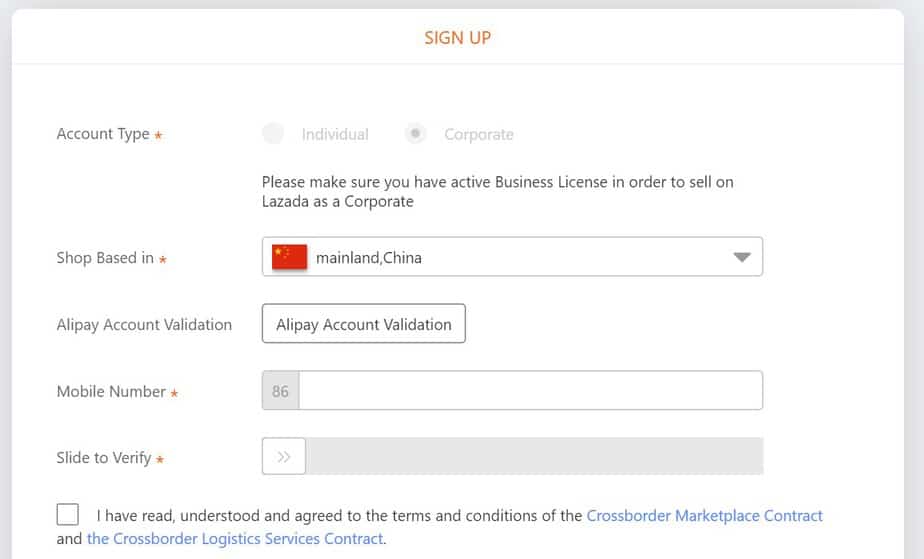 ---
When you sign up as a cross border seller, you'll see a registration form that asks for multiple pieces of information. The first and most important one is where the shop is based. Based on this choice, the information fields may change.
For instance, if your shop is based in Mainland, China, you will be required to validate your Alipay account. Other information includes a mobile number and a slider that you need to click and slide to verify your account.
Finally, there is a tickbox that you need to tick. This is a standard practice in many things installed on your computer or when you sign up for things online. Once you have accomplished the slider showing you are not a robot, more information will be asked from you like a password, email, and your shop name.
We entreat you though to read and understand the terms and conditions of the Crossborder Marketplace Contract and the Crossborder Logistics Services Contract first. These will allow you to clearly run your online shop without much trouble.
Once you have done these, you can now sign up. And that's it!
The other types of Lazada sellers are the Lazada Marketplace and Laz Mall.
Lazada Marketplace and Mall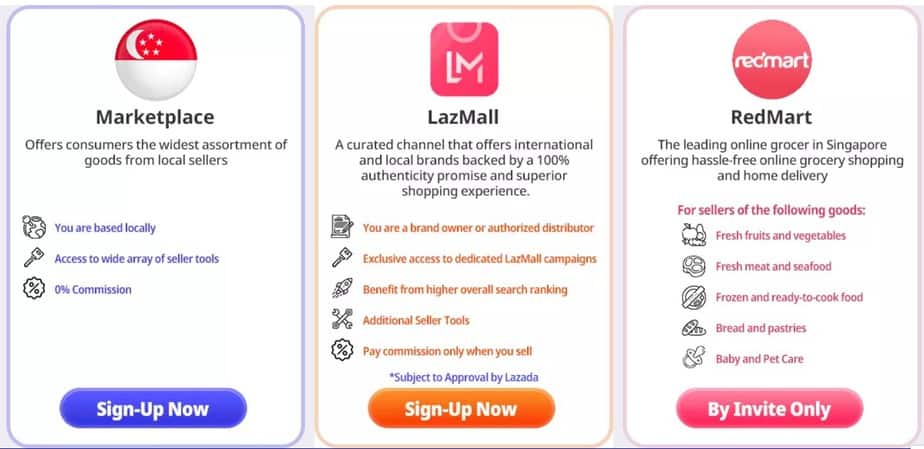 ---
The Marketplace is for when you want to sell items locally only. This option has no commission.
Signing up in the Marketplace will similarly lead you to a form that you will need to fill up. You will need to identify if your account type is individual or corporate.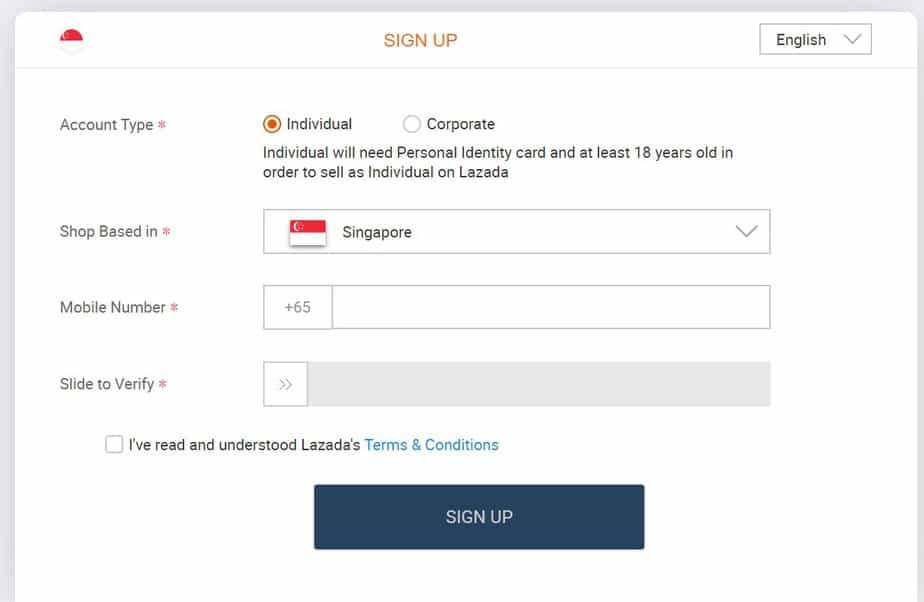 ---
As an individual, you will need to provide identification that you are above 18 years of age. As a corporation, you need to provide a business license.
The other fields will ask where your shop is based, your mobile number, a verification slider, and a tick box indicating that you have understood the Terms and Conditions.
LazMall on the other hand allows your products to join a curated list of international and local brands. You will need to be a brand owner or authorized distributor of a certain item.
The LazMall registration form needs more information from the people signing up. Apart from the usual pieces of information asked, they also present you several tick boxes regarding your status as an authorized seller, acknowledging certain terms and agreements, and that you will pay a commission.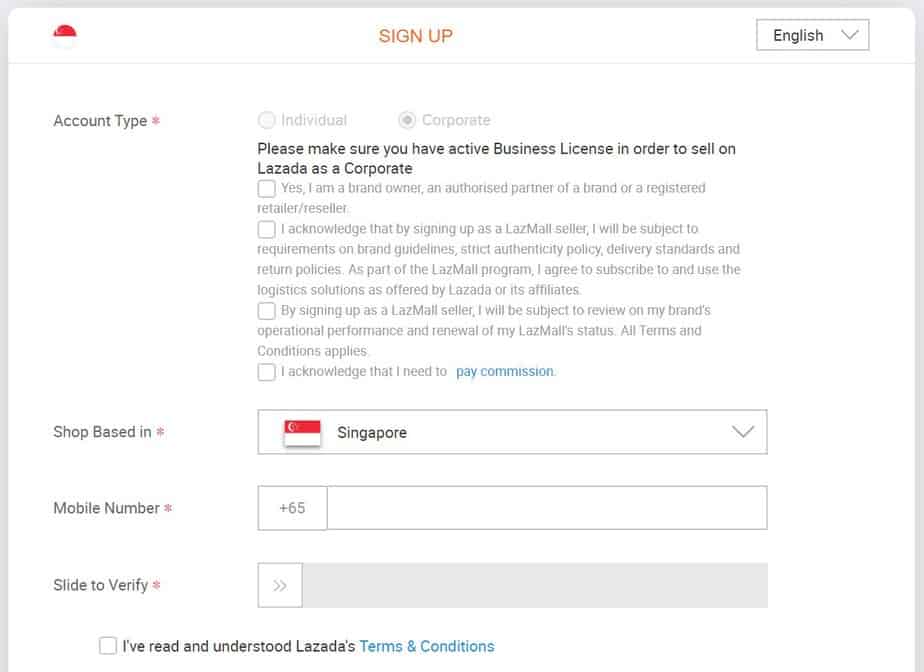 ---
Again, accomplishing the "Slide to Verify" field will reveal more information that you need to complete.
In Good Hands
After the initial signing up, there are still more things that Lazada will ask of you. Most of these will be more information regarding your online shop.
If you are applying in the LazMall, the information will be reviewed for a few days. You will get an email regarding any updates to the status of your online shop.
Not including the Lazada Marketplace (selling locally), they will also be sending a contract for you to review and sign.
When all of these have finished, your next step is locate and upload your products, as well as important information for these items. If you are feeling lost or if you have any more questions, Lazada also has the Seller Help Center that you can go to.
This is their website that holds any further information you deem critical for operating your online store.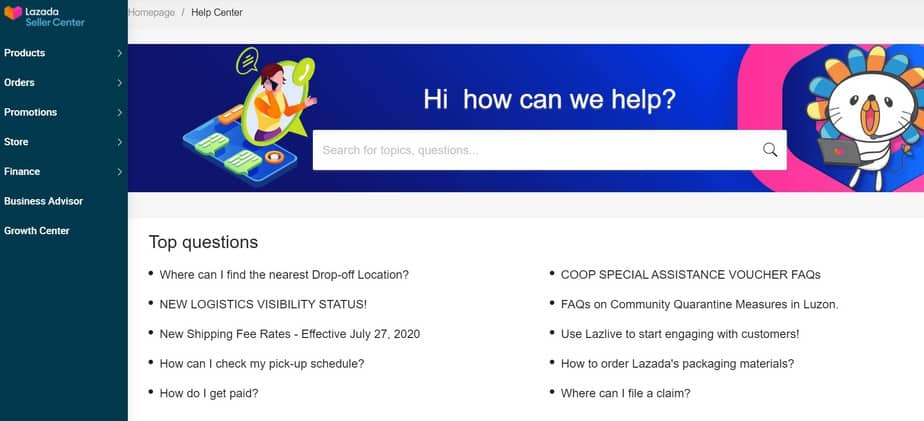 ---
You are in good hands with Lazada. We can't wait to see what you end up selling.
If you wish to come together with other people in the Lazada seller community, join GFAVIP to connect with others setting up their shops. You will also have access to various other helpful courses.
Connecting with others will also allow you to learn some tricks of the trade. You may even gain valuable insight useful for setting up your Lazada online store. Perhaps you'll understand the challenges of how a foreigner sets up their Lazada shops in certain countries, or the various differences of Lazada shops in certain Asian countries.
All these and more are available when you join GFAVIP.
Need more assistance? Say no more.
Fill up the form below to get connected with a service provider who can help you out.
Help me sell on Lazada!