---
This week's show is going to be an interesting one. We will be talking about Southeast Asia Ecommerce with Andy Lee who is an amazing network influencer. He has done everything from Amazon, Lazada, Ebay – a lot of Southeast Asia Ecommerce. He will be sharing some pretty good insights such as where you can have your company set up, how to launch, differences with Amazon among others – we will be talking about all of that and I hope you get to enjoy it. So let's tune in.
Topics Covered in this Episode
Introduce Andy

It has been great over the years to know each other more – speaking at each other's events – EXW Conference online and in Taiwan – and Cross Border Summit in Guangzhou. You're doing an amazing amount of seminars for Amazon and ecommerce sellers in Southeast Asia – can you introduce yourself and what you do a bit for the listeners today?

You've been through all the ecommerce business models

Affiliate, drop ship, wholesale – Amazon, eBay, Lazada / Southeast Asia – what seems to be your favorite?

What seems to be the biggest opportunity?

May be different opportunities for different people listening today.

Brief overview of the Southeast Asia ecomm market

Lazada I think everyone know – Shopee, can you go briefly over the main marketplaces you are working with / selling on? It is such a fragmented and complex market, as each country has different marketplace leader.

How does someone decide which marketplace to sell on?

With all these markets, how does someone pick? Maybe Lazada as it is the leader in so many countries?

Different products selling in Amazon FBA from Southeast Asia

So we were talking before the show – and you say how different your product line is in Amazon FBA from what you are selling in Southeast Asia.

Launching differences on Southeast Asia markets from Amazon

Amazon FBA is quite competitive – but how is Lazada in Southeast Asia now?

How can someone get started in the Southeast Asia ecommerce market?

I wonder – does it matter they have a product line in Amazon FBA? Do they use that product line, or it seems a total different ball game in Southeast Asia.

Your course on SE Asia

For those who want more info – you have an online course about selling in Southeast Asia – can you share more about it?

Thanks Andy - how can people find you online?

What are some ways to get ahold of you?
People / Companies / Resources Mentioned in this Episode
---
Episode Length 35:07
Thank you Andy Lee for those amazing insights. It's been great, I'm happy we got this finally done and I hope to do more and more together – get you back on the show, do more events and more things with you.
Download Options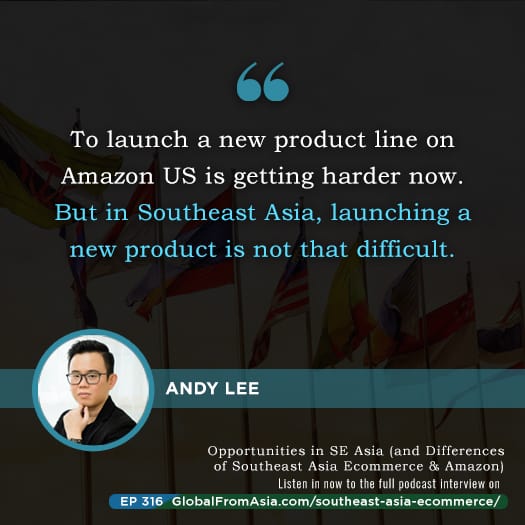 Podcast: Play in new window | Download
Subscribe: Apple Podcasts | Android | RSS