---
We have a really good one for this week's show. Understanding Europe. If you are someone who does business in Europe, doesn't understand Europe much and want some insights, we have Augustus as our guest today who is an expert. He is European, an event organizer, community builder and he is also in the Amazon space and e-commerce. Let's tune in.
Topics Covered in this Episode
Introduce Augustas.

Organized the "last" in-person Amazon event in BC (BC = Before COVID-19)

Help Us Understand More About Europe.

I'll say it – non-Europeans – well – for me – we just don't understand the complexities in Europe. So many countries and cultures and languages. It is quite diverse, right?

How can we "break it down" to understand more?

I don't want to generalize – but how can we understand the major parts of Europe – many would say Eastern and Western Europe?

Schengen Zone.

Then there is this Schengen Zone in Europe – can you give us a high level idea of how that works.

Organizing Events in these different areas.

For Amazon sellers and in general

It must be such a challenge with the languages and payments.

I'm in China so I do understand with Chinese and foreigners – but Europe seems even more diverse.

What can sellers and business owners around the world learn about all of this?

How can we increase our sales and our reach in these countries from what we have learned today?

What you're up to and how people can connect.

I'd love to hear it.
People / Companies / Resources Mentioned in this Episode
Sign up for Transferwise Now
---
Episode Length 25:20
Thank you so much Augustus for sharing. It has been insightful and I learned a few things about Europe now.
Download Options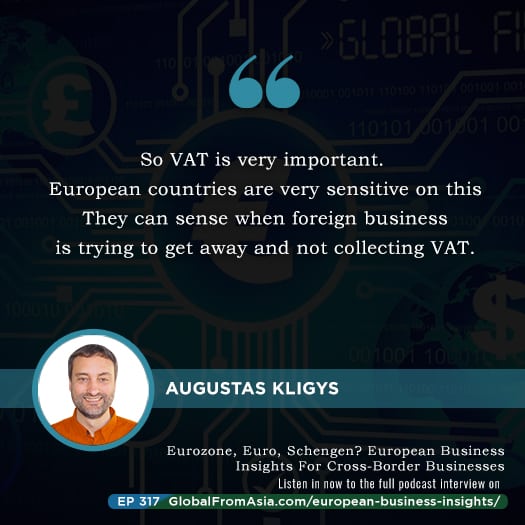 Podcast: Play in new window | Download
Subscribe: Apple Podcasts | Android | RSS