Podcast: Play in new window | Download
Subscribe: Apple Podcasts | Android | RSS
Thank you everyone for tuning into Global From Asia episode 49! Man, almost 1 year doing this – I am so pumped, recording today's introduction after an amazing first Mastermind call with 6 other amazing business people, all first time to ever be on a mastermind call – I know it's a strange/intimidating name but the idea is it is a 1 hour call – we use Google hangouts and go around the room introducing each other and helping each other achieve our business goals – so our first call had a wide range of people, mostly already in Asia – and we helped Gerard in the Netherlands on the hot seat as we helped him hash it out if it is worth him setting up a Hong Kong business for his China sourcing to Europe business http://www.betafresh.com/ as he is getting information overload and a bit conflicting news about the costs and he is also wondering the yearly costs to maintain it. I'll have a show next week more about that as others are asking too!
Had a jam packed day in Hong Kong the other day, exhausted long day meeting clients and listeners – one being a listener Angela, from APV (Asia Pacific Vision Limited) and we took a photo together in a cafe in Wanchai that I will put in the show notes, I'm loving this! She reached out to me about having trouble getting an iTunes review to work as it is giving some strange error- and shot it over so let me read it:
I've been listening for a while – can't even remember how I stumbled upon your podcast. I tried to leave you an I-Tunes review (I'm based in Hong Kong with an I-Tunes HK account) but it didn't work. Not sure why??

Anyway, here's the review – feel free to share it

TITLE: Highly recommend. Detailed, high quality advice

I'm based in Hong Kong and manage a small business. Even though I'm not involved in import/exporting but still find this podcast thoroughly helpful. I can't even remember how I stumbled upon it, but find myself listening to a batch of episodes at a time. As the podcast host, Michael says – it's straight-up actionable advice for anyone wanting to run an international business via China/Hong Kong. He selects appropriate experts, asks detailed questions, summarises where helpful and keeps it flowing smoothly, concisely and in a relaxed, easy-on-the-ear manner. Well worth a listen if you're involved in sourcing, manufacturing, kickstarting…or doing any business between Asia and the rest of the world.
Thanks Angela and others who reach out (hope we can figure out to get that amazing review onto iTunes) this is my favorite part of doing this show – getting feedback and MEETING and connecting with listeners – it has helped motivate me to keep pushing along now for almost 1 year!
Ok, so onto this week's show – we have a topic that is a bit US centric but I think relevant to a lot of people in Asia – as we know the trend of buying from China and selling to US / West has been flipping the other way with American products and EU products getting some good demand in China. So I got on the show 2 US government gurus dealing with helping businesses export and sell American goods abroad, Bryson Patterson from U.S. Small Business Administration and Paul Bergman from US Department of Commerce. I learned a ton, and even if you're not American – you can get some of these benefits if you sell American goods abroad so hope everyone can get something from it – and you can also check show notes on GlobalFromAsia.com/episode49 as always – k, now onto the show:
Topics Covered in this Episode
First Step for someone thinking to sell US goods abroad
What incentives are there for US businesses exporting / selling overseas
What is the process for exporting goods from America
What defines "made in America" if not all of your components originate from USA
Some examples of American companies with effective export businesses
Programs businesses can apply
Do they have the be a manufacturer? Or can it be a trading company or distributor?
Is there any company size requirements?
People / Companies / Resources Mentioned in this Episode
Bryson Patterson – Greater Denver Area, Export Finance Specialist at U.S. Small Business Administration, email him at bryson.patterson @ sba.gov
Paul Bergman – Director US Department of Commerce at Wyoming and Colorado – email him at Paul.Bergman @ trade.gov
Department of Commerce http://www.commerce.gov/
SBA – US Small Business Administration http://www.sba.gov/
XM Bank – Export-Import Bank of the United States http://www.exim.gov/
Department of Agriculture http://www.usda.gov/wps/portal/usda/usdahome
USEAC (United States Export Assistance Center) – http://www.export.gov/eac/index.asp
Here is a link to the discover global markets program in New York in October, that features a lot of China and other Asian countries and cities about how to get your product into that market: http://export.gov/newyork/discover/
Here is a link to SBA's Export Business Planner: – a downloadable PDF to help you make your USA business export business plan http://www.sba.gov/exportbusinessplanner
For those in China selling American products to Chinese – http://www.buyusa.gov/china/ (Chinese Language) — http://www.export.gov/china/ for English
HS code – Harmonized System Codes (HS Code) how to classify your goods
$15,000usd matched compensation in Colorado state grant program, on a 1 to 1 basis for market research, trade shows, localization of your product for international markets. Other states have similar programs.
Many States have similar programs – Federal government doesn't have it but helps with credit insurance and other programs.
XM Bank Credit Insurance – http://www.exim.gov/ has credit insurance of $0.65usd on $100usd to structure your trade deals. XM Bank will pay 95% if your buyer cannot pay you due to a currency or political event. This lets you setup the ability to get line of credit against foreign receivables.
SBA has similar program as XM Bank except size, SBA limits at 5 million US dollars.
Now you are able to finance at 5 – 6 % from banks, granted you have this XM bank of SBA credit insurance
Here is a link to more information on SBA export business loans: http://www.sba.gov/category/navigation-structure/loans-grants/small-business-loans/sba-loan-programs/7a-loan-program/sb
Select USA is the branch of the Commerce Department which helps companies establish operations in the US (Free Trade Zones, Duty Drawback): www.selectusa.gov
Foreign Trade Zones – ability to import goods into USA and then assemble and then re-export without paying duties (i.e. import taxes)
Duty Drawback – register that component, and state that they will re-export it, show the paperwork, can get up to 99% of that duty rate when they ship that good out of USA.
Free Trade Agreement, NAFTA – North American Free Trade Agreement
Here is a webinar that talks about re-shoring or moving operations back to the US and related government resources. Not sure if you want to publish it or not, but I came across it: http://www.cdfa.net/cdfa/cdfaweb.nsf/ordredirect.html?open&id=rmws.03.13-fullslides.html
Episode Length 41:40
I am so thankful for Bryson and Paul to share on the show. The way I got connected to them was from my days when I was living in San Diego in 2007 – I connected with Ben Garfunkel who was working with the export bank. Years later I do this podcast, and Chris Gormley mentions I should haven episode a bout export financing, reach out to Ben – after years – he isn't there anymore, but links me up with Bryson and then we do the show! Talk about a long way – but so happy to have this show in the series and I hope people take action from it and
Next week – we'll have Fion back on the show to talk about …company audits and bookkeeping for a Hong Kong business. This one I am asked all the time, and as I said at the beginning of the show is one Gerard asked at the mastermind call too – so see you next week!
Photo of Angela & Mike
Mentioned on the show, Angela left an awesome review and we met up in Wan Chai last week!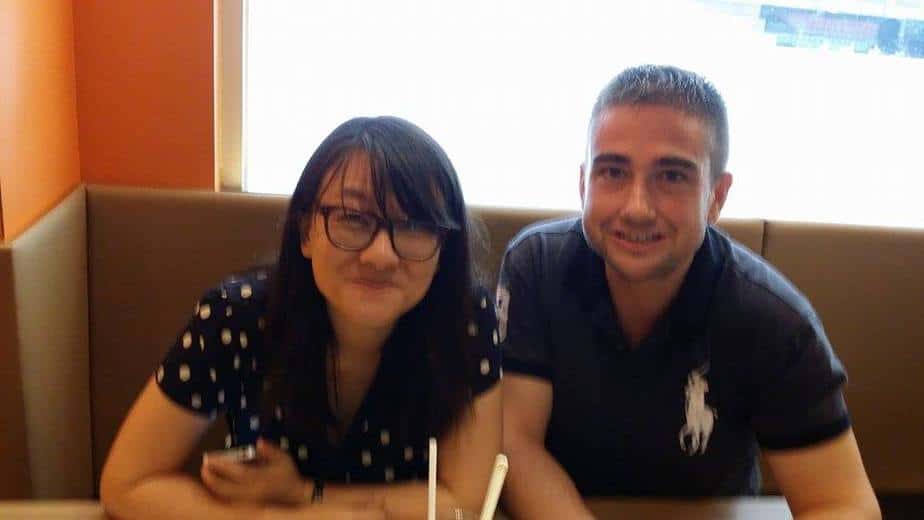 Download Options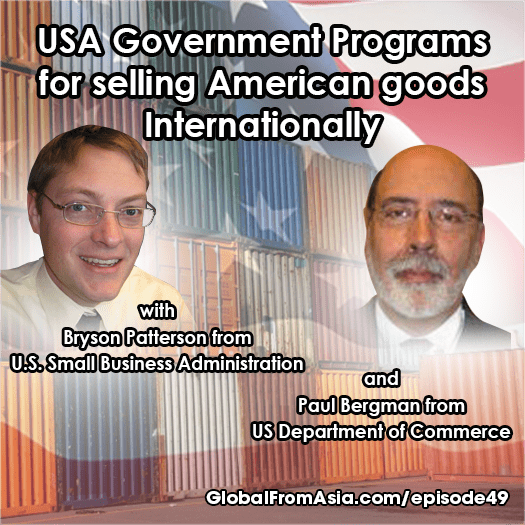 Mike