CHina CHat 2019
CHina CHat brings you its fourth annual event dedicated to WeChat and China Online Digital Marketing. The annual CHina CHat conference is organized by two respected online sources of WeChat information: China Channel (ChCh) and WalktheChat. Learn from top industry speakers and experts from all over China along with the WeChat team.
Event Schedule
The two-day event happening on September 19 – 20, 2019 in Shanghai, China will be filled with presentations, panel discussions, in-depth and practical workshops and networking parties.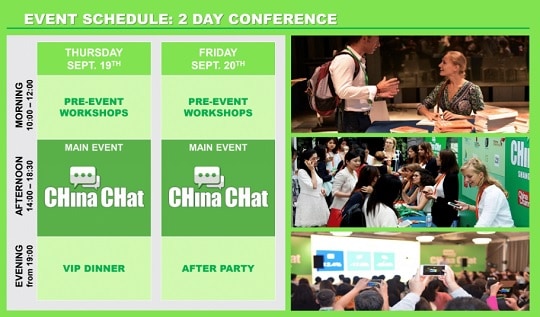 Venue
The CHina CHat Conference 2019 will take place at a modern private rooftop space called The Place. It is located in the heart of Jiangnan Innovation Creative Yard, close to tourist attractions of Xintiandi and Tianzifang.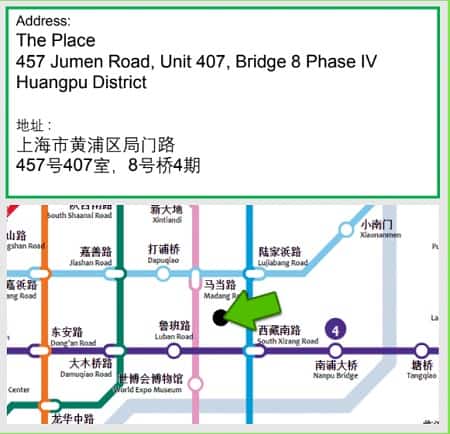 What went on in last year's CHina CHat
Last year was a success with over 500 attendees 28 speakers and 12 exhibitors. There were 7 workshops conducted and 2 networking after-event parties. Everyone who's in on CHina CHat are looking forward to the same success for this year's event.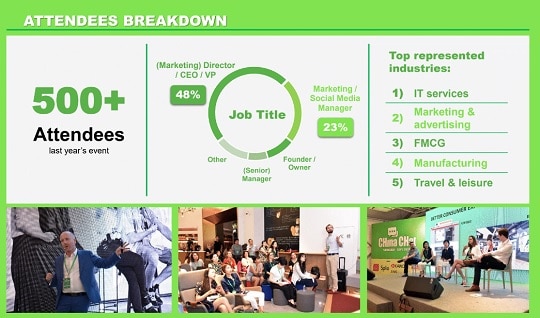 Buy your tickets now!
If you want to be part of this community and learn about WeChat and China Online Digital Marketing, then join the CHina CHat fourth annual event. Do not miss out on the opportunity to learn from the top digital marketing experts. See the latest WeChat and China social products that will be displayed in the booth areas. Get to network with the experts and the members of the whole community at the after-parties.
As what they say in CHina CHat – learn, network, have fun!
CHina CHat through the years
CHina CHat 2018
Just got the email from Matt Brennan – the Shanghai, China conference is back!
Notice: The annual CHina CHat gathering is back on for this year! September 20/21st 2018 in Shanghai.

China's Biggest WeChat & Digital Marketing Conference For International Companies.

Lots of people from this Wechat group are coming, some will be speaking. Hope to see as many of you there. Find out more here.
I'm excited to announce that the team at China Channel is bringing back their CHat conference! The dates have been released for Sept 21-22, 2017 followed by a Wechat App hackathon! 
Had a Great Experience Last Year
Last September I ventured up to Shanghai, China to host a workshop on cross-border free trade zones in China at the conference, as well as had a booth and got to enjoy the conference.
Basically, everyone – at least foreigners / English speaking community of Chinese that is involved with the Chinese marketing space, specifically in Wechat (which, basically is Chinese marketing nowadays, let's face it) is at this conference. I got to meet Thomas from Walk The Chat, as well as a host of others in the industry.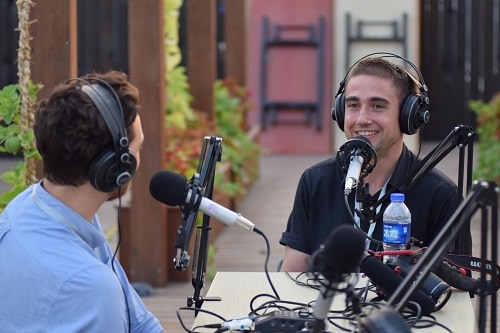 My favorite part was I could catch up with a ton of them and interview them on my various podcasts – most of the shows were recorded for China Business Cast, but we also got some in for this Global From Asia podcast. Because the theme is more specific on into China business – the content is more suitable for China Business Cast. I met the guys from other podcasts like Ryan from China Startup Pulse, and the Chinaccelerator team (I'm an alumni of batch 3 in 2012!)
Schedule For This Year's CHat Conference
So the event is on a Thursday and Friday, September 21 and 22, 2017. Same venue as last year, which is a rooftop venue with about half indoors and half outdoors.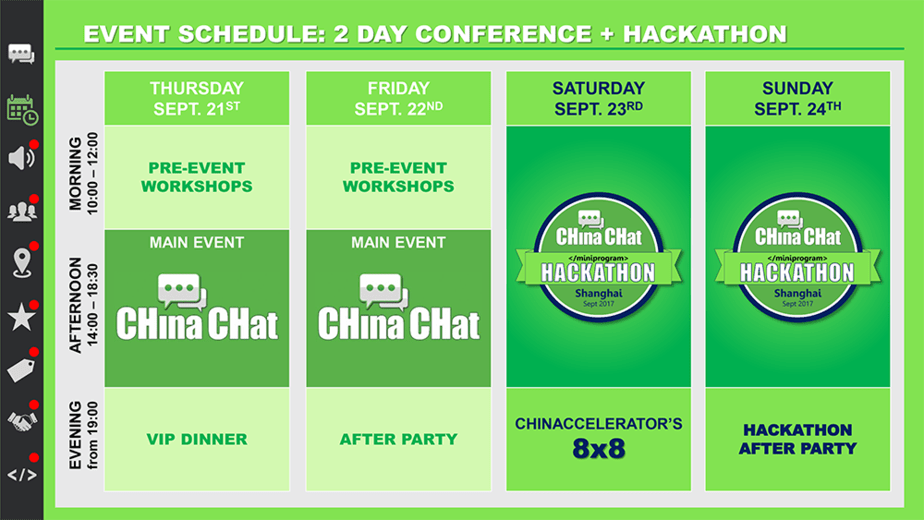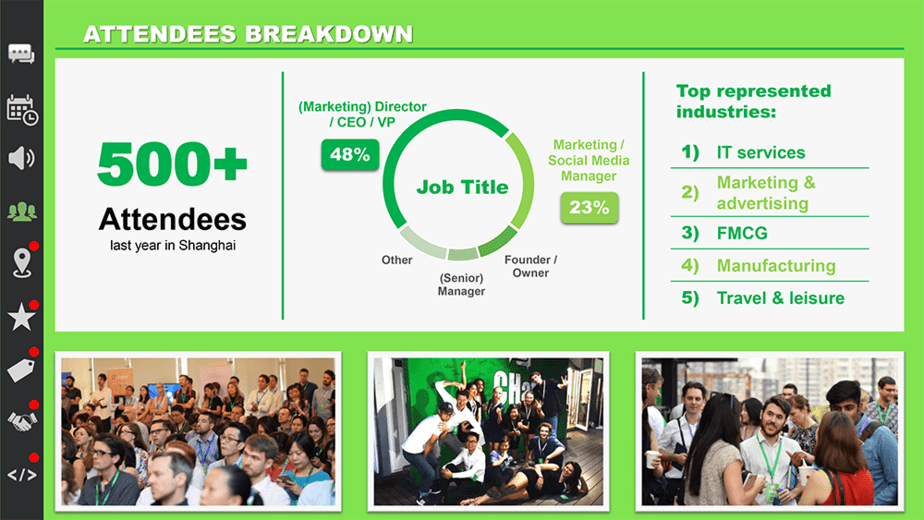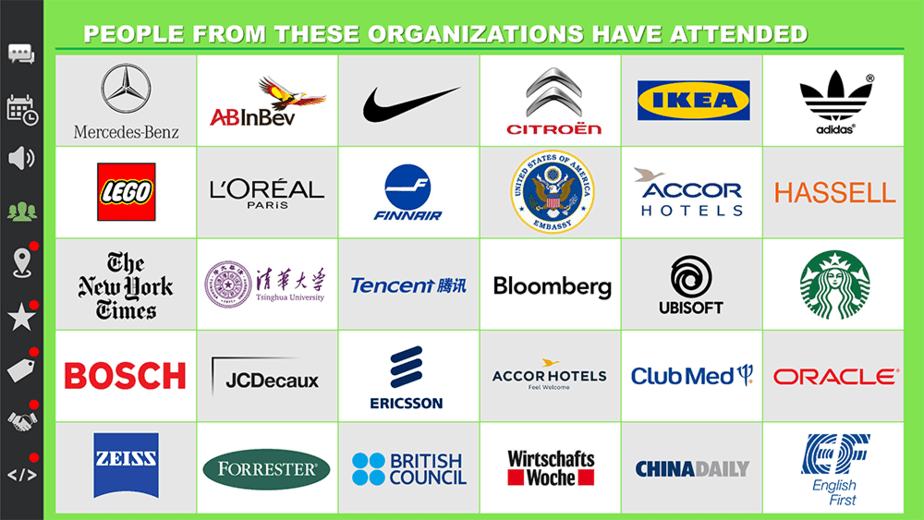 We Will Have a Global From Asia Shanghai Meetup The Night Before – on Wednesday Sept 20
What is even more excited is the night before the CHat conference, the crew at Global From Asia will be having a meetup to talk about e-commerce – both into China as well as of course our passion – export from China.
It will be a fun meetup starting at 7pm and going till 9pm with networking after.
This is our first Global From Asia meetup in Shanghai, and even months in advance we have been getting positive response to it.
Register for our GFA Shanghai meetup here.
Support China Channel & Sign up for The Chat Conference Today!
The team at China Channel has been very supportive of the efforts here at Global From Asia and we want to show our support. Matt Brennan was a popular speaker at our Cross Border Summit this past April, 2017 (our second annual conference) and we hope to continue to support each other's causes.
Shanghai is also the center of Chinese marketing, especially for foreigners – heck – half the time you forget you are even in China! It is a great excuse for me to come up from Shenzhen – and I hope to meet some of you there!
Global From Asia Readers – enjoy a 10% discount

We have a special offer for you guys – a 10% coupon code for the conference. When using the code, please choose the correct ticket booking platform.
Yes, there are 2 ticket booking systems.
As this is China – we have to have special ticket formats.
So the CHat conference has 2 ways to sign up for tickets:
If you want to signup from inside the Chinese firewall and use Chinese Yuan (RMB) go here
If you want to signup on the international event page and pay in US dollars go here
1 Day: 488 Early Bird, 788 Normal
2 Day: 688 Early Bird, 1,088 Normal
Workshop: 388 Early Bird, 588 Normal
Everything pass: 1,488 Early Bird, 588 Normal 2,188
Mike Michelini's Discount CodeCoupon Code: GLOBAL
Discount: 10%
Expiration Date: September 22, 2017
Any questions, the team at China Channel is more than happy to help – and me and the whole Global From Asia team is super excited to see CHat conference back in Shanghai! I'm packing my bags already 😉
Coupon code for CHat Shanghai Conference 2018
As a big supporter of Chat and China Channel – we are excited to offer our readers a 15% discount for the event. Simply use this when you checkout on their event page and it will be applied to your purchase. This is a great event for those interested in learning everything about Wechat and also
Coupon Code: MIKE2018
Discount: 15%
Expiration Date: September 21, 2018
Click here for the registration link
Leave Your Review of CHat Conference!
We want to hear your suggestions and feedback reviews about CHat conference in Shanghai, China – feel free to leave it below:

Attend the CHina CHat Conference in Shanghai

0

out of

5

based on 0 reviews.

Anonymous

Overall rating:

Leave Your Review