---
If you are reading this, you've survived the year 2021. Congratulations! We need to remind ourselves how fortunate we are to be alive. Each day is a gift. Truly, we need to stay motivated and positive, especially in today's turbulent times.
What a year it has been, especially for those of us in cross-border trade and international e-commerce.
Celebrate With an NFT Event Collectible: Survivor 2021
In honor of our collective thriving and survival of 2021, we are celebrating by minting a limited set of "Survivor 2021" NFTs to issue to the community here at Global From Asia. View the full NFT and details here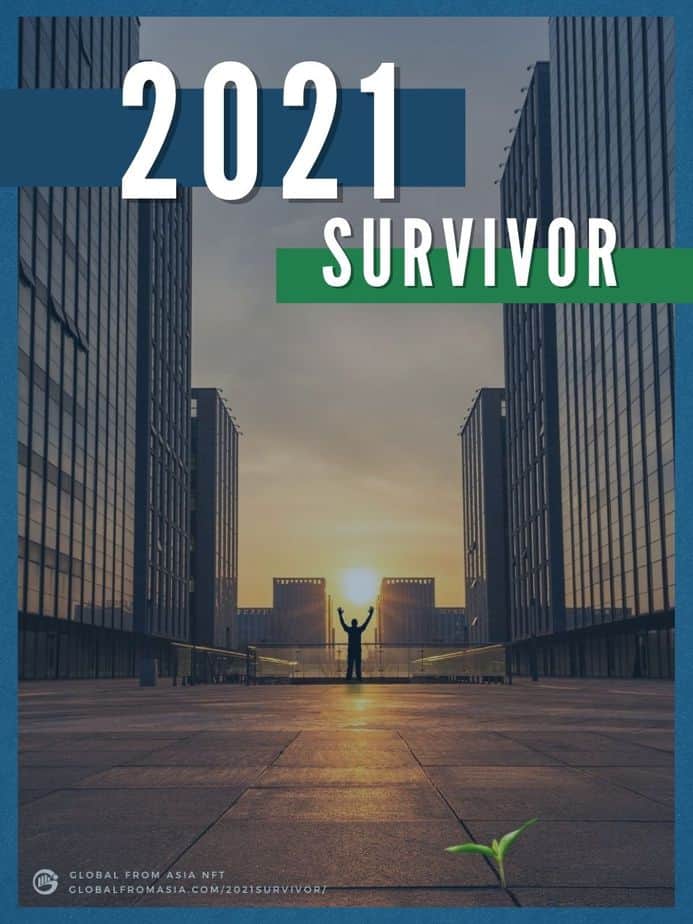 ---
We are issuing them to the following:
All current GFAVIP members active with a screenshot today, Dec 15, midnight HK time (GMT+8). Speak to our GFA community manager for details on how to receive this NFT.
We are running a series of social media giveaways up to Dec 31, 2021 for this campaign. Read here for more info.
Participants joining the new

 

GFA Blimp Method
Max supply: 100 mint.
These NFTs are collectibles and will have futures utility into the new year and the new era that is upon us. If you have also been fortunate to get some of our CBM 2021 event collectibles as well as our Broken Border series, expect even more utility in the coming years.
Milestones for the Community in 2021
What have we accomplished here in the Global From Asia cross border community this year? Let's take a look at some highlights:
Mastermind to kick off the year 

 

– We launched a

 

mastermind.gfavip.com

 

program in Q1 2021 for members. It helped facilitate some amazing groups and business connections to start off the new year – and all online.
Cross Border Matchmaker 2021 – In May, we had our first large scale online conference, CBM, and had amazing speakers and round tables. We tried our best to not just be a PowerPoint marathon. We had panels and then round tables live with the audience afterwards. It was positively received and we plan to host another in the new year. Check out

 

crossbordermatchmaker.com

 

for all the latest.
Continuing Monthly GFAVIP member calls – While small, they were high quality sessions with 10 to 20 members online. We have gotten to know each other and our businesses better and many are enjoying those connections in these challenging times.
Some in person meetups and workshops in Shenzhen, China – Since I returned to Shenzhen in August, we have hosted a couple smaller meetups and gatherings of 20 to 30 max people. We are currently testing this, but of course, the world is different and the community is not able to travel across borders (we had many visiting travelers attend our events over the years).
Launching the Blimp Method – Here in mid-December, 2021 we finally announced our new business program for 2022 – the Blimp Method (read all about it on our landing page

 

here

 

where we will work with a small select group of business owners to have them license a product and launch it on Amazon. There are a lot of plans for this program in the new year and expect more podcasts and blogs on it.
In general – We have adjusted to the "new normal" of extended lockdowns and border closures. We have seen other friends in their community need to cancel large events here in China and Asia due to government lockdowns and regulations during spikes in cases. We are anxiously awaiting the day we can announce our annual event the Cross Border Summit.
Wishing You The Best Into the New Year
We really want to say – stay safe, stay healthy – and most importantly STAY POSITIVE.
Many in the world are under massive stress and MUST change their business model and lifestyle. It is a fact, not an option, and change can be hard. But we are "2021 Survivors" and we need to use this strength and celebrate it into the new year.
Hope you can be a lucky recipient of our "2021 Survivor" NFT here at the Global From Asia community. I look forward to the new year with you.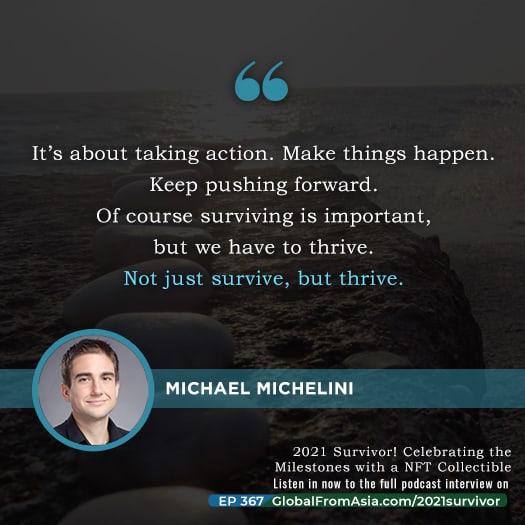 Podcast: Play in new window | Download
Subscribe: Apple Podcasts | RSS