---
Episode 22 of Ecommerce Gladiator here, and the gladiators are still pushing forward. The last couple weeks have been brutal to us – Santa Claus may have almost left us coal – but we have made progress and placed the order! In this week's update, we have a bunch of the partners on – Cadrian Chan dialing in from Hong Kong, Lorenzo from Hangzhou, and Roland from Europe (on his way to USA).
Topics Covered in this Episode
Re-introduce each partner on the show

Make sure listeners know who is who

Recap of what has been happening last couple weeks

Roland catches us up on what has been happening.

The factories we considered

So we went back to a few factories and the back and forth

Signing With the Factory

The contract was signed. Some listeners didn't think the factory would do it, but it is signed and we have both the factory and us signed

Lead Time

When is this order going to be ready

Strategy Going into 2018

What are we going to do in the new year.
People / Companies / Resources Mentioned in this Episode
Episode Length 19:36
Well, there you have it everyone – we made progress and worked a deal with the factory. A lot of back and forth, but like Chris said in last week's show – this is normal. I hope everyone is enjoying the content we have here and the blood, sweat, and tears are included as promised.
The most important part I would say is to stay motivated, continue to push forward and make progress. There will be up days and down days, the most important is to keep making forward progress and you will achieve amazing things.
Download Options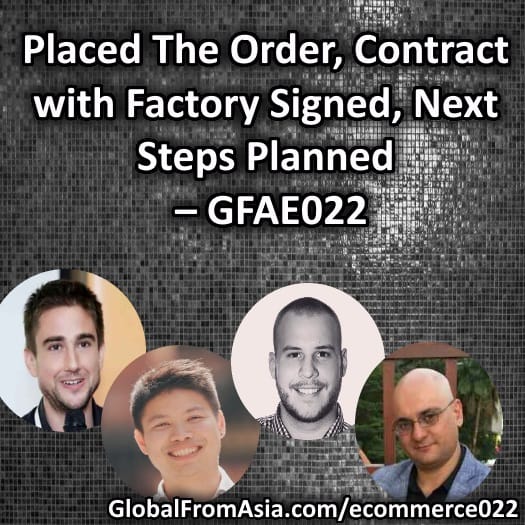 Welcome to the Global from Asia Ecommerce Gladiator Series where you can follow along the progress of setting up a Cross Border Ecommerce business from start to finish. Hear insights of real product research, Amazon FBA, China manufacturing, branding, marketing, and all the blood, sweat, and tears of building a global business from Asia.


Enjoying the Global From Asia podcast. Wanna meet with other listeners, podcast guests, and business experts? Then you're in luck. Every year we have our Annual Cross Border Summit. This year is our Third Annual in Shenzhen, China Cross Border Summit. It's a 2-day conference. Mark your calendars April 20th and 21st of 2018. It's a great time to get together and learn about import and export, Amazon FBA, e-commerce importing into China and global business. So we hope to catch you there www.crossbordersummit.com/2018.
Mike: E-commerce gladiator episode 22 and we are rocking over here it was a rough one the last couple of weeks. I'm not gonna spoil it, I'll let Roland and the team share what happened or what we decided in the update. But we have a plan and we gotten through some this rougher times at least know what's gonna happen next. So let's tune in. I'm gonna keep the intro short and we got lots of stuff to talk about. Okay guys, e-commerce gladiator 22 shows and we got the majority of the team here. First, I wanted to read a feedback from actual listener, just came in a couple of days ago, from Duke. He's a regular listener I know and he's damn, I love the latest episodes were you discussing live about looking for your supplier. Awesome, exciting stuff. I feel like I'm in a room discussing the sourcing with you guys. So that was pretty cool, thanks for listening Duke and yeah there were, that's what, I think I'm excited to share and try to share some as much as we can. So this week we have 3 of the partners with me. Cadrian and Lorenzo and Roland.
Cadrian: Hello.
Lorenzo: Hey guys.
Roland: Hey everyone how's it going?
Mike: So last couple of weeks we had, it was Lorenzo and Roland and I about the sourcing. But you guys have heard from Cadrian in a couple of shows, he's our CMO. He was travelling and he's back in Hong Kong now and it's great to have you with us. So, I know people are really interested to hear the latest. Well like last week, Roland was driving in the car and working with the supplier real time were we, maybe we didn't end up going with that one. Actually we thought we might  be going with them but we confirm the order. So Roland do you wanna to explain a little bit what happened.
Roland: Sure, basically last week just to give us a little summary, we had many suppliers or factories saying No towards giving up our order because they said that our order or MLQ is not large enough or not big enough for first batch which first was gonna be 500 pieces then we switch to a thousand to start with. Even though this thousand pieces for the Chinese suppliers, factories is considered to be a small batch. And the customization we're making with our main product having the logo on, doing some upgrades and the accessories that are coming with it. They just said that too many details to change to the product and they don't wanna mess with us because it's high demand seasons. And pretty much they've already to give up on us anytime with absolutely being like, I don't even know how we felt. We felt like, they don't want our money even though we're talking about several thousands of dollars. But they just said well you're too small, sorry. So, you really have to think about how you approach the supplier, how you approach the factory and how you communicate to them. Because they might just give up on you. If you're not doing it good.
Mike: Yeah, it was a nerve wrecking but Lorenzo works, he's a smooth operator.
Roland: Another mistake I think we learned is once you go to the factory, always have all these specifications and try not asking them on what would be better in their opinion. Because, first of all you're small fish. If you don't know your specifications they'll gonna be like, are you serious? What the hell are you trying make us do? And they become frustrated because there are language barrier, they don't understand what are we trying to say. They think you always change your mind, even though you might wanna be asking them on their opinion. Just make sure to have the facts ready and just be able to tell them what you need and don't change your mind. This was the 2 key takeaways that we learned last week.
Mike: Yup and but I think I'm excited to share, we actually went back to the factory that declined our order or we thought declined. And we went back to them because it seems like nobody was able to make it before Chinese New Year. Even if we increase the order size. It just seems like this has been a big challenge. So we went back because the team felt that we had the most time invested with that factory that we spent a lot of time with them. Lorenzo had been down there for few times to see them.
Roland: I mean we already had the samples for us.
Mike: Hopefully, it's the big one, right? So we've almost gotten so far were we know that they can make any. So we've gone back to them and they just sign the contract.
Lorenzo: We can go back to another, if I have to choose to go to another supplier, to talk everything from scratch getting a samples and keeping up the samples that would be another month. So we felt that this was the best solution for us.
Mike: Plus the language, they do have an English speaking sales representative there.
Lorenzo: And the owner speaks fluent English as well. So just wanna.
Mike: And the owner factory speaks English.
Lorenzo: Yeah very good English.
Mike: And so it's been helpful. I think, the biggest thing we've learned after talking to multiple suppliers is this industry, are these product is very slow. Of course it also seems like a high season with Chinese New Year, doesn't any, who wants to share when we expect to have this done, this production.
Roland: Well, I'm not happy to share it but I'm gonna share it. Our lead time is 120 days which is carry yourself. It's pretty been 4 months so it's changing a lot of work and timing. And regarding the business and this is because, the highest the big season pretty much so they have a lot of orders and big fish came in to the factory and they are ordering tens of thousands of pieces and obviously they have, they're top of the lists. So they wanna have their orders made first. So right now, what we're doing is were placing the order and we are making other products that are moving fast and are already faster and we are going to create cash flow to make sure that by the time, our product to the market will have supporting product and our name goes out there.
Mike: Yeah, so just I'm sure there's some people listening, they're shock. At the 120 days includes Chinese New Year, includes weekends, includes holidays.
Roland: New Year and Christmas, so pretty much like it's, even though for China Christmas and our New Year is not a big thing. I feel like they tend to celebrate it because they have a reason to celebrate it. So they also stop working during those times.
Cadrian: Right. A little bit of background. The Chinese New Year basically factory close down for like a month. Because it's the only festival that a lot of factory workers get to go back home. So that's why it's normal to have a delay in the Chinese New Year time frame.
Mike: Yeah exactly. So, that's why I'm going back to the US in February, I have told you guys. Actually Roland, you're going to the US in a couple of days?
Roland: Yeah in 2 days.
Mike: I'm excited that you're taking a little bit of detour in our conversation but you're skydiving and do some marketing at the same time.
Roland: Well we have to push it guys.
Lorenzo: Tell us about your awesome t-shirt Roland.
Roland: Yeah so basically the name of our company is Paraliving Incorporated and then make a t-shirt of Paraliving Inc. There's huge letter on it in red t-shirt with white letters and I'm just gonna go and jump off the plane.
Lorenzo: Where?
Roland: I would like to say it, like you, like such a boring voice.
Lorenzo: Hey Roland, where you gonna do the skydiving? Where?
Roland: In Florida. It's Skydive Center of Florida. Middle of Florida.
Lorenzo and Mike: Nice.
Lorenzo: Awesome, is this your first time?
Mike: You gotta drink of cup of coffee and then jump.
Roland: Yeah, I'm thinking how to make it happen that I'm actually drinking in the air. But I haven't talk to the guy that I'm jumping with. So I'm not sure how I'm gonna be able to pull that off.
Lorenzo: When are you planning to do that?
Roland: Probably 28 or 29. I got to pick up the car on the 28 of December and nice camera convertible. And after that we might have enough time to go to and jump so it's probably not on the next day which is the 29th of December. I'm gonna have a video and still shots as well. Hopefully, we will have some great pictures coming out.
Lorenzo: Awesome.
Mike: Nice. So I wanna give a shout out to our adviser Meir, who's giving some credit. But I think also we have our Sunday management calls with the team, with Jack everyone the whole team is on every week. It's a good time, I think. I recommend it for everybody's company to do regular call. But we talked about it and nobody's happy of course with this 120 days. Obviously, it's unbelievable and you think about we started in August and it's December now and products won't even be in, in the U.S. for sale in to April. I don't even want to think about it but maybe even May. Because it's taking time to ship to. So that's why Roland said when you're just giving your update Meir say we should try, I think all of us are thinking to try another product. I think I was also thinking about it, too. So we don't wanna go too far of the niche of coffee. So we're looking within the coffee industry to sell some "easier products" it just seems like, well we found that this has an opportunity to sell it. It is the supply side, this seems to be very complex and slow. So, we're trying some faster or easier. I'm kind of holding up my figures to say that. But hopefully they're a little bit easier and we're really gonna try to make it before Chinese New Year. So the last few days, we've embraced sourcing more product ideas and we want to sell those as soon as possible. Just to get cash flow, to get experience and activity in the Amazon account and the team. So we're not giving up this product, we are placing the order. The contract was literally sent back to us or to Roland right when we're recording this on Wednesday December 20. So we're gonna continue with this order but actually the cash flow. We have to pay the second payment and so, 4 months from now either. So, we might been able to have cash flow coming in from other products to buy that, make another payment as well from our cash flow. So yeah I mean that would basically our strategy is, we're not gonna stay here and do weekly podcast about waiting for that order.
Roland: Of course.
Cadrian: I think basically what Mike means is we're looking for easier in terms of easier for QA because at the first plans mocha pot seems like an easy product as well. But actually is a very complicated device. So, like there's a lot of potential QA issues like the leaking, the polishing, the handle, 'coz we wanted to make it a fire resistant, etc. So we're looking for faster, easier products for extraction. Extraction is very important as we all know in the beginning to have the quotation.
Lorenzo: Just add up to what Cadrian is saying. Because we're not just selling, our business and audience to sell random products, we could build brand and not only building brand, it could be become the premium brand in each specific and the niche that we enter into. And our niche in the coffee industry, coffee industry yes is a very big, very profitable niche but it's super competitive and the only way to really stand out and have a shot to do something that on that part and that's what we did in the beginning, it's okay. We started the market how can we stand out from the rest, so we'll really look at how we can really not just improve but really improve our product drastically from what's currently available and that's what took us so long to find the right partner in terms of factory and also the right material that's why it's taking so long. Because most of, the main reason just to add also to what Roland is saying in the beginning, it has been tough for us to find a factory because this project is a bit more complicated as not the simple just ordering thousand unit and just laughing little guard it actually improve it, change the materials from standard basic to more advanced premium materials, that's why I've been also challenging from the factory side because some of them are just too lazy, they don't want, this order for a 1,000 unit. So again, we're doing, we're on to build a premium brand, we're building brand and niche brand, not just a brand but the premium brand on that specific niche. That's why it's taking so long. And now we're looking for other product that will take us less time that we're not gonna be easier and faster to bring to market.
Mike: Great, alright guys. So, I think that's enough for today's update. I think get everybody in jest and we definitely enjoy our holidays but also we got a lot of homework to do at the back of the product side. I think that's something we've been discovering for e-commerce sellers, I think the biggest, one of the biggest job is always knowing, product research, always researching in the industry. Finding the product opportunities so that's something that we should be always doing anyway. But we kind of get busy with that anyway.
Roland: Correct.
Mike: Alright, so thanks guys for sharing or anything else? Do you guys wanna share today?
Lorenzo: Just wanna wish everybody a Merry Christmas and Happy Holidays. I'm gonna be flying tomorrow morning to Shenzhen and Hong Kong. I'll spent the weekend with the boys on Shenzhen. So I'll be fine.
Mike: Yeah, that'll be great. Yeah, we're gonna make some more content and videos for the brand, for the Sisitano brand. I'll see you soon.
Lorenzo: I only lined up that guy as beautiful coffee shop by the beach in Shenzhen. We're gonna do some activities and some coffee, advanced to get it. So, even recording, podcast live on the beach.
Mike: Yeah I think we should, alright. It's all about just part of it. Alright, thanks for listening everybody.
Roland: Merry Christmas everyone and Happy New Year.
Lorenzo: Same to you too guys.
Mike: Alrighty, so 120 days. Think that actually be, Cross Border Summit this order will be done, can you believe that? 4 months til the Cross Border Summit. 4 months until this order is done. Hope some of you guys are making your plans to come to the show or come to our Summit and other trade shows happening and another event happening at that time in Spring of 2018. We are going in to 2018 now everybody. I think the most important is staying positive, staying motivated and continue to pursue your goals. A new year is always a new slate. I've already start on my new year's resolutions, some working hard on building up this Global From Asia Community. Working hard on the Cross Border Summit. Working hard on this Paraliving Inc and Sisitano Brand. Getting this Amazon e-commerce stuff going and we already has some ideas for products and we will keep you guys updated as we go. Any feedback is always appreciated to share the show with your friends and let's help each other and learn and grow together. Alright, have a great day everybody. Bye bye.
Global from Asia Ecommerce Gladiator Series where you can follow along the progress of setting up a Cross Border Ecommerce business from start to finish. Hear insights of real product research, Amazon FBA, China manufacturing, branding, marketing, and all the blood, sweat, and tears of building a global business from Asia.
Podcast: Play in new window | Download
Subscribe: Apple Podcasts | Android | RSS