Podcast: Play in new window | Download
Subscribe: Apple Podcasts | Android | RSS
Still trying to figure out the best merchant account option for your Hong Kong business? Today's Global From Asia number 86 is for you.
Happy Tuesday morning everyone, yesterday was a great big milestone for me – my son Miles turned 1 year old! I try to get home by 8pm each night to put him to sleep, and I have had to pass up quite a few party nights and networking dinners, but it is all worth it – I'm loving being a dad!
K, enough of the mushy stuff –
So merchant accounts in Hong Kong – aka offshore – or Asia based merchant accounts, has always been a struggle for us here. Banks see us as high risk, and other reasons, so we have been faced with higher application fees, monthly fees, yearly fees, high discount (processing rates), and all kinds of things. Yes, this has been a troubling issue we've been working on solving here at Global From Asia – we've had quite a few podcasts interviewing the merchant account companies themselves, and today we have my friend David Hehenbergr on the show – he recently picked Hong Kong to base his company, setting up last year, and had great timing to have gotten the chance to apply for Braintree Payments which just came to Hong Kong a couple months ago. He tells us the steps he went through and some other cashflow tips – so let's dig in.
Cross Border Payment Recommendation
Looking to send payments across Asian borders? We have a Remittance Partner Recommendation – Aurelia Pay is a leading cross border payment service in South East Asia, Hong Kong and Greater China. With our independent end to end payment network, Aurelia Pay delivers payment within the same business day with competitive, fair and transparent FX rate. Check out AureliaPay today!
Topics Covered in this Episode
We know each other from back in the day – meeting at the first Tropical MBA in Puerto Galera back in 2010, 2011? so cool to get you on the podcast
Intro David (hometown, time in Asia)
So I've been following along a bit on your progress, you've really moved along nicely and now have your own wordpress plugin business – I think you did a great job sharing about that on TropicalMBA show last year for those interested in wordpress plugins as a productized service (episode ——) but what's interesting to me and the listeners is you choose Hong Kong as your location to register the company – can you share your thought process with us
The registration process was pretty straight forward – we got to meet when you were in HK opening the bank account – any special circumstances in company setup process you'd want to share with people getting started?
So one of the bigger issues with having a company outside of USA and Western Europe is getting a merchant account – you have recently solved that by getting approved for Braintree Payments – they just came in April I believe – what was your plan before that? – If they didn't happen to just come along a couple months ago
So the application process for Braintree – what was it like
What is your processing rate?
And now that you have it – it streamlines like Braintree in USA or any other country right?
So how is business, happy you picked Hong Kong?
Also, thanks so much for supporting the podcast by buying the book and video series – I even tried to give you a free copy and you still went to the site and bought it – you rock man!
how can people reach out to you – you have Fat Cat Apps – and also a podcast about wordpress – care to share?
People / Companies / Resources Mentioned in this Episode
Episode Length 33:26
thanks David! Appreciate you sharing so openly, I have learned a few new things too – about how you have the choice of Hong Kong dollars or US dollars and the differences in the fees between the two. I'm really happy more merchant account options are coming to Hong Kong – I have also talked to some other companies who are recently coming to Hong kong – and I hope to get their angles on the show soon too.
I never would have predicted I'd become a merchant account Hong Kong go to source – but seriously it has been a major issue and a block for businesses here – and probably a reason a lot haven't even bothered. So I wonder what you guys are using? I have heard reports from a few listeners that they have had delays getting replies from Braintree for their Hong Kong business – how is it going for you? I'd love it if you leave a comment with your experience with Braintree in Hong Kong, or any merchant account for that matter. – Go to GlobalFromAsia.com/episode86
I also keep an up to date comparison chart of Hong Kong merchant accounts on the blog, I'll link it up on the show notes
So that about wraps it up for this show – I went in and checked for new iTunes reviews – nothing again this week. If you like the show and want to find a free and helpful way to say thanks – an iTunes review is a perfect day to do that. I'm getting emails from listeners, and people like the show – I know iTunes isn't the easiest to leave a review but it means a lot to me as they said it helps more people find the show.
Ok, enough begging this week, I'm off, enjoy the rest of your week – and catch you next week – we'll be talking about Hong Kong travel destinations – a pretty fun one so catch you then, peace!
Download Options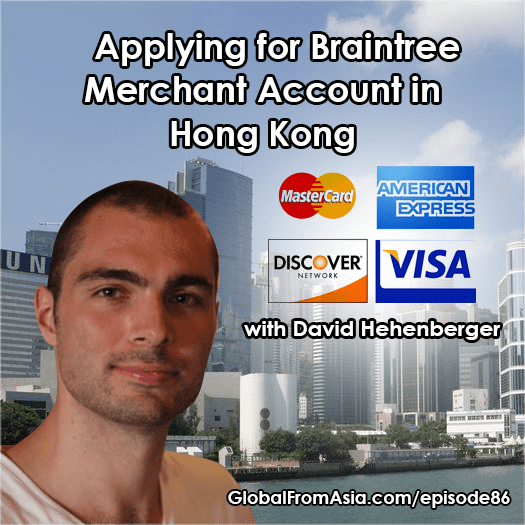 Listen in Youtube