---
This week's show is a cool one we are going to talk about expanding globally, hacks and insights from all these different marketplaces. Our podcast guest is actually one of the speakers at the CrossBorder Summit, Jana Krekic who is an amazing woman – entrepreneur, business owner and world traveller. And since she's working with marketplaces and Amazon all around the world in different languages we had this world discussion about some of the ins and outs as well as what she has seen and experience with her clients and hopefully you can learn some insights or at least point you to the right direction if you are wanting to open a new marketplace.
Topics Covered in this Episode
Intro Jana

Was a pleasure to have her at the Cross Border Summit in Guangzhou, and even more time at FBA4U and Global Sources Summit. Thanks for being awesome

Jana shares about her company

Let's hear about her translation and locationzation company and how it has grown.

Overview of Europe Market

How is it, for us "Americans" and others who don't know

Holland/ Netherlands is now coming to Amazon

News developing of Amazon entering the Dutch market in mid Jan 2020. Will be competing with the local marketplace Bol

Overview of Japan Market

And a quick case of Ivan going into Japan.

Quick chat on Mexico

What is up in Amazon Mexico?

Australia Market

How big is it, how have others been doing there.

UAE (Middle East Market) how is that and what have you heard

Let's complete the international discussion here with the Dubai market of Amazon
People / Companies / Resources Mentioned in this Episode
Episode Length 51:01
Awesome! It's been great to have you on the show, Jana. It's been great to get to know you these past couple of months and I look forward to more things we do together and thanks for sharing with our listeners today.
As mentioned earlier, we'll have the 5th Annual Cross Border Summit 2020 in Chiang Mai, Thailand, November 19-20, 2020. It will be two full days of speakers and networking and amazing, amazing time together to connect with others in our amazing community.
Download Options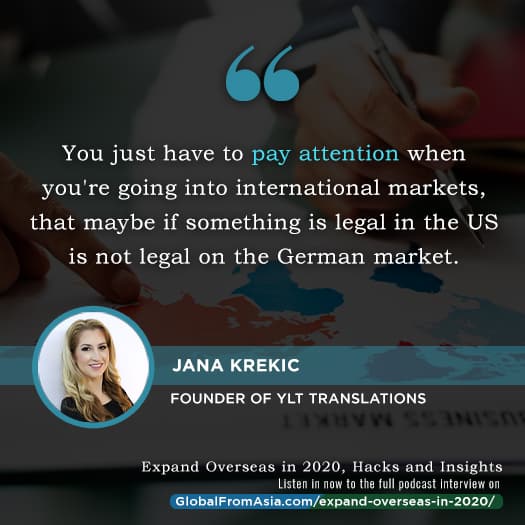 Podcast: Play in new window | Download
Subscribe: Apple Podcasts | Android | RSS