---
We are in MAY – trade show season is almost over and I am not on a cross border bus as I record today – though I am crossing into Hong Kong tomorrow for a day or 2.
Wechat, seems a lot of you are using this app – we have a few mastermind groups we put together to do 6 to 9 people calls to help each other with accountability and busienss growth – if you want to get in on the action, you can add my wechat account, its michelini – or check out globalfromasia.com/wechat for more info
And now this week's show is going to be quite a special one – we have Greg Mercer, CEO of JungleScout giving us some tips on finding the right product to sell on Amazon, with a special focus on Chinese suppliers. There are a few good blog posts we reference, and you can get the notes and links on today's episode by going on over to Globalfromasia.com/episode124 He drops great value on this show and holds nothing back – so without further ado, let's get in!
Topics Covered in this Episode
Introduce Greg

Private Label

What is private label (or white label)?

Reselling on Amazon

Approaching brand owners and distributors in USA

Finding Demand

What's the difference in finding demand and creating demand on the Amazon ecosystem

Determining Competitiveness

What factors and how to know when it's too tough to enter that market

Searching Amazon

Getting product ideas simply by searching Amazon's main pages

Product Pricing

What is a price you should be look for? How important is it?

Product Selection + Product Size, Weight

What's the ideal size of your product

Quantity to Start w/ From China

What is an MOQ that is reasonable, and how many should you buy from the Chinese factory?

Fulfillment, FBA

Getting your products to your customers, trends of fulfillment and third party logistics

Supplier Selection

How to "Sift through" the thousands of suppliers on these B2B factory directories

Sample Ordering

How to order a sample direct from the factory. How long to give it, how many to order, how many suppliers to order samples from

Trade Show & Smart Phones

Enhancing your China trade show experience with Junglescout and mobile apps and the internet.
People / Companies / Resources Mentioned in this Episode
Global Sources Trade Shows
Junglescout's free estimator tool
Jungle Scout post on approaching suppliers
Jungle Scout's case study – Bamboo sticks
Episode Length: 36:13
Thanks Greg for coming on and sharing! Hope to catch up with you when I get to Barcelona in June – will be in town for the DC BCN, the Dynamite Circle european conference for about a week.
Still getting great feeedback from everyone on the Cross Border Summit – i have never gotten emails after an event of people who missed an event and want to MAKE sure they get on the email list for any events like it coming up – so if you are one of those who can't wait to get on the list for future amazing events here at Global From Asia – we do a weekly newsletter and its free, you can jump on that list with regular value and news at globalfromasia.com/subscribe
Or, if you're Chinese, or becoming Chinese – you can skip email and add me on wechat – globalfromasia.com/wechat
Download Options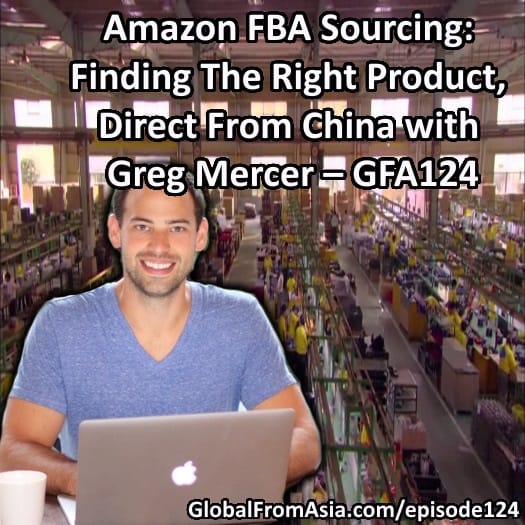 Podcast: Play in new window | Download
Subscribe: Apple Podcasts | Android | RSS