---
Today we are talking about fun stuff – product certifications and regulations! It is extremely important in today's world more than ever. As Amazon seems to be tightening things up and global trade is maturing – we can't get away with saying its not our responsibility as product importers to make sure certifications are in order.
So I'm excited to bring on Fredrik to the Global From Asia podcast today. He's a listener of the show which is flattering for me – as he is an expert in the product sourcing world as a founder at China Importal. Was able to catch up with him while down in Saigon, Vietnam where he recently is visiting from Shanghai, China and we dive into the world of product regulations and certifications when buying from China and selling in the West, enjoy!
Topics Covered in this Episode
Introduce Fredrik

How did you get over to China? And start Chinaimportal?

What - in a general sense - are product regulations / certifications

Let us define it first

How to even know what you need?

Many new importers don't even know until – its stuck at customs? Or the factory tells them? Or their logistics company tells them? Or it sometimes gets all the way through and then an issue at Amazon later comes up, or worse – an end buyer has a problem with the product

Easy product categories versus difficult product categories

In the E-commerce Gladiator series here at GFA – we have a product with batteries and you have been hearing us complain about MSDS reports. Our advisor Meir said this is why we should have avoided products with batteries. Are there any "easy" categories you can share vs difficult ones?

USA vs Europe regulations and certifications

I remember the first time we met – it was in Hong Kong at the old Hong Kong Brewhouse (sad that place closed down!) – and you were talking my ear off on European vs American certifications needed for electronics and other products. I know you guys are experts here and some insights on this would be amazing.

Costs people should budget for

And I'm sure you're always asked – how much should a business owner budget for all of this?

Is it a one time thing or ongoing?

And then for the long term – is this just an initial hurdle or a hassle on a regular basis?

About ChinaImportal

Can you share what you're working on at ChinaImportal and how people listening can get involved?

Thanks Fredrik, glad to finally have you on the show

How can listeners connect?
People / Companies / Resources Mentioned in this Episode
Show Sponsors:
Today's podcast is brought to you by Aurelia Pay. I use them for sending money to my Chinese supplier from Hong Kong – it is a cross border payment solution between China, Hong Kong and South East Asia. So when I need to make a payment to a Chinese supplier, I just hop in to place a remittance, pay to their HK bank account, and Aurelia Pay settle RMB within the same business day! Check them out
Episode Length 40:07
Thank you Fredrik! It was a pleasure to have you on the show, and I am so happy you have been a regular listener of the show as well.
Regulations on your product can be a scary thing for sure! It should be taken seriously too. Consumers don't want to have to worry about their product being safe or not, and it is our job as the product importer and distributor to ensure that happens. We shouldn't just be doing it to check the boxes off on a customs process, but instead to product our end buyers.
Cheers!
Download Options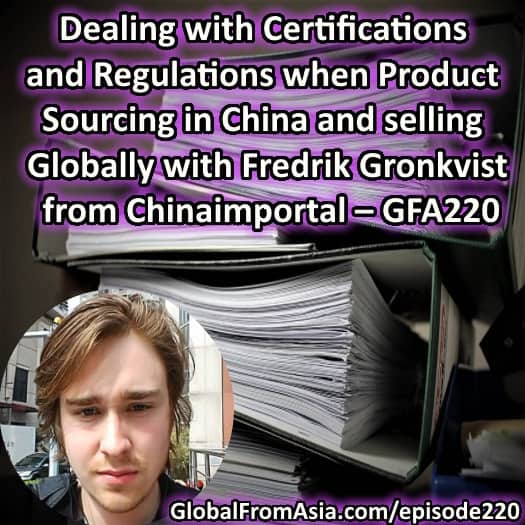 Podcast: Play in new window | Download
Subscribe: Apple Podcasts | Android | RSS