Podcast: Play in new window | Download
Subscribe: Apple Podcasts | Android | RSS
Starting a Smartwatch Brand, Omate on Kickstarter and taking it to the next level – Laurent Shares His Story, global from asia episode 85
Thanks everyone for tuning in – recording today's intro from a hotel in Shanghai and been struggling with internet – got these funky new requirements to get your wifi connected I need to follow their official Wechat account and then I need to register my name, phone number, and crete an account so that I think the hotel and the government can track what I am surfing. Well I hope they like today's podcast as they are probably listening in too?
My weekly newsletter which I started due to my buddy Dustin Ellard pressing me to start getting email addresses and building a relationship via email I was dragging my feet doing it at the beginning but I'm getting more and more emails from reader who enjoy it and tell me wonder how much time it takes me – well I spend about one to two hours on it each Sunday night finding articles and news to put in the newsletter, as well as throughout the week I'm clipping articles I think are relevant for the newsletter and then compile them. For those of you on the newsletter list, you notice the first few links I only share news from other people's sites, and then the second half is news and blogs and podcasts from Global From Asia – this model I based after Dan Andrew's from Tropical MBA as I enjoy his newsletter a ton – so if this newsletter about Hong Kong and Asia business news (and sometimes jokes / scandals) sounds interesting and you're not on the list already go to globalfromasia.com/subscribe
Ok, now on for today's interview, we have my friend Laurent Le Pen – a French entrepreneur who I met in my first week or two when I moved to Shenzhen – we both moved at the same time in end of 2007 / early 2008 timeframe and have kept in touch since. He has done amazing things since then, now the founder of a smart watch brand called Omate , and just accepted into the 500 startups program in Silicon Valley- we did the interview while he was in the office working – and he shares with us some interesting tidbits so let's listen in:
Topics Covered in this Episode
Welcome Laurent Le Pen!
Laurent Introduces himself, his background
How did you first come to China? We came about the same time 🙂
When did the idea for Omate come?
You had an amazing Kickstarter campaign breaking 1 million USD in sales – great job and this is a podcast topic in itself – how would credit the success of this campaign? A few things that made the biggest difference
how was the fulfillment after Kickstarter – smooth operation? I know that is a big struggle for many
And you've made some great deals with larger companies – how did you approache them – did kickstarter help/hurt/no effect on these deasl
and congrats – you're doing this interview at the 500 startups office in Sililcon valley – how was the application process and how is it to be in the program?
For those looking to do a hardware brand, kickstarter, and beyond – what are some first steps they should take
What are ways people can reach your Omate products and you?
People / Companies / Resources Mentioned in this Episode
Episode Length: 25:50
thanks Laurent for coming on the show, best of luck as you go through the 500 Startups program – i'm hoping to get you back on the show and getting some updates. It's pretty cool how he tried to sell his design to some bigger clients he was working with and they thought it was too complicated so he took it to Kickstarter.
which leads me to say Chris Moore told me about a really good podcast about dealing with relationships, building them, and also talks about crowdfunding – I listened to it two times while i'm out on the streets of Shanghai and think you should check it out at I Love Marketing hosted by Dean Jackson and Joe Polish who interview Judy Robinett – it is from November of last yer episode 178 I'll link it up on the show notes- but did help me understand how to be more structured in relationship building as well as validated my excitement for how Crowdfunding is leveling the playing field for entrepreneur GLOBALLY and making the world flat no longer controlled by big brands and venture capitalists – people with creativity and drive from anywhere in the world are now able to access the markets and make their ideas come true.
So good job Laurent, keep it up – and to you the listener- thanks for listening all the way through the show and I'll catch you next week!
Download Options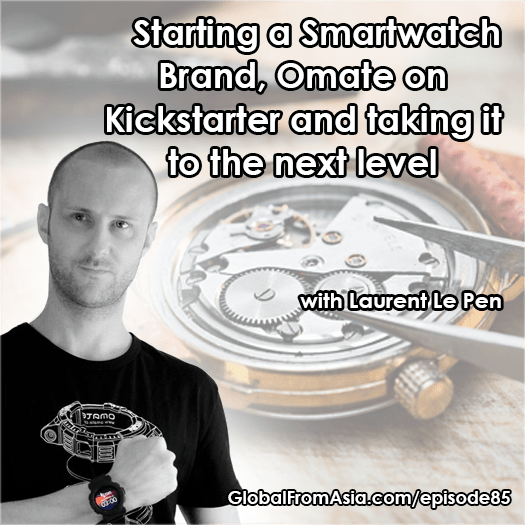 Listen in Youtube