---
Beach day today – Sunday morning as I record today's intro and I am taking the family down to the Da Mei Sha beach in Shenzhen – yes – I think it is the beach where that viral photo online was shared of a totally jammed beach from head to toe of people where you have to fight to get a piece of sand. Wish me luck, it's building memories for the kids!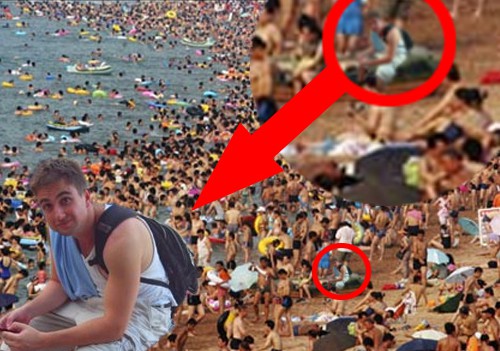 So Global From Asia podcast is now 1000 days old! Boom, will be three years old in October and I am so happy to have you all listening. Here's a cool email I got from a listener:
From: Nick Martin
Jul 19, 7:33pm

Hi Mike,
Superb job with Global from Asia. You're a natural host and guests like Julian Lee make each episode well worth a listen.
I'd like to give you a referral on a possible guest for the show.
Thanks Nick – and yes – please send referrals guys! But I have to admit – I have about 6 interviews already recorded and ready to rock out – so I must get back on weekly to catch up a bit as more guests want to come on and I can't wait.
So now for this week's show – we are in the Philippines talking company setup – let's go!
Topics Covered in this Episode
Introduce David

We met back in 2010 when I was between Manila, Hong Kong, and dongguan quite a bit – great to have you on the show David!

About David Elefant

Coming to Manila

How did you end up in Manila, Philippines?

Philippines Economy

Things have been changing quite a lot in Philippines – the economy is getting better? Or at least I see more and more real estate developments when I'm there

Why Setup in Philippines?

Setting up in Philippines, what is the main reason people do so

Structure

Any common trends you see in the industries that are establishing there?

Timeframe

People setting up there – what timeframe should they look at?

Steps

What's the normal procedure

Different Cities, Provinces

Is it different between Manila, Cebu, and other parts of the Philippines?

Issues People Face

Any hiccups people face? Is it hard for a foreigner to do it?

Needing Local Filipinos

I remember that you need to have local Filipinos at least on the board.

Banking

Banking, this is being a challenge in Hong Kong lately – how is it in the Philippines?

Case Studies

Can you share some case studies or examples of someone from start to finish – say starting an outsourcing company in Manila.

Need a Company?

I'll have to be honest – of course a lot of listeners are hustling entrepreneurs that are working from their laptop in coffee shops. They hire Filipinos on Upwork and other channels – and live the good life – is this OK?

Upkeep requirements

What are the common upkeep requirements?

Contact

Ways to contact David
People / Companies / Resources Mentioned in this Episode
Episode Length: 23:23
Thank you David for coming on! Hope you guys enjoyed a bit of a break from Hong Kong and China. I am planning to venture around various parts of Asia – since this show is all about Asia right?!
Also – the Enter China community I am a part of – we have our webinar on August 3 and 4 next week – you can learn more about China manufacturing and sign up on globalfromasia.com/enterchina
Let me work on getting another show for next tuesday – back to weekly – did you miss it!
Cheers
Download Options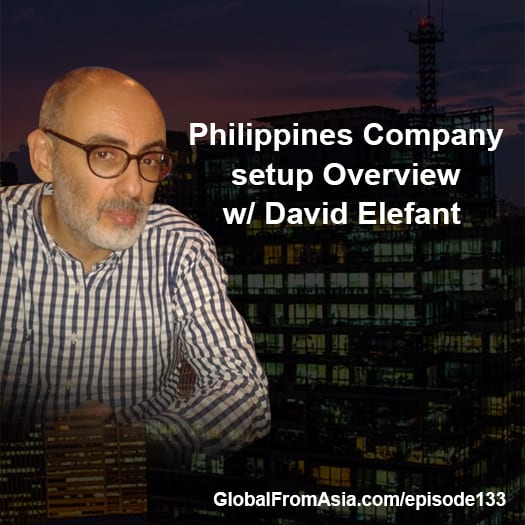 Podcast: Play in new window | Download
Subscribe: Apple Podcasts | Android | RSS