---
Welcome to the Global From Asia e-commerce series – Where you can follow along the progress of setting up a cross-border e-commerce business from start to finish. Hear insights of real product research, Amazon FBA, China manufacturing, branding, marketing, and all the blood, sweat, and tears of building a global business from Asia, now let's tune in!
Welcome to our first podcast on this e-commerce series journey.
Today, we are answering questions from people who have reviewed the new business venture proposal – we are "back in the game" of e-commerce – and want you to apply to be our partner!
Topics Covered in this Episode
Sarah Li Cain

How Much to invest

Phil Suslow

What products?

Gerard

Excited, hapy to hear someone else is annoyed of all the vague e-commerce podcasts not talking about their products

Nihil

I opened up Shopify and Oberlo accounts the other day to see what it's all about but I wasn't impressed with the products.

Carlos

Why Amazon FBA first?

Which Amazon marketplaces?

Ivan from Currenxie

Timing

If we start this end of August – time for Christmas?
People / Companies / Resources Mentioned in this Episode
Show Sponsors
Please show support of our GFA media sponsors as they make this podcast possible to be free!
√ Aureliapay.com Cross Border Payments in Asia
Episode Length 22:30
Thank you everyone for taking part in our first e-commerce series podcast! This is the first of many – and we have the counter with three placeholders – as we plan to go over 100 shows of this series. It will be a long process but we are sure we can make it for 2017's Christmas season.
Download Options
Podcast Transcription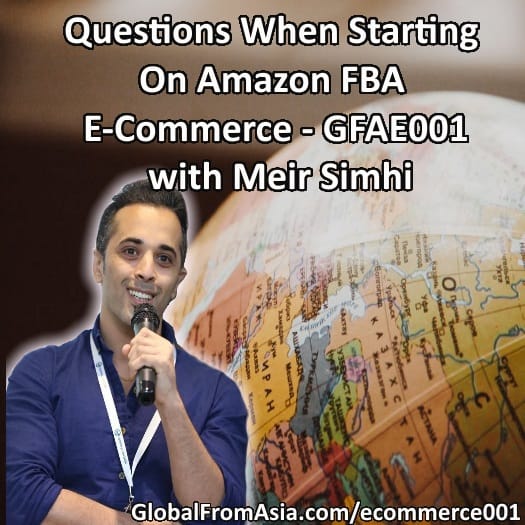 Podcast Transcription
Introduction: Welcome to the Global From Asia e-commerce series, where you can follow along the progress of setting up across e-commerce business, from start to finish. Hear insights of real product research, Amazon FBA, China manufacturing, branding, marketing and all the bloods, sweats and tears of building a global business from Asia. Now, let's tune in!
Mike: Thank you everybody for tuning in to our first Amazon FBA E-commerce series and before we started we have a sponsor, Aurelia Pay. aureliapay.com is an asia crossboard payment solution. I use them to send money from Hongkong and to China, as well as to over Philippines and other locations. So it's a great solution for you to cross border currencies same day if you get it in the morning and all online. Pretty simple. Check them out at aureliapay – aureliapay.com. Thanks again guys for supporting the show. Alright, and now for this weeks' first show for the e-commerce series, which we're very excited about, I brought on the show Meir Simhi, he is a n Israeli entrepreneur and China but at the same time I've been here doing e-commerce and FBA and his inspiration for this exact series. He will be a mentor and adviser for this new company and he's gonna be giving us great insights on today's show. We got a lot of questions that we are already applying. We just put this all on Tuesday and this Friday already as the show goes live and we thought it would be cool to answer these and use these as kinda a getting started to e-commerce what things just to think about, how much you'd gonna invest, where you sell Amazon FBA, what countries marketplaces, branding strategies, secrecy reasoning and everything else. So, let's dive in. And of course, all the show notes will be on this new e-commerce series. We will have it at e-commerce 001, so globalfromasia.com/ecommerce001. So first show, we're hoping to do hundreds of this, so let's take in.
Mike: Okay. Thank you everybody for tuning in to our first series of Global From Asia E-commerce series. We are here recording in OCT loft, near the Starbucks and Shenzhen, China. For this that are familiar with the area, tune it in outside and we have the first person on the show, Meir Simhi, thanks for being here.
Meir Simhi: Thank you, Mike
Mike: So, we've been friends for many many years and we've had talks and belly dancers dinners and a lot of, start of weekends, as well as, even the speaker both cross border summit on 2016 and 2017. We have a great workshop on Amazon and I have to credit you for the idea for this whole series. So, it was just a couple of weeks ago where we have a dinner. We both have kids and we're talking about e-commerce and you said "Hey, Mike. You know, maybe, you just get back in the game. Get back in e-commerce again". I've done it quite some years. I have some limiting beliefs, I think it's what you call that or maybe what it is. So, thank you so much and thanks for coming on our show and the thanks for coming here.
Meir Simhi: Yeah, thank you. Yes, as exactly as you said that I think that you should not be abandoned for a decision you took 5 or 7 years ago because something that happened or bad business experience, so it's time for new ventures.
Mike: Exactly. So, how about you? You wanna share about your background. I mean you have some great, great experience and especially on e-commerce
Meir Simhi: Yeah, so I've been an entrepreneur since I remember myself and I came to China 2007 with the solid idea to do e-commerce. I knew that China is going to be the center of the world and is going to be a major playing day e-commerce industry and I wanted to go to where all the products come from. I came to Shenzhen and I started from nothing basically. I have nothing, I have no network, no connections, no job waiting for me. A little bit experience and a lot of motivation and I've been both strapping as I remember myself built a business and still doing e-commerce.
Mike: Exactly. Yes. Yeah, you've been a modesty also. You also have sourcing operations in logistics support for FBA sellers, which many sellers have been using and I'm happy to recommend. So, it's been great to see both of us develop over the years. We've been checking in with each other at regular basis and we both are growing, so it's really great. So, it's very exciting. So today's series, we're still very early stages of this new e-commerce business and getting quite, it's already a few couple of days since we've even launched here and introduce it to everybody. We're getting lots of questions. So, I thought we will get you on the show and we can just both gonna talk and answers some questions that some potential partners in the business have been messaging us about. So, basically, I'm gonna mention some people's name and maybe some of their questions they might come from facebook comments, or emails, or chat messages. So the first one, which is a good one to start with is, we're all looking for people who invest money in this new business. So, they're saying like how much should they invest, like Sarah LiCain sends me message on facebook, she's like she's interested to invest. She's like wondering how much should somebody invest in it . Well maybe not that this venture is specifically but also maybe just any e-commerce business what you think is a good amount to start with.
Meir Simhi: Yeah, that's a very good question. Basically in ecommerce, there are two different business models, like dropshipping. In dropshipping, the initial investment can be much lower than FBA business where you have to invest in inventory and buy stocks. If you do private label, FBA saw you'll even have to invest more because you need to invest on branding and MOQ, the minimum order quantity will be higher, so the investment will be higher. For this particular venture, this project that we're doing here, I think that the investment should be higher than for a sole entrepreneur that starting a new business because it's going to be a partnership and you need more money, more products, more inventory, more order to make it, to generate enough revenue to support all the partners and so everybody will be able to withdraw some profits, and make it enough profitable for all parties
Mike: Great! So I was, I gave her a range of maybe USD 10,000. It kinda depends on what type of products we choose which goes to this next question, Phil Suslow is in South Africa – an American friend of mine. He says, "What product are we gonna sell?" And I think they impart of us is we don't know.
Meir Simhi: Yeah, it's the ultimate question.So, I would rather to focus on in which niche we will focus and we will sell and not the product itself because product have a life cycle. Products always change but the branding should be a niche focused and this is going to be part of the project, the research – the market research, the competitor's research and after a thorough research, you can get a good idea for the niche and products and adjust it to your resources, to your money, to your investment, and other resources like what kind of manufacturers, you know what kind of suppliers that you deal, and also you should have a little bit of , how you call it, rapport with this niche, with this products. You need to have some kind of passion.
Mike: Yeah, so I think, I've been telling the people, too. Yeah, like you said, we'll pick a category. Pick a category and then, of course, pick one product to start and then go on from there to expend some more product within that niche so that you can have that cross promoting value of your customer base on experience and then Gerard. You know Gerard. He was a speaker in the summit and he is in Holland and then he was saying, he was excited to see that we're putting the product out there. He's been annoyed that the vague ecommerce podcast out there that don't really talk about their products. She would be worried about what product we're selling out there and what you think there.
Meir Simhi: Basically, you have to worry and she'd going to be the best . You're going to make it very difficult for your competitor to follow you . So yeah, the idea of this is to create inspiration and then inspire people and maybe even inspire your customer and suppliers, your listeners might be your buyers, if they see how much effort and energy you putting this brand. Create a very good and valuable brand and high quality product. Maybe some of them would prefer to buy from you and not from someone else. And brand is something that you should promote and not high.
Mike: I agree with that. I, myself was selling in Amazon. I really remember where I got so crazy. I got out like 2012 but it wasn't that one stand but it was mostly eBay. Even eBay sellers, we didn't height our products as much. I feel like Amazon sellers are really crazy about hiding their products more than even eBay or website. I have my domain name or par store. I tell people, "Are you still there?" I mean, we're gonna make a website for sure. We're gonna tell everybody where we got the links to, we're gonna link to show. We're gonna promote it everywhere. I think also , maybe one thing I'm less worried about is I think, from what I understand in Amazon now is you need to report to a trafficker. You just can't rely from an organic traffic from Amazon, so we can drive traffic from social, from web, from all these different sources. So I'm excited to reach out from bloggers and then industries and other podcasters and stuffs. So I think that could sound interesting. Nick Hill, he is in New Jersey, actually a college friend of mine. He said he's opening a Shopify store and he uses Oberlo for dropshipping.
Meir Simhi: Yeah, it's an extension to plugging to connect your Shopify with Aliexpress. Some sort of shipping.
Mike: He doesn't seem so happy with a.. He's interested with applying for the program. He's reviewing the application process but yeah, I think, you mention dropshipping. I'm actually a dropshippee from bar products. I have like 50-60 dropshippers but then when I start to compute, I notice they were competing with each other in eBay or websites and sometimes, they're getting more choosy about overlapping with each other. So, it's true . I don't want this business to dropship. Maybe other dropshipping channels but yeah, I feel like, it's more hard to differentiate yourself. He's really getting frustrated. He wasn't impress with the product selection.
Meir Simhi: Yeah, this is one of the pain points in this business model. The only advantage of this business model is that it can allow newbies and people without experience to make their first step in e-commerce without big risks, without big investment but that's all it does. So, if you wanna build a sustainable business for the long term, you have to differentiate yourself to build a brand and make something that can last.
Mike: Okay, cool. And then yesterday I was in Hong Kong on Tuesday this week the moment we announce, I was meeting people. They were like curious to talk to me about it. So I meet one guy. He might not join 'cause he's doing his own platform in the Philippines. So, he is a Filipino, Carlos, and he's representing a lot of Filipino products internationally but he felt he was confused while we were saying Amazon first. We're basically focusing in Amazon FBA. He says, he feels he doesn't want to go to Amazon because he feels like it commoditizes his brand, commoditizes his product. So, I felt like, yeah, I think he would say the same. You want to go one channel first and then multi-channels and I think the best choice now is FBA because all the customers are there.
Meir Simhi: Yeah, so this is a very good question. I said that in my speech in the cross border. Most of the sellers, the private label sellers, FBA product sellers, they're winning to private labeling in order to sell 'cause without their own brand they would have compete without the people in the buy books. So the only idea in creating their own brand came up from the need to protect their product pages on Amazon. This is the wrong reason to get into this business. So instead of creating brands, creating private labels in order to sell in Amazon, you need to sell in Amazon to build your brand so he has a good point. Once you have a solid brand, Amazon is just a channel that personally I would prefer to give a distributor to manage and I would not manage it by myself as a brand owner but when you just start to build your brand and you're still not familiar, still have no awareness , you can leverage Amazon. You can use Amazon as a tool to build your brand and to get your first customers and build a list and then drive traffic from Amazon to your website and to your list and to your private channels. So the idea is to leverage Amazon to use it as a channel to build your brand and not building a brand in order to sell in Amazon.
Mike: Yeah, I mean we're gonna register a brand as soon as possible
Meir Simhi: Yeah, right now, it's a must, especially because Amazon change the brand registry program. Now it's called brand registery 2.0 and in order to join, to apply, you have to have a registered brand in the US. You have to have a registered trademark. Otherwise, you can't join this program.
Mike: So, I have this few trademarks I've done in US. I've done it for a couple of years but it just takes time to process .
Meir Simhi: Yeah, it takes about 6 months.
Mike: I see. So, actually, some people also ask. I guess, I'm hoping to hit the Christmas season for this business.
Meir Simhi: It's doable.
Mike: Yeah, it's doable.
Meir Simhi: Yeah because we are in China and everything is faster. You don't have to wait 2 weeks for a sample to arrive. You can get it in 3 days. So all logistics part will be much easier. You have a big advantage being here in Shenzhen, China, the center of everything in e-commerce and then it can take about 4-6 weeks to launch the first product.
Mike: Okay. It's exciting and Ivan from Currenxie, one of the supporters of the Global From Asia events in Shenzhen. He's asking me, he's really curious of course for his business, because he helps some marketplaces, he's trying to say, he's very excited to see the news and he message me what markets like. I have also Wilson, another seller, a friend of ours, he's suggesting not US anymore or anything like Europe market. I'm not sure if.
Meir Simhi: No, I don't agree.
Mike: You don't agree?
Meir Simhi: Yeah, I don't agree.
Mike: And so we go to US, you think?
Meir Simhi: Yeah.
Mike: Alright.
Meir Simhi: It's the most native place to start.
Mike: US, then Europe, Canada, Japan.
Meir Simhi: Yes, but US is the first place.
Mike: Then Singapore just announced that yesterday or today, I heard.
Meir Simhi: Yeah, India home market is opening. Australia is going to open soon
Mike: Very exciting times. So that's all I have today. We're gonna figure out . I hope to have you, you know, you're kinda busy. Thank you so much for sharing. You've been an honest adviser, mentor in a way, following this closely and I wish you guy every show will try to get in more often and we will talk as it develops so this is the first show. The next couple of weeks, we're still on application process. You guys listening , application deadlines will be August 8th. So I know this people message me already, they said Mike, wait for me, I'm still preparing their application coz they still have time so please guys consider it. Some people say they don't have a money or they don't have time. If you wanna be involve in this in any way, we wanna hear from you and we will use this to learn more about how we can help everybody in the future. There's lots of ways we can help you, like one listener named Lily, she's working in a day job. She wants to get out in 9 to 5. She's interested to some dog pet supply products. So, even, you know, we wanna just hear from anybody. Meir is also gonna be reviewing. I think he's gonna go through some of the reviews and give me some advice as well in the applications. So I think also I will try my best but I can't promise to reply everybody's application depending on how many but I'll try to give you some personal advice even if we don't know accept your application at this time but its exciting time. We wanna keep sharing as we go. Thanks again Meir for the idea that you share on the first episode and I'm excited to see what happens.
Meir Simhi: Yeah, thank you and good luck. I'm positive.
Mike: Exciting. A lot of meeting this week. A lot of bigger people are interested to. Thanks everybody for listening.
Mike: Awesome, Mier. I think this is a great start to our new e-commerce series and we're gonna keep this every week, Friday afternoon. Let's say 2pm Hong Kong time. Kind of like your weekend. As always, globalfromasia.com as the main site and if you wanna go directly to this show notes, globalfromasia.com/ecommerce001. The number 0, the number 0 and then 1 and it will get you there. And thanks again Aureliapay for sponsoring the show and supporting us to continue these. Cheers!
And if you're listening to this one, we just published it, so there's time to apply. People have already been applying. There's also people who are working in their applications. You can check that out also on the shownotes and you have until August 8, 2017. Now with the amazing feedback, we will try our best to get back to everybody and at least give you some insights if we don't choose you guys.
Global From Asia e-commerce series, where you can follow along the progress of setting up a cross border e-commerce business, from start to finish. Hear insights of real product research, Amazon FBA, China manufacturing, branding, marketing and all the bloods, sweats and tears of building a global business from Asia.
Podcast: Play in new window | Download
Subscribe: Apple Podcasts | Android | RSS