Podcast: Play in new window | Download
Subscribe: RSS
Hope everyone is having an amazing Tuesday morning, life is just amazing and we should all be so thankful to have this opportunity to live in today's world and make a difference. It was this kind of a iTunes review that got me in this awesome mood – let's read it off:
5 Stars
Shenzhen James
in United States
title: Wow learned a lot
Stumbled upon this podcast from a Facebook posting. This podcast has inspired me to move to China!
thanks for that James! Amazed this podcast was part of your decision to move out to China, rock on!
I have been building up my official wechat channel and man – that has been amazing at reaching people in China. This podcast is also syndicated there and if you use the Wechat app you can find it by searching my name "michelini" or I'll put the QR code here. Because of the big push for the webinar this Thursday April 2nd, and talking to a few listeners – I am going to try some "micro phone calls" is what I'm calling them – 1 hour calls (no video) where I'll host up to 10 people on a group call and we'll cover a topic. I'm testing it at $10 bucks a person to get on the call, and the first topic will be Tuesday April 16th at 9pm Hong Kong time talking all about Wechat for your business, since there are so many questions about it- to cater to the European community that missed out on this upcoming webinar due to timezone issues. Interested to learn more check out globalfromasia.com/call
Ok, now for this week's show we have Winston, the first China video blogger, famously known under the username SerpentZA. I have watched a few of his videos over the years and I know a ton of people who have moved to China based solely on his videos! So it is an honor to have him on the show, and I listened to his interview on Limitless Laowai, and I was intrigued about his mentioning Chinese business partner hiccups, so today's show we are focusing on some tips and advice when seeking out Chinese partners for your company.
Topics Covered in this Episode
I've watched your youtube videos and its cool to connect – I'm still shy to get behind the camera, microphone is already far enough for me for now – ha – so do you mind explaining how you got to become a video blogger, the first in China!
China radio international – cool we got to meet there!
So our podcast is about business in China specifically experiences and tips in finding a Chinese partner, you ready? 🙂
We all learn in China by doing, at least the 2 of us for sure – can you share some of your first business endeavors and working with partners in China
How did it turn out?
Was there ways it could have been done… better to not get into any issues later? For those listeners to learn
Care to share another example of a business venture with partners?
How about your current business – Churchill Customs – how is that going and how did it get started?
how about the business partners this time? how is that
What is a good experience you've had with a Chinese business partners
What are some of your tips for those Westerners looking to find a local Chinese partner?
Ways people can contact you and your business
People / Companies / Resources Mentioned in this Episode
Episode Length 34:28
Thanks Winston for coming on the show – he and I were a bit worried this was a big negative on the Chinese business partner stories, but I think this is the most valuable advice you can get. I think the book The Art of War is a book one should read to learn the mindset of Chinese business – but I believe it is really about cutting out the middle man, going direct, if someone is seen as not adding value anymore, cut them out. We'd love to hear your own experiences, so leave some comments or reach out to Winston or me.
So that is all I have this week – also just to mention again my new micro-calls – for a limited time its only $10 bucks instead of my normal consulting rate and it will be a private call of a few of us focusing on 1 specific topic, you can ask questions, hear other people's questions, and of course I have insights I can share between questions. Check it out at GlobalFromAsia.com/call – cheers
Download Options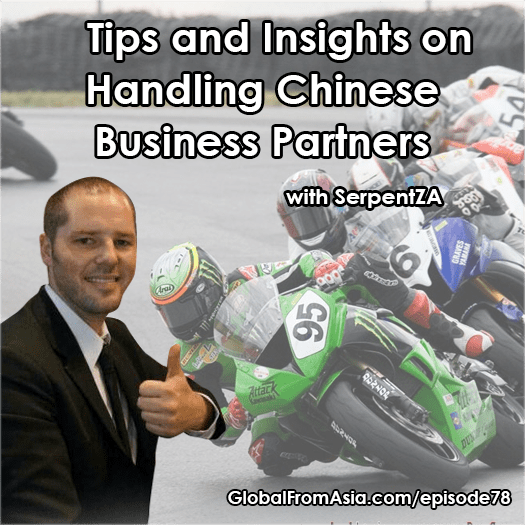 SerpentZA Podcast Transcript
Michael Michelini:
I want some tips and insights and deal with Chinese business partners today you're in for a treat global from Asia Episode seventy eight .
Introduction:
Welcome to the Global from Asia podcast with the daunting process of running an an international business from Hong Kong is broken down into straight up actionable advice and now your host Michael Michelini.
Michael Michelini:
I hope everybody is having an amazing Tuesday morning life is really amazing and we should all be thankful that the Opry we have to live in today's world and make a difference is kind of reviews, I got an iTunes below they get me in this amazing mood let's read it off five star from Shenzhen James in the United States titled While Learned A Lot, And he said he stumbled upon his podcast from a Facebook posting and it's inspired him to move to China that's pretty amazing there James so ahh why that happened and ahh and let's let's keep making things happen.
Welcome to China so I've been building up my official we chat channel service account and man it's been really reaching a lot of people here and this podcast is also there syndicated So ahh if you want to listen We chat maybe i Tunes is blocked in China or not working so fast you can also use Wechat, you can search on a Michelinie or I'll put a Q.R. code there but ahh do that big push I'm getting some people asking do phone calls about we chat how to setup the accounts, you can listen to the to the absolute seventy three with Brant Everman where we talk about we chat marketing but those even listen that want even more insights and ahh some of my friends and listeners have been suggesting I should make a little money from this help so I want to do a ten dollar one hour call for ahh call in and we'll do a group talk about Wechat marketing on Tuesday April sixteenth at nine pm. Hong Kong time and will be all about we chat for business since there's so many different questions is changing so fast I did it this time to try to make up for the web in our That was a middle of night for the European listeners so we'll try and nine P.M. Hong Kong time April sixteenth you want to check out.
More info go to Global from Asia dot com slash call.
OK now for this week's show we have Winston the first China video blogger famously known under the username SerpentZA and I've watched a bunch of his videos over the years and it's always entertaining and informative and also I have met people who have moved to China based on his YouTube series so just like James and the beginning a show there's a review podcast helped him move to China I know for a fact I've met people that ahh Winston has influenced to move to China so we are honored to get him on to show today I actually also listen to the show interview are limitless low why where will link in the Show us to if you're interested in listening there and I thought would be amazing to talk more about his China business partner experiences and hickups and learning lessons that he mentioned briefly on that show an expert focused a whole show today about that so we're get some tips and advice when seeking out business partners for your business so let's get into it.
OK Think your way for tuning into the global from Asia podcast we have with us a special guest ohh some of you might know him as Winston and others serpent ZA ahh and youtube and ah am really happy ahh .
I've watched some rary to videos over the years and it's ah it's ah I'm still personally shy camera but I I got a letter from you, microphone is enough for me but ahh thanks for being here Winston ahm and ah need to introduce yourself for a by.
Winston (SerpentZA):
Yeah sure well it's a pleasure to be here as well ah yeah, My name is Winston as you mentioned symptoms a day is what I'm more well known as and ah I'm basically just ah mainland China to be logger,
Michael Michelini:
Oh so yeah I mean I'm sure anybody searched on YouTube about China they probably bumped into one of your videos how many do you have one mainland.
Winston (SerpentZA):
Alright got around about five hundred thirty videos at the moment.
Michael Michelini:
Amazing yeah and ah we we thank you for inviting me you just were interviewed on the China Radio International here in shenzhen so ah that was a great one do you want to maybe give people a better idea what happened there?
Winston (SerpentZA):
Sure well you know I got contacted by China Radio International they're doing a special series of documentaries on you know prominent South Africans living in China and and ah as you might know and ah British of a South Africans so you know I grew up in South Africa i was born there and my parents are British So my mom came up and they flew down from Beijing to come and interview me and ah follow me around for three days and then bring together the documentary which should be you know should be up in a bar three weeks of serve anyway here is a very interesting opportunity and I thought you know they're coming to film what I do they want to film me making me to videos and so mild word and my motorcycle company now for the last minute will be quite interesting if I had a subscriber meet which I would like to have every once in awhile so I would have I'm still a subscriber meets and they could come along and meet some of the subscribers in and see firsthand the videos do actually reach people so I just put out ah invitation on my Wechat and only log go and Youtube the day before and ahm
then you know a whole bunch of people pitched up which is fantastic and it was really nice to you know what you had there was a lot of fun.
Michael Michelini:
Yeah yeah it was cool
Winston (SerpentZA):
Yeah and we all got to go out later and ahh have a big dinner and beers together so it was actually quite a lot of fun
Michael Michelini:
Yeah I'm glad you do that and help build build a community here and ah help each other out there others people that had some questions and you're helping the Mansours So that's that's amazing thanks thanks for that
Winston (SerpentZA):
Yeah I know what is.
Michael Michelini:
Sure so you know I know I like your tagline it's like China Adventures flakes and beer.
Winston (SerpentZA):
Yeah
Michael Michelini:
And said pretty cool topic I'm more you know focusing on the business side I'm sure we can link to your videos and ah ahm you have pretty awesome videos on your buy and sell here ventures but ah I'm thinking today we can talk about some experiences and tips on Chinese business partners that you've been through and that people can learn learn from what we think of that?
Winston (SerpentZA):
Yeah I think that's a good idea and ah it's definitely something worth discussing you know it's..ahh
business works very differently live and there than the rest of world.
Michael Michelini:
Sure so I'm like you mentioned your church ahm motorcycle customs that's ah. That's something that's doing now me will first star a little bit earlier so you've been here longer than me and they eight eight years nine years?
Winston (SerpentZA):
Nine years
Michael Michelini:
Nine years ohh and yeah ah we're both similar in some points like I learned by doing and I think you just came out here came out here to and learn by doing so maybe maybe give us some ideas in your early days coming here and doing business ?
Winston (SerpentZA):
Sure you know as I'm sure you're not doing business in China really the correct way through the right channels is very difficult and ahh you want to start a business there are all kinds of rules in place that prevent foreigners from actually starting businesses here you do need a Chinese partner for instance and ahh all of them to licenses you know this is a real nightmare and ah I found thats basically to do business in China is we should just do it really now start a business and see how it goes and when you become successful in. Getting the paperwork and stuff so down later it really does into the law to get things done around it.
Michael Michelini:
Yeah I would I would agree I mean it's not I think just for the audience there are ways to do business in China without local partners but yeah like you said it's a lot of paperwork and ah and some overhead so yeah I kind of agree to first just just do it and ah and ahh get it get started and learn on the ground I think a lot of people try to study ah like this listeners podcasts or watching here in youtube videos to try to figure out how to do business here and live here by obviously the best way is just just to get out here and spend some time alright
Winston (SerpentZA):
Actually yeah I may not I never would like to you know I'm not trying to encourage people to do anything illegal or anything like that that's not what I'm trying to get out here it's just that the system is it is very flawed ah here in China and the although it's got a good idea behind it it doesn't actually work and I've made a mistake before trying to follow the correct procedures to get a business going and it ended up costing me a lot of money and it was a failure and it just wasn't possible to get it off the ground because all of my capital should have been invested in the business itself went into all these ridiculous you know procedures that you have to follow through and then you have to meet with the right kind of local government people and then you have to take them out to dinner and it's kind of like and one she spends of bottles of cognac and uses meetings which wastes time and money and at the end of the day wasted your capital new Can't Get Started ahm and I've had other situations where you start something you have the idea you put it can you actually go ahead and begin what you want to do and then you get the interest of a local Chinese person who says one has a good idea I want to partner up with you and let's get this was the ground properly unless you know the licensing and so on and so on so you know doing it that way seems to be better than trying to close put your idea to fool you know going through illness that's a.
Michael Michelini:
Sure you know I don't want to pry to us but maybe I loved it Kerry somebody or some of your stories those early days.
Winston (SerpentZA):
Sure sure and I, I learned the hard way that when you are in China dealing with local Chinese businessman and Chinese partners that being a foreigner pretty had a big disadvantage and that you will always and I mean always be second to other Chinese business interests so instead of I'm trying to think of the great way to word this for this just say hypothetically you have the risk situation you are dealing you you have a product and you are dealing with a middleman and you're busy you know this this middleman deals Well you're helping middle Sorry I should say on the middle management I'm the guy who is providing the clients for a factory here on ok i'm the sourcing and solving like yeah I have clients in my country and then if they find me and they're looking for a product which I help them to develop their albums and find exactly where they live people and I do all of the negotiations and I do everything that's necessary to to open up the channel between two countries for instance well you know inevitably you'll find out that the orders stop coming in and ah communication breaks down on both sides of you wonder what's going on to find out that the factories are not dealing directly with your client or vice versa so you know this happens a lot which is very unscrupulous yeah.
Michael Michelini:
Yeah yet I've mentioned on the show a couple of my experiences points yeah like I think a lot of times people back in our home countries don't realize a lot of work that we've done and on the ground the investments sometimes it's you know I think we can also pick the Chinese about it but I also have some points blame also for some of blame on the buy side thinking that we shouldn't be in the middle of or you know we are necessary. Or I had it were a company would send samples to my to the factory trying to cut me out and they didn't know that I was at the factory when the package arrived of their sample.
Winston (SerpentZA):
Yeah (laugh )
Michael Michelini:
Yeah (laugh )
So.
Yeah I think it's you know you know I think we can also kind of playing the buyer to our little bit but ah
Winston (SerpentZA):
Yeah one thing that I must mention since you're on this topic is you've always going to watch out for your supply chain because the way it works in China is this is sort of shifting of the brain so if you sit up ah nearly right now I once heard this whole set up where I went to factories to slows since.
So often charges right and ahm I took a look at the products of the products were fantastic and they seemed great and you know after testing and making sure that they were the right thing we went ahead and place a big order for a company. And ahh so the everything seemed fine and the boxes arrived there was that our five boxes of these things arrived However what ah what what transpired was that the samples that I tested at the factory were just sort of not the same they'd replace the batteries inside so the batteries of the samples that I tested were great because I actually took test the equipment to make sure that they can handle in a little bit in good condition but once their arrived that time actually I had a very
secondhand you know refurbished factories inside of me just in mass and ahh when I brought this up with a supplier complained they just had an excuse that oh it's not their fault it's another factor is false and others you know down the supply chain trying to move it along and it was a incredibly frustrating and a lot of money was lost.
Michael Michelini:
Yeah I ah they were she beat up and had beers cry to each other about this and similar similar situations and of course there are. He paid up front right they'll never and it's always by like a paying interest no credit card ah chargebacks or anything so ahh yeah theirs ah they know that you can't can't get the money back
Winston (SerpentZA):
You know there are so many pitfalls and I mean we're talking basically about training here and moving products across that does so many pit bulls and there is an agendancy in China for people to try to make a quick buck you know just get some money now they don't worry about the future and they're not really interested in your future business this isn't always the case but it's a really lots.
Michael Michelini:
Sure.
Winston (SerpentZA):
Ahh anyway I had there is something I like to you you mention Chinese business partners and I do have a story I like to share with
Michael Michelini:
Yeah you outlaw I'm learning I'm open ears here
Winston (SerpentZA):
Well I got banks fairly badly many years ago when I first got to China after my initial baptism of fire as you could say.
Michael Michelini: (laugh)
Winston/Serpent Za
I Ran out of money and ended up on the streets. And ah I didn't really know I was doing and I met this guy his name was Eddie music really really good friend of mine and ah we should've lived together in this from area of Shenzhen and stayed on the floor in his apartment not a book and ahm you know we kind of we went through some really hard times together in and I not so we formed a pretty good bond good relationship a good friendship and once I was back on my feet finally I decided that I would start some kind of business because not my friend Eddie could speak English really well and ahm you know he's he was a decent bloke decent bloke so I basically started a business where I would help people who were coming to China you know or to source products and ah for whatever reason really any foreigners coming to China very needed a translator or needed to go and source products to get my friend Eddie to to a accompany them so I'd kind of get it will bring the new into China from Hong Kong get them into the hotel set them all up and then you know the next day and introduce you to Eddie and Eddie or take them to the suppliers and done find what they needed to find him wining and dining and entertainment and stuff you know you would basically look after them if they needed any so you know I set him up by I got him suits you know them over sold out business cards olds and we were in in a partnership right there basically and the business started to take off we had a couple of times and you know then business just seemed to fail because we never had any repeat crimes and I was wondering what was going on and then one day I was sitting in the bar in Shenzhen and one of my clients was there with Eddie (laugh)
Ahm and he's being you know basically just stealing all the clients and keeping him keeping me nicest on personal clients and they'll been coming back and they've been lookin after them and all this is you know yeah my knowledge and you know it thought me they're real harsh lesson at that point because this is a guy that I had a really close bond with you know this is a really good friend of mine and the fact that he and you know the crazy thing is like probably a week before that he'd actually come to my birthday to celebrate my birthday with mean the world smiles and everything's crew and you know and then the next biggest thing is he was there actually seeing my clients which is a big big knot to me so yeah I think something you have to learn is that as a foreigner a nice feeling given It seems like the friendship are so find it read it comes to business I think that they can be you know in general Bailey cuts roads and there was that business before friendship or me my you know that's that's basically my experience.
Michael Michelini:
Yeah I I have to say I'm ahh you know actually kind of in a situation. Currently And it's not a full on business from selling a project and it's becoming somewhat more of a business.Ahh and yeah like it seems like when it comes friendship terms of the business I mean I think that's kind of in a way true anywhere in the world but I think especially I think we have to highly China that things do change and then they start to weigh out like what's the value because they're all Chinese so they feel like what's the value of a foreigner after like they get the customer right they feel like we're just like that he was treating you like a lead generation right here we're bringing in the lead and I guess you pick a, I don't wanna pick any scab here but you know I guess he felt that the he once he had the customer there was no more value you could add in the transaction so you know I think China's all about it I guess the the culture is a way of cutting out the middleman and it creasing margins you know it's a two to make as much profit that they can I think it's just maybe in that culture and I think they do it to them
Winston (SerpentZA):
So sure
Michael Michelini:
Sounds to me and I think it's not only to foreigners that I have in a way I think that sometimes that's why Chinese I do business with for is more trustworthy in ahm trusting way because they they don't expect the foreigners to be as cutthroat to reach out to them as Chinese the Chinese So you know I just try to live their perspective on the situation and I think that the Chinese want to do it to their or their or own two situations it's yeah it's really a sad so you know I said situation you have yet to comment on Honestly I think you have to try to figure out in your business to control the customer control what you said earlier about the supply chain the more the cash flow or the product for or some communication flow like ahh ,
Well yeah its seems ahh I think it's really the lessons to be
Winston (SerpentZA):
Yeah I think it's it's incredibly important for you to build in some kind of feel serious into Deane's In other words make sure that your clients do not get your a suppliers on contact details for instance or have some kind of explicit agreement with them or in my case of Eddie is I should never allow them to to interact directly with the clients I should have actually just spoken to him and asked him to find out information for me which I could rely on to clients you know not who will be unwilling to prevent that situation from happening now ahm You know there's something that we should actually mention here and I'm sure you've come across this before all but in in China there was a actually saying which is a nun and G O P N Which means if you can cheat then cheat. And then Have you ever come across this idea before
Michael Michelini:
But suddenly I much my idea level isn't so good but I think it in culture I think of that that top twelve me in english in experiences yeah
Winston (SerpentZA):
It's it's very very how can I say and you can you can see it very clearly when you for instance shop in a market right you go to reside on MN for instance and you try to buy a T. shirt you know give you a price of like a hundred R. and D. as the first starting price and ahm they're expecting you to bargain right the very throw that number up there and if you accept that number then they went and they feel happy about it right but if he said to them you know how did our M.B.A. Oh you crazy I'll give you I'll give you twenty and then there's ahh how about twenty five and then you say no no no you leave twenty and then you walk away to say OK come back you can have a good twenty you know it's part of the cultures I think you have to be careful of that people don't actually feel remorse when they cheat you
Michael Michelini:
Yeah I think
Winston (SerpentZA):
Yeah
Michael Michelini:
I think this is yeah I think what I think it's. Cocks lets and they sound bad but like conscience he shouldn't feel guilty if you can steal something or take something like yeah it's not a problem unless your quotes like if you can do something and not get caught it's like not that
Winston (SerpentZA):
I think it's good for them it's ahh if you can and then you lend so if you manage to charge someone a high price for a product that means you're just smarter than all of the you are just ahh lucky or something like that so it doesn't even have a negative connotation here it's more positive if you manage to cheat someone then you know you feel one of them and it's a good thing and it's something to brag about you know so I think that's what we have to be very careful of when dealing with him in China American when it comes to business
Michael Michelini:
Yeah yes I hope it's getting better but I feel feel like we still have to tell these stories I mean there's a lot of different generations of Chinese right so I think you know would you want or do you want to think that the other terms like more more westernized Chinese are different or I mean
Winston (SerpentZA):
Sure sure there's a huge difference in generation to dump to get you know the way the Chinese family in work says it's the grandparents that are actually raising the children so a lot of the older ideals in the earth are sort of in bit in the child's psyche at a young age so it takes a long time for the roles they need to to not sort of median are basically it's it was done to this I have so many times seen ahm tourist here in Shenzhen were in China in general they go out to shop and the shop owner will sit under this costs whatever and it's an example of the high price for it because it's still. Cheaper than saying American present one of the buying used is an awful order it is now they can go again a problem not a bad price and they buy it anyway and you see this and then you know the customers kind of seems happy and the seller was ecstatic because they just made fun and it's improper to order and so it's almost seem like there are in business here in China that they're always trying that it's all about bargaining in this country so you know you're not you know going to get away from that you just have to be prepared because really as far as usually a little shy you know we've got to shock we don't want to bother you feel uncomfortable getting a lot of there's. We have to overcome that barrier it wouldn't be doing business if Chinese people you have to blog and you have to say that's not good enough if it's any cheaper you know and you know websites like Target are high tumbler fantastic because now if I ever need to go buy something in the shops anywhere here I look at up on tumblr and I see I was going for six hundred R. and D. So when I go into the shop and they try to charge me the dollars and I will show and talk about a link on my phone and say look at the six hundred here give it to me for six hundred or I'm out of here you know you know.
Michael Michelini:
Yeah it's is finally catching up with the e-commerce is actually probably even better now in China than in the West you know I mean everything every I order something I get it next day so it's pretty amazing
Winston (SerpentZA):
Yeah that's great
Michael Michelini:
So you know I feel a little bit let's try to live more positive.
Winston (SerpentZA):
Yeah sure I have been a very negative effect.
However if you are talking about the pitfalls
Michael Michelini:
Yes sure I mean of course I think I think these hard talks are you know our listeners listeners today should be very perceptive for mean this is the stuff that save them a lot of a lot of of the pain that you and I have been through so yeah definitely but I think things are things of seem you picking up for you and business maybe you want to talk about Churchill for some support and. And that's its
Winston (SerpentZA):
Yeah absolutely what you know that's that's the other side to China is that there is a lot of opportunity in China once you know the market and once he not how things work here then you really can make a business work and with Churchill customs it's a very simple I have took a hobby of mine which was you know fixing up and building all those cycles and something that look nice and cool and it something I was doing on the side of the road and of my just downstairs from my apartment and ah you know I met these other guys through my YouTube channel seem OK and then I'm on to dump Lynch mint and it to us while the three of us decided it we all kind of shaped the same passion interests motorcycles and then we should open a shop so we did you know and. We we got enough attention and a lot of people saw it we were doing and we got it the chinese partners came to get all the licensing etc done and you know he's just a silent partner who is. Sitting on the sidelines and letting us do pretty much everything we need to do he's very happy and he's also a bit of a bike enthusiasm self so things have really grown into quite quite a fantastic little thing it's a it's a really just a hobby turned into a small business and you know it's it's such a wonderful place for me to go on Monday and Tuesday because I go there every Monday and Tuesday it's like friends hanging out in the shop we did a lot of work but at the same time we messing around and we have a YouTube channel about the shop as well you know all the antics that we get up to, you know it's really rewarding because we get to actually make bikes that we send out all over the country and in fact you know we just finished the bike is going out to Shanghai and you know we could ahm Which is quicker we don't find something don't they.
Michael Michelini:
Great and they're all over one lung and. This is far from great and they will link that up on the short answer to some people took over a channel.
And so some happy for you really really I think that's the thing about China is it's a stick with it are going to I don't want to have been able people you probably know make some mistakes and lose some money but I think when you just keep on ah though you keep on being positive and keep going for the right so
Winston (SerpentZA):
Sure I don't think that people can learn a lot by listening to these conversations like we having now because when I started business here I was very naive you know very trusting because we had a very you know when you do business in the West we usually have a very sort of strict code of good business practice and that does not apply in China so you have to be very careful and you have to be very guarded you can't trust people as much as you usually would and say but at the same time you can build very good business relationships with the Chinese suppliers and partners and I will give you one example Actually I got contacted actually by and all clients of mine in South Africa was looking to buy some kind of sort of fish fish pond pumps or something like that right and they asked me to look it up so I contacted the company physicians and magicians and base factory and sent them an email and spoke to them and asked them to freeze on some of the cell and they got back to me told me that yes they're there to sell but they're they really have an official distributor in South Africa Yes I spoke to my client and told him look as an official distributor. And I times a lot of other official distributed it has closed down and we can't get them giving Also I spoke to the factory again and said look this kind of money saying that distributors actually flows down the you know the response combine and not meant to my surprise a couple of minutes later I actually got a phone call from the distributor in South Africa asking me what was going on and he said that they'd be shut down so this distributor had such a good relationship with the factory factory straight away contacted them and alerted them that there was somebody trying to undersell And were you not trying to trying to sideline that and of course it was it was my father had no idea the grand plans of mine was dishonest but you know as it turned out there were bombs were actually sort of big so they're just trying to get a big deal. So you know having a good solid relationship with the factory for instance does pay off the long run sometimes.
Michael Michelini:
Yeah I think that's true right it goes once you can go in your and such in your favor to write it if you stick with it with or for Chinese suppliers or partners or etc etc If there's a text as
Winston (SerpentZA):
It is It is something you have to do yet keep working on it so that means lots of dinners and lots of by and all that nonsense.
Michael Michelini
They will have somebody to later on.
Winston (SerpentZA):
To share
Michael Michelini
Cool well thanks so much once and.
I think we really had a great conversation here and I think that we're going to learn a lot. Of course there's a YouTube channel which will link How can people reach out to you and your business if they they want
Winston (SerpentZA):
To you have the absolute best way would be to basically take a look at the YouTube channel and leave a comments you know we have a Facebook page both formal or traditional customs and all my my own personal youtube channel and they're all kind of into links so it's pretty easy to find one from the other one so I think probably best that would just be to go to my YouTube channel which is youtube dot com forward slash Serpent ZA
Michael Michelini
OK
Winston (SerpentZA):
Yeah from there and ah I'd like to also say you know those. A lot of negative things here overall in general dealing doing business in China is is definitely full opportunity and ahh it incredibly positive quite an adventure so don't give up just be cheerful
Michael Michelini
Yeah yeah I think yeah I think it's I remember one of your on there are talks of just staying positive right I mean sure we all know those explicit that are burnt out and they don't get back up on that bike right they fall off and they don't get back on a new just to stay in China and they complain about everything so yeah don't try to become one of those people that's going to lose.
Winston (SerpentZA):
Their good still far outweighs the bad you know .
Michael Michelini
Yep yep alright thanks thanks Winston I'm sure people enjoy and ahm they will be back in the future so thanks thanks again
Winston (SerpentZA):
Fantastic nice to talk to Michael and good luck with everything you do.
Michael Michelini
Thank you Winston for coming on the show he and I were a little bit worried that we're a little bit negative on China business partner horror stories but I think it's this kind of advice that is really invaluable and you know it's much better than learning it on your own making mistakes I think it's kind of like a game a bit like positioning not to be seen as a middleman not adding value you want to always look like you're adding value or you should be adding value is very cutthroat and it's not just about foreigners versus Chinese I think it's just China business in general. I get a lot of this what I've learned over the years so I hope this helps and maybe saves you a lot of headaches for money in the long term.
So that's all that I have this week you know just little bit of a mention from my micro call ahh idea here for it's going to only ten bucks for this kind of test first time run which is a private call with a few of us on the Wechat marketing So if you're interested or you want check out more info. So you can go on to Global from Asia dot com slash call C A L L All right everybody have a great week and we'll talk soon.
---
Listen in Youtube: