The first annual Cross Border Summit was an action packed day of learning and networking with other e-commerce and international business traders. Taking place on Saturday April 16 for a full day event from 9am to 6pm the conference had over 100 business owners from around the world.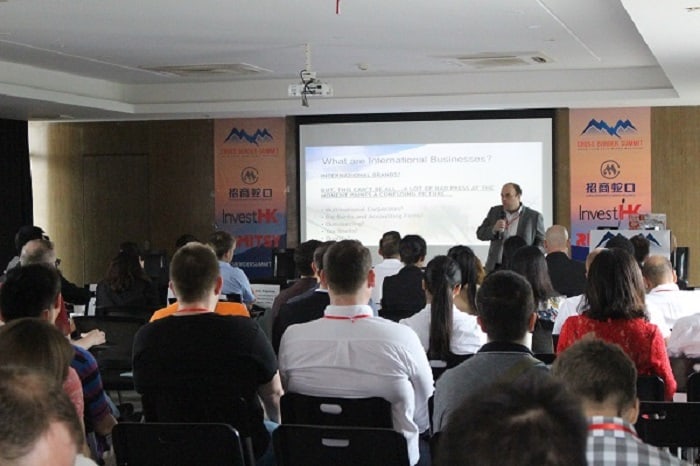 The morning kicked off with an opening from the event co-organizer Mike Michelini sharing what the summit is all about and the future of cross border businesses. The morning then followed with speakers like Tak Lo from RG/A Ventures discussing how business owners can operate their global business regardless of borders. Mike Bellamy followed next discussing how sourcing from factories has changed in the 10 years he has been in it and how people can stay ahead in 2016.
Then what would an international event be without a topic on international corporate structure and taxes. As cross border business continue to grow, governments around the world are looking for ways to treat them. Devin Ehrig from Barron Asia shared his insights of over a decade in the corporate structure side with the audience.
The event "went both ways", by then having a session on doing internet marketing and e-commerce into the Chinese Market. Nick Hu the Shenzhen GM of Netconcepts shared strategies for people to use Chinese internet marketing to boost their e-commerce sales in the China market. Then back to export market with Renaud Anjoran sharing on using new quality control standards and technology in order to keep your product quality top notch before sending to Amazon warehouses or anywhere overseas for that matter.
Before lunch we had Charles Ng from InvestHK on stage to share how Hong Kong is a great place to establish your international business and strategies for how you can leverage the power of HK globally!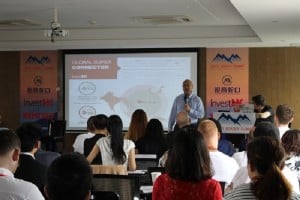 Lunch was then served with a buffet lunch and band. Attendees were able to network with other guests and speakers for the one hour session right at the venue, providing valuable networking time for people to trade name cards.
After lunch we had the fast developing fintech topic up next, with a panel on how to use financial technology to save money and make your business more effective. This panel contained Neil Woodfine, COO and co-founder of Remitsy and Larry Salibra from the HK Bitcoin Association.
The afternoon got more interactive and social with a series of panel discussions covering Amazon FBA strategies, Export B2C ecommerce, China Manufacturing Tactics, Branding and User Design Differences Between China and the International Markets, and Selling in China Via E-Commerce and SEO. Attendees were able to listen to a series of experts on each topic and engage with questions and case studies.
The Cross Border Summit wasn't just about learning and listening to speakers, a networking session was setup to help match attendees into groups based on their business backgrounds and interests. "We didn't just want to have an overwhelming day of speakers, we wanted all attendees to leave with a good, focused group of business cards that they can build their businesses on", says Michelini.
The event wrapped up at 6pm with a raffle draw for next year's tickets. Remitsy also sponsored some gifts from Xiaomi that perked interest!
"This event was just the right mix of learning and networking. I'm happy that Shenzhen finally has a proper English business event and looking forward to future events" says Marshall Taplits an attendee from Spaxtel Callback service company.
To help everyone stay in touch after the show, the Global From Asia podcast debuted its online member's club at GlobalFromAsia.com/club giving access to all attendees to connect with each other and share news privately in this special online community.
After the event, attendees could choose from various networking events by media sponsors such as TGN Park's networking party from 6 to 8pm or the Shenzhen Wine and Cheese Club's party in Futian.
The event was a big success and the team was proud of the attendees who took the opportunity to attend their first conference. "Things will only get bigger and better from here, we truly appreciate all of those who came out to support and know they are going to see benefits in their cross border business as a result of attending today's conference" says Mea Boykins, a co-organizer of the event. Interested in next year's event – check it out at CrossBorderSummit.com/2017