Another month, another featured member at GFAVIP. For November, Gauthier Troxquet takes the spotlight.
Gauthier is an Ecommerce Specialist and as a Customer Success Manager at ICTjob.ph sourcing and testing products with factories in China.
Let's get to know Gauthier and his business a little bit more.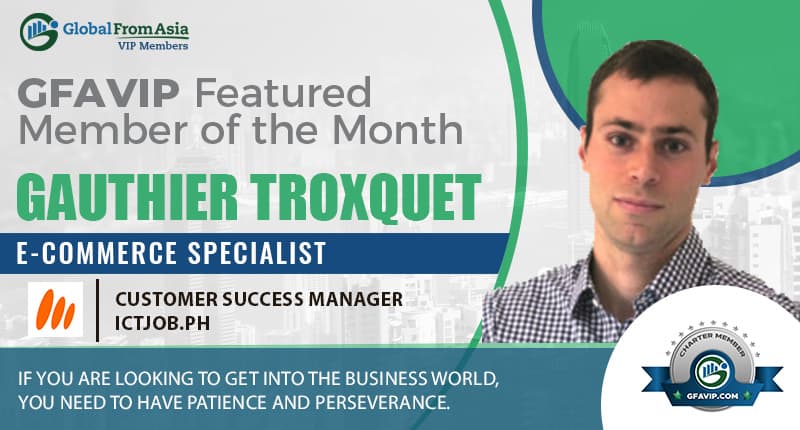 Getting to Know Gauthier
Gauthier goes by the nickname GT. He's from Belgium and currently living in Manila, Philippines.
He got into Ecommerce the summer of 2016 when he visited his cousin who lived in Beijing and a friend who was working for Lazada at that time.
He thinks that opportunities in the cross border business industry are still plenty. It is of course important to believe in the product/idea and keep on working on it.
Ecommerce Company
Develop more brands and maybe grow in new markets.
The company is an e-commerce company where he get started in 2017. They sell mainly in Asia and Europe via their website, social media ads and e-commerce platform.
He said that he encountered a lot of issues being an Amazon Seller. It can be frustrating to use their platform. As well, little logistics issues during the COVID-19 crisis. These are some of the challenges he faced and had to overcome.
His company's mission and vision: "Develop more brands and maybe grow in new markets."
His word of advice for those looking to get into the business world? He said, patience and perseverance. It will take time and it's not always as fast as you would read it on blog articles, books, social media ads, etc.
Being a GFAVIP Member
Gauthier remembered where he discovered Global From Asia. He was googling about e-commerce stuff and landed on a GFA article. He then started listening to the podcast and had the opportunity to meet Mike in Chiang Mai. He also got the chance to attend the GFA event in Shenzhen.
He joined GFAVIP to share and listen to other people's stories and advice. Mainly, for him to connect and learn from people with different experiences and backgrounds.
He plans to keep growing in terms of sales and brands and he's convinced that GFA is a great source of knowledge and advice.
Join Gauthier in the GFA Community
Want to meet more visionaries like Gauthier? We invite you to be part of the GFAVIP community. Learn more about the community here.
Join GFAVIP Community Now!