---
Global From Asia episode 176 – how is everyone doing – so it is just about a month after our second annual Cross Border Summit – and we already have dates for next April's! April 20 and 21, it will again be a Friday and Saturday, here in Shenzhen, China – you can check out the page and even get super duper early bird tickets at crossbordersummit.com/2018 – plus there may be some happening in other continents, pretty amazing right!
This week's show we have a special guest – Kevin Chen, founder and CEO of Italki .com – an authority marketplace for language learning around the world. He gave me a lot of great tips and advice when I was building up my app startup Social Agent years ago, and is a person who just gives and gives – and today is a perfect example of that with his open sharing on the start, struggles, lessons, and celebrations he has been through building up the world's top language learning marketplace, italki.com – now, let's take it away Kevin!
About iTalki
iTalki (pronounced like "italkie" from walkie talkie) is one of the original language learning platforms. Its an online platform connecting teachers with students. I have used it to learn Chinese, but they have so many languages.
It takes care of the payment and feedback – as well as has ton of different teachers and prices to choose from. Since the payment happens on their platform, they take a cut of the transaction – but totally fair.
I like how I can talk to the teacher any way I want- sometimes Wechat, sometimes Skype. They let you choose and trust you won't "cut out italki".
But the biggest value is the community – massive user base of rabid fans – definitely worth checking out – and so happy to have the founder on the podcast to share!
Topics Covered in this Episode
Intro Kevin

Tell our audience a little bit about yourself?

italki

How does the idea of making a platform like "italki" come to you? And what you went about it to make it happen?

Launching

Most memorable thing when you launched the product for the first time? Is there one thing that you would have done differently if you had the chance?

Online Learning

Online learning is getting popular on a global scale. Online learning using mobile app is also a popular trend. You just launched the new version of italki Android app around a week before. Would you like to tell us more about this?

italki Community

As a italki user myself, I noticed and value the community that italki has been putting effort building. tell our audiences a little bit more on things that itaki do to build a language learning and sharing community?

Customers' Learning Experience

As a platform for people to share and learn language from each other, can you tell us a little bit more how italki do to keep adding value to customers' learning journey and community experience

Challenges

Chinese speaking learners and English speaking learners are two big audiences for italki. Besides that, italki is a platform for language learners and enthusiasts beyond the country bounders. Can you tell us the difficulties that you guys encountered when doing the marketing globally? How to make sure the marketing message is consistent while using different platforms and approaches in different regions?

Tips

Any suggestions for foreigners who would like to start their first own business in China?
People / Companies / Resources Mentioned in this Episode
Episode Length 37:00
Thank you Kevin for coming on the show! I love nice guys like Kevin that help share and guide entrepreneurs so much take their businesses through the roof – and still be so down to earth and humble – man it is awesome! So if you are considering to learn a new language, Chinese, Spanish, whatever – italki.com is always a platform you should check out for live language teachers to help you in your studies – online from anywhere.
And Global From Asia – is also growing – I am so happy to be doing what I love and helping people. We had a couple amazing events last week – a GFA Experts meetup last Thursday and a GFA Experts Workshop on Amazon Leverage – if you want to keep up with events happening, you should signup for our events email list at globalfromasia.com/events
And, that is it for this week, thank you again for listening – I hope you are not just listening – but also taking action in your businesses and your lives – we can't blame anyone else but ourselves in today's day and age, let's take advantage and do it!
See you next Tuesday, 10am Hong Kong time, cheers.
Download Options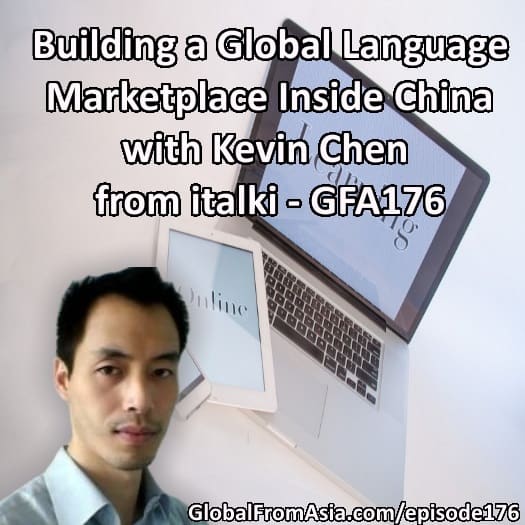 Podcast: Play in new window | Download
Subscribe: RSS