---
Today we are meeting the founder of Quantify Ninja – Yinon! He is a proud member of our GFA Partners program and we are so happy to have him on the GFA TV series today. At our FBA Business, Para Living – we have been using Quantify Ninja – it was recommended by Meir Simhi, our advisor in the business.
Today we have him here at our Cross border Matchmaker event – he came over – first time to China, right? Thanks for your support!
In the video today we want to get to know you and the company a bit more – we will have future videos and we have a full review of your software up on Global From Asia Reviews – so let's focus on you and your story.
Topics Covered in this Episode
So you're from Israel

how is that startup scene and Amazon FBA scene? I have yet to go but I hear it is huge!

How did you get into the space of ecommerce?

What's your story of getting into Amazon FBA

Any partners? Investors?

How have you financed it?

I hear you're the developer!

I'm envious – I know being a developer is more and more important I should have been better – but my son will be a developer. That has helped you with the business for sure right and you're still in the code now?

How do Amazon FBA sellers use your software

Can you give us a walkthrough of what main features people use. We use it for email followup, but we chatted and you said something about Facebook bot too?

We are using the followup feature the most?

Can you explain how it works?

What is the most ideal way?

What do you see sellers struggling with the most?

What are some pain points?

What is your long term goal?

Tell us the future and the strategy of Quantify Ninja?
We are doing a GFA Deal soon!
Episode Length 26:26
People at the Cross Border Matchmaker will get a special deal and we are offering it to the public once this video goes online and you get some rest back in Israel – people can subscribe for this deal alert and others at globalfromasia.com/deals/
Download Options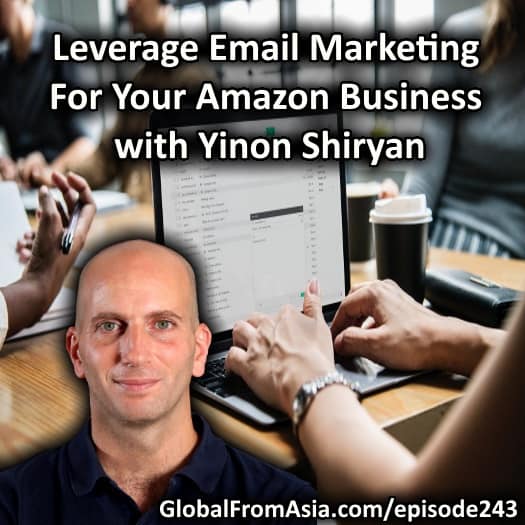 Podcast: Play in new window | Download
Subscribe: Apple Podcasts | Android | RSS