---
I got the flu! On meds now so I'm feeling pretty high, will keep today's intro short – sunday evening after a bus ride back to Shenzhen from a Hong KOng business meeting today. Well, we have the Global From Asia course almost ready to get kicked off, right on the start of chinese new year – if you want to get in on the ground level with us, globalfromasia.com/course i am putting my whole brain into this one on international business and optimization, hope you can give it a look, as it supports this show and our future efforts here.
Ok, this week's show, Henk from Trouble maker – we had a good conversation at his maker space in Hua Qiang Bei digging into makers vs engineers and a whole lot more – enjoy!
Topics Covered in this Episode
Intro Henk, and Troublemaker?

Troublemaker

So how did Troublemaker come to be?

Trends

What trends have you seen in the maker movement here in Shenzhen?

Accessibility

Many listeners are not located in China, do they still have a chance / opportunity?

Basic Skills

What are some basic skills a "maker in training" can learn?

Maker v.s. Future Engineer

Difference between a Maker and a future engineer

Overview of HuaQiangBei

HQB and why you're there, it's like a landing page on a website

Design Your Own Robot

Your education and courses. On designing robots, as well as theme based ones on design, structural engineering, electronics engineerings

Longgang, dormitories, what?

New location in Longgang and future incubator.

Contacting You and Troublemaker

How can people reach out
People / Companies / Resources Mentioned in this Episode
Episode Length 25:59
Thank you Henk! Make sure you give him a chat on Wechat and say thanks for me as well – would love to hear you enjoyed it.
Alrighty everyone – i am taking a vacation for Chinese New Year – but – don't worry – next week's show is ready and it's a good one, won't ruin the surprise – episode 158 is over- show notes is, as always, www.globalfromasia.com/maker-vs-engineer/, peace and see you in the year of the cock!
Download Options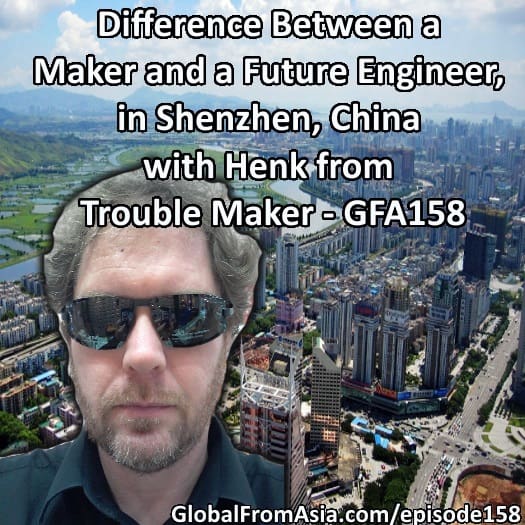 Podcast: Play in new window | Download
Subscribe: Apple Podcasts | Android | RSS