---
More of our intensive Chinese factory and seller series – this week we have Happy Lin! She is a second generation business owner of a factory here in Shenzhen – which is pretty cool angle. Educated overseas and understanding the Chinese business culture is a powerful thing. and like a previous guest we had – David Wu from Ausdom – she is also building brand while doing OEM.
This show has an interesting discussion about how foreigners copied her! We always hear on the web about Chinese copycats – but it can go both ways – and she shares.
Topics Covered in this Episode
Introduce Happy Lin

How did you get into the business?

Your family started this, how has it been to come on board?

Marketing and Dealing with Customers

What have been ways you are finding customers for the business?

Building your own brand

How have you developed your own brand

And OEM at the same time

But you also can make OEM / white label for people at the same time too right?

The story of being copied

So you mentioned you were copied by some foreigners who were potential buyers, can you share?

What is your strategy going forward?

This is where the text for your Feature List Item should go. It's best to keep it short and sweet.

How can people find you?
People / Companies / Resources Mentioned in this Episode
Show Sponsors:
Today's podcast is brought to you by Aurelia Pay. I use them for sending money to my Chinese supplier from Hong Kong – it is a cross border payment solution between China, Hong Kong and South East Asia. So when I need to make a payment to a Chinese supplier, I just hop in to place a remittance, pay to their HK bank account, and Aurelia Pay settle RMB within the same business day! Check them out
Episode Length 35:46
Thank you Happy- and she lives up to her English name of being Happy. Very positive and energetic, hope some f you can consider doing business with her. And that is what Global From Asia is working so hard at becoming – a new way to build relationships between China and overseas – with content, media, and education. Cheers
Download Options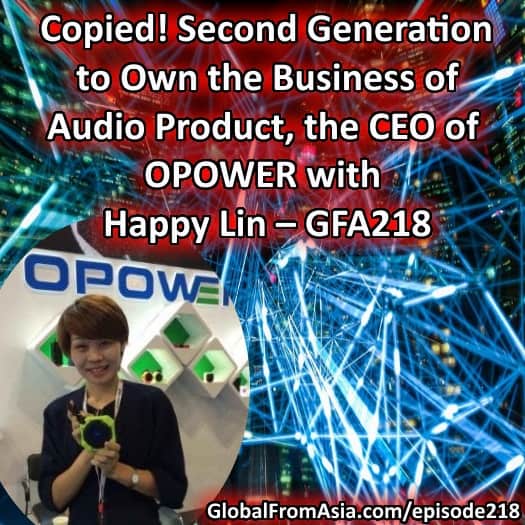 Podcast: Play in new window | Download
Subscribe: Apple Podcasts | Android | RSS